Earlier this week I realized that I'€™ve been writing about marketing for almost a year. As a writer, I knew of only one way to celebrate this occasion.
When I first started writing, I was extremely tentative and uncertain. I was never quite sure what I was doing was really right.
But after a while, I got the hang of it and realized I actually love writing about social media and content marketing.
Over the past ten months, I'€™ve learned a lot about writing, marketing, and connecting with readers. Here's what I've learned, with some GIFs for good measure. I think these lessons could be helpful for someone just starting out in the world of marketing blogs, but they're also something I'€™m going to remind myself of even years from now. So whether you arrived at this post because it'€™s about writing or because you can't resist a good GIF, let'€™s dive right in.
It'€™s Not About Me
Last week I listened to a webinar by Unbounce in which the sagacious Joanna Wiebe of Copyhackers talked about the pros and cons of long-form copy. Someone listening to the webinar implied that they don'€™t use long-form copy because they hate long-form copy, to which Joanna replied (I'€™m paraphrasing here), "Well, that'€™s fine€, but it'€™s not about you."€ Joanna said that when you'€™re writing copy, the one thing you need to know is what people want from you; worrying about what you want or what you think people want just gets in the way. If you hate long-form copy but your sales prospects like it and respond to it, it looks like you'€™re going to have to put your personal tastes aside and crank out some long-form copy.
It'€™s the same for blog writing: it'€™s not about me. I'd love to write about Mean Girls and House of Cards all day because I love that stuff. But writing about Mean Girls wouldn't get me very far with the people I try to target with my blog posts. If I tried to get content marketers interested in my favorite movie or TV show, I'€™d not only be fighting an uphill battle, but also an unnecessary one. People who care about marketing and social media already have well-established interests, so wouldn'€™t it make much more sense to reach them by giving them what they want?
Sometimes what we'€™re interested in and what our customers are interested in overlap, but sometimes not. I'm not writing for me; I'€™m writing for potential customers. This is something I'm still working on; I often find the urge to weave in some topic I find hilarious or memorable or cool rather than asking the question, "€œI like this, but will the people I'€™m targeting like this?" If I had a really solid, loyal following, I could probably get away with writing whatever I felt like.
But hey, marketing blogs gotta lead gen, right?
(Though that doesn't mean I can'€™t write something interesting on a boring topic.)
Good Ideas Come from Digging Around
One thing I learned very quickly is that the content marketing blog world sometimes sounds like one giant echo. Everyone and their mom is writing things like "€œcreate great content"€ and "€œengage with your customers."€ Everyone is chiming in on the same issues, €"and everyone is saying the same thing. Derek Halpern calls these kinds of blogs "€œme too" blogs. We've all heard the same generic, stale statements way too many times, and it's kind of like…
Isn'€™t it quite ironic that posts that simply tell people to create great content don't embody great content?
Telling people they have to create high-quality content:
Showing them how to create high-quality content by talking about headline tips, guest posting opportunities, visual forms of content, buyer personas, tips for Google Analytics, the best Twitter chats and webinars, user-generated content, etc.:
I like learning by example, so I learned what specific, implementable tips look like from amazing blogs like Copyblogger, SEOmoz, KISSmetrics, and Unbounce.
Being specific is one way not to be a "€œme too"€ blog and so is being different. A few months ago, I wanted to write a post spotlighting businesses that effectively use Pinterest. The obvious examples are clothing brands and women's magazines.
You mean brands that pin clothes and cupcakes do well on Pinterest?
The less obvious examples: brands that pin infographics, cars, tech gadgets. So I talked about brands that defy the Pinterest stereotype to their advantage and wrote one of my most popular posts.
Of course, being different is easier said than done. How do you mine those great ideas?
Jonathan Morrow from Copyblogger says it best:
"€œIt'€™s tempting to look around your niche and think, '€œEverything important has already been said. What else is there?'€
Well, nothing, of course, but that's the point. Great ideas aren't just lying around, waiting for you to use them. You have to search for them. The key is doing the work. The ground may be full of buried treasure, but you have to be willing to grab a shovel and start digging."
(I give a list of places where you can dig around in this post.)
Negative Feedback Doesn't Require Self-Detonating
Is there anything better than when someone leaves a nice comment on your post, telling you the post was really helpful and well-written?
For a blog writer, probably not (though getting a shout out from Rand Fishkin may, on some occasions, trump this).
I love it when someone truly appreciates all of the hard work I put into a post and learns something from it. I always come away from those comments feeling excited, overjoyed, and like my work actually does make a difference.
(Hey, I'€™m just teaching people how to use semicolons and Pinterest Analytics, but still.)
Now let'€™s talk about something far less warm and fuzzy: negative feedback. Wouldn'€™t it be awesome if the Internet was filled with kind, well-meaning people who when they voiced criticism did so in a manner that was thoughtful, considerate, and even insightful? Reality bites.
If I was into cliche buzz phrases like "€œgrowth opportunities,"€ I would use one to describe the upsides of criticism. You can learn from criticism, but the problem is that too often the people who voice criticism in the comment section of a blog can take comfort in anonymity and consequently are (to put it tactfully) less than tactful. I used to hate all forms of criticism, even constructive and well-intentioned. I'€™d politely accept it and nod along in agreement but in my head, find ways to totally disregard both whatever the criticism-deliverer said and the criticism-deliverer's experience and knowledge.
Then I grew up, started writing for people other than my high school English teachers, and realized this reaction is totally childish because critiques can actually give me a new, better perspective on my work. If I've been working on something nonstop for a few hours and have someone else read it, that person may see things I overlooked or didn'€™t think about. It's worth hearing them out and considering their thoughts. If I think they'€™re way off base, then I can present my case and talk things out.
But what about when people express criticism in a less-than-helpful manner? Whenever I receive feedback of this kind, one of two things happen immediately: I either crumble or I become incredibly defensive. When I crumble, things like "€œI'€™m a horrible writer; why do I even bother"€ and "€œI know nothing"€ run through my head.
When I become defensive, something like "€œThis person knows nothing" runs through my head.
Thoughts like those last only a few seconds (fortunately; they'™re quite melodramatic, aren'€™t they?). After either self-defeat or anger has run its course and I'€™ve come to my senses, I read the comment again and see if there'€™s anything valuable I can extract from it. If the comment itself is valuable but the delivery is off, I consider this person's point of view, use it to enhance mine, and reply back. Maybe I really messed up or said something incorrect. It would have been better if I hadn'€™t, but I would rather have someone point out my mistakes than sail along through life in ignorance, wouldn't you?
However, if the person is just looking to get me riled up and their criticism has absolutely no basis, I brush it off.
Responding back to those people in a defensive matter is exactly what they want, and who wants to satisfy trolls?
Write for Someone
Chalk it up to too many English papers, but I had a difficult time using a casual tone when I first started writing. Then I realized the blogs I really loved, the blogs that were the most helpful and enjoyable, didn'€™t sound stuffy and unnatural. What is more likely to reach people?
A blog post that begins like this?
When one owns a small business, one may find that Pinterest can in some regards be an effective marketing platform.
Or a blog post that starts like this?
Do you have a small business? Pinterest can be a really effective marketing platform, so I'll show you how it works and how to figure out if it makes sense for your business.
The writing that impacts me the most is the writing that feels like it was written just for me. Did Rand Fishkin write this post with me in mind? Of course not, but when I read Rand'€™s thoughts on striving for perfection, I felt like he was talking to me. Part of this is knowing how to activate your target audience's pain points, but part of it is writing in a personable tone. (I'€™m not talking about sloppy, jargon-filled, grammatically incorrect writing.) Blog posts that have this feel sound less like a bunch of generic statements written for the masses and more like genuine, honest, straightforward writing.
If It's Not Helping, It's Hindering
I love Twitter. I get a lot of great ideas from Twitter, and I connect with a lot of great people through Twitter. But writing fresh, unique blog posts a few times a week is tough, and Twitter (or insert your favorite website here) can sometimes be more of a procrastination platform than an idea-discovery tool. (For me, the same thing is true of Pinterest.) I never want to admit that I just couldn't get my best work out this week because distractions got the best of me.
Plus, for a writer, one of the worst things is getting in a groove and then getting sidetracked or interrupted by something alluring yet unnecessary. One of the toughest things for me is recognizing (and admitting) when Twitter stops being helpful and starts being a hindrance, but my best writing happens when I can temporarily tune all of that social noise out.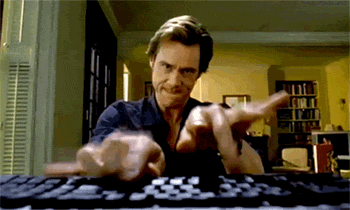 (I'm not talking about burying my head in the sand and failing to stay up to date on the news, but rather temporarily unplugging.) Seth Godin says that the best time to start something new is when you first sit down at your computer, but when most people sit down at their computer, they check emails or tweets or Facebook statuses instead (guilty). But that social noise will always be there. I can leave it, write, and come back to it.
So, here's to keeping readers in mind, mining for ideas, and wholeheartedly battling procrastination. In celebration of all of us marketing bloggers out there.