Have a question, not sure where to start?
Get a FREE One-on-One Consultation
Call Us Now
1-888-874-3791
or
A Careful Blend of Creativity and Science
Competing online is more challenging than ever. Targeted traffic attracts the right customers at any stage of the buying cycle. Imagine reaching your exact client when they are searching for your exact product.  Imagine delighting your customers with a tailored message, enticing them to visit your site where they are just a few clicks away from checking out, adding to your bottom line.
That's Pay-per-click advertising (PPC). Delivering a targeted ad to your potential customers at the exact moment they are searching.
Generating qualified traffic goes much deeper than creating a few ads and selecting a handful of keywords. It involves in-depth research, testing, adaption, refinement and scaling. Our PPC team has a proven process dedicated to help your business hit the ground running.
How Does PPC Advertising Work?
Paid search ads are found among the search engine results on ad platforms like Google, Bing or Yahoo!, and some can even display on their partner websites depending on the types of ads you're running.
The foundation of PPC advertising starts with ad creation for specific keywords and developing a bid strategy to control your budget. Once setup, reviewed and set live, your ads will enter an auction to go up against other advertisers in the space who are going after the same keywords. This auction will then determine the position of the ads on the search engine results pages and you only pay when someone clicks your ad.
With an effective PPC strategy, businesses can consistently earn one of the top spots in the search results and see higher conversions from users that are ready to buy.
The pay-per-click advertising process can have a lot of moving parts and feel a bit overwhelming to some business owners that are also running day-to-day operations. That's why it's vital that you find a PPC management company that has the tools and expertise to drive real results while maximizing ad spend.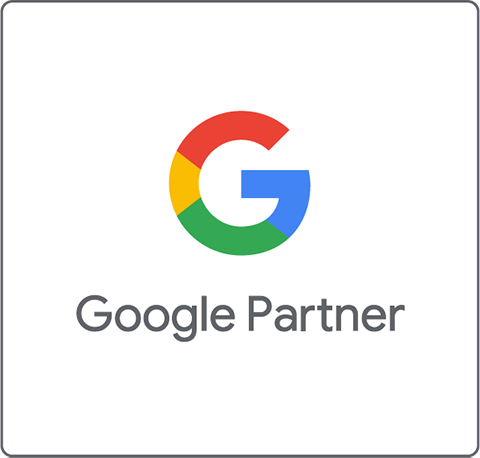 A Powerful Partner
By working with our team, you get the advantage of having access to a Google Partner. As a Partner agency, we are recognized for the proven results we deliver and are able to create more opportunities for our clients to grow and succeed through active Google Ads management.
We know Google's advertising practices and standards like the backs of our hands, and our knowledgeable PPC experts can help you with your Ad campaigns, whether you're new to PPC or need help fine-tuning your hundredth campaign.
Google Partner
Over 20 years of managing successful Ad campaigns
Why Pay-Per-Click?
of all internet users search with Google (Net Marketshare)
of people click on Google ads when shopping online. (Wordstream)
of PPC visitors are more likely to purchase than organic visitors. (Unbounce)
Paid Search Platforms
We work with all the major paid search platforms
Google Ads
Google Ads (formerly Google AdWords) is one of the most popular forms of PPC advertising across many industries. That comes as no surprise with Google being the largest search engine in the world with over 3.5 billion searches—daily.
Our team is well-versed in the nuances of Google Ads management and Google Shopping campaigns, allowing us to create strategies crafted to maximize ROI.
Expansive reach
Easy to understand dashboard
Certified Google Ads team
Microsoft Ads
Microsoft Ads (formerly Bing PPC Ads) are what you'll find on Bing, Yahoo!, DuckDuckGo and AOL—Microsofts's top search engines. With over 14 billion monthly searches, Microsoft Advertising offers an impressive potential reach that holds a ton of opportunity for businesses looking to tap into a new market.
Our team can help you determine the best advertising plan for your business through our strategic Bing Ads management.
Low competition
Reach a different demographic
Microsoft Advertising specialists
A PPC Process that Clicks
With 20+ years in business, our team has been able to develop a proven PPC process that focuses on growth and Return on Ad Spend (ROAS). Our scalable solutions utilize a full suite of paid advertising formats to get your business in front of prospective customers almost immediately. Through proper campaign optimization and active management, we strive to effectively gain visibility for targeted keywords and drive results for your business.
1.

Goals
You'll be partnered with a dedicated account manager to talk about your business and help you define your goals. We take the time to learn about your needs, brand and company identity, so that together we can determine the best course of action for online success.
2.

Strategy
We dive into researching your target market, competitors and keywords to develop a strategy that aligns with your goals and maximizes your budget. If you have a history of running ads, we'll perform a PPC audit to gain more insight into past tactics and performance, allowing us to adapt our approach.
3.

Setup
Utilizing the insights we gained from our initial research, we will create your campaigns, ad groups, and ads, and determine a bid strategy. Our team will write focused ad copy that speaks to your ideal customer and targets relevant keywords that make sense for your business.
4.

Conversion Tracking
Our PPC team will set up analytics and conversion tracking which will allow us to track the actions visitors take after clicking your ads, like clicks to call, form completions, purchases and app installs. This valuable data will give us insight into campaign performance and ROI.
5.

Ongoing Optimization
Ongoing campaign optimization is key in achieving PPC success. That's why we are constantly monitoring your ad campaigns and evaluating performance. By sifting out negative keywords, optimizing bid strategies and creating new ads, we can work to achieve peak performance in the search engine results page.
6.

Review, Report & Refine
Through proactive maintenance and regular analysis, we can continue to test our approach, making any necessary adjustments to ensure your PPC campaigns are performing to the best of their ability. We keep you informed every step of the way with monthly reports and full transparency of your campaign progress.
PPC Management Services
Pay-per-click advertising allows you to purchase top positions for relevant keywords on search engines and their partner websites. With varying PPC ad formats you can reach your target audience in numerous ways. Our PPC management services allow you to utilize a full suite of paid advertising formats that deliver instant traffic to your site.
Responsive Search Ads (RSAs)
These text-based ads appear within a Google search above the organic search results. Search ads provide consumers with a snippet of information about your business, as well as a link to call you on mobile devices.
Text ads with snippet of business information
Link to call on mobile
Appear above organic search results
Shopping Ads
Displayed above Google search results, Google Shopping ads include product images, prices and store information.
Include product image, price and merchant name
Appear above organic search results
High click-through rate
Display Ads
Visual advertisements that display across the Google Display Network, Display ads can take the form of text, image, video and rich media. More than 2 million sites are a part of the Google Display Network, all of which have places on them that Display ads can appear.
For example: your Display ad might appear between paragraphs in an online news article, to the right side of a block of text on a blog, or in a bar at the bottom of a popular mobile app.
Text, image, video or rich media advertisements
Appear across the Google Display Network
Great for increasing brand awareness
Remarketing Ads
Have you ever visited a website—while considering the purchase of a product or to get more information about a service, only to have it follow you around the internet—from search engines, to news articles, to social media in the following weeks? The advertisements you saw are remarketing ads, and you can create them too.
Appear only after you visit the website
Follow you across the web
Local Service Listings
Local Services ads are designed to help you get more leads directly from Google by connecting your business with people who are searching for the services you offer. This type of PPC campaign will allow you to show up for people actively searching in your designated service area, and will prompt customers to call or message you directly from the ad.
Generate leads
Get calls and messages
Increase customers trust with a Google badge
PPC vs. SEO
Though both of these marketing channels focus on earning placement in the search engine results page and driving traffic to your website, they are two very different approaches in a much larger digital marketing strategy.
With search engine optimization, it's about staying one step ahead of the search engines, ready to adjust your strategy to meet new challenges head on. That's why our comprehensive SEO services combine in-depth research with constant analysis and refinement to deliver results for our clients.
Having one of the first page spots in the organic search results shows both your authority and credibility in the industry. However, it can take months (or longer) to see major results since we're at the mercy of the search algorithms.
So while SEO focuses more on the long game, PPC is built for more of the quick wins.
PPC advertising can begin delivering results almost immediately after launching your campaign. These hyper-targeted ads allow you to choose your budget, audience, and keywords to secure a top position on the pages that matter most for your business.
SEO and PPC work hand in hand to help you create a strong online presence for your business and dominate in the search engine results page. These channels are vital parts of your digital marketing strategy both working towards the same goal of digital growth.
357% Increase in Conversions
A New York dental office were interested in our PPC management services to help them attract new patients and build brand awareness in their community. Our team developed a PPC strategy that utilized Google Ads to target their local market and boost new patient acquisition with a 78% decrease in cost per conversion.
Affordable PPC Packages
From setup to management, our comprehensive PPC plans are cost-effective and flexible, built to scale with your growing business. We developed our PPC management services with our customers in mind—that's why all of our plans focus your budget more on ad spend, and less on unnecessary management fees. Explore our packages below and discover how our PPC management company can maximize exposure for your business.
PPC
Essentials
A proven approach to PPC advertising—built to scale with your growing business
starting at
$249

/mo
When billed annually
PPC
Shopping
Flexible packages to gain exposure across Google's Shopping Network
starting at
$349

/mo
When billed annually
PPC
Premium
A complete strategy that combines shopping and standards ads for an affordable price
starting at
$449

/mo
When billed annually
PPC
Custom
When only the best will do—we offer full-service PPC plans to achieve your goals
starting at
$749

/mo
When billed annually
Don't Think PPC Advertising Is for You?
If your business is struggling to gain a foothold in the marketplace, looking to expand, or improve growth this year – a proper PPC can make it happen. PPC advertising is ongoing – when PPC is executed correctly, your business should be making a positive return on investment. PPC continues to drive business through all stages of your business – from startup to IPO.
Ongoing refinement, routine maintenance all while staying on top of your competitive landscape. Make no mistake effective PPC management takes an understanding of your industry and how PPC works. This means our skilled PPC managers work with you to understand your industry, how your customers are searching all to deliver the most targeted ads to drive business your way.
Strategic Options
With Search, Shopping, Display and Remarketing ads available, there are a variety of solutions to deliver the right message for your business.
Specified Reach
Whether you're a small, local shop or a global brand, targeting options allow you to choose exactly where your advertisements will be seen.
Controlled Budget
With Google Ads, you get to choose your daily budget and are able to increase or decrease budget as needed.
Increased Exposure
PPC advertisements appear above organic search results, putting you at the top of the search page (and the top of searchers' minds).
...And If You Want to Extend Your Reeeeeach
Take the guesswork out of advertising across networks