With the loss that turned into a win for Team USA yesterday, soccer (or football) fever is real. While I admit I don't pay much attention to football, other than the American kind, the FIFA World Cup has a history of piquing my (and millions of others) interest in the world's most popular sport. Bandwagon fans unite!
In the midst of the USA potentially making history, here is my love letter to the marketing surrounding the 2014 FIFA World Cup. Though there are many brands doing great things, I picked out the best of the best – in my opinion, anyways.
Without further ado, let's look at some of the most goal-worthy marketing campaigns…
Adidas, a 2014 FIFA World Cup Partner
Several years in the making, adidas' 2014 World Cup marketing campaign is impressive to say the least. Much of this has to do with the official match ball for the 2014 FIFA World Cup. Appropriately named brazuca, this term is native to Brazil and means "Brazilian", according to an article from Forbes.
Meet Brazuca, the 2014 World Cup Ball
Now, Let's Take a Tour of the Brazuca Page on Adidas' Website:

I absolutely adore so many things about this webpage. The flawless design, exceptional user experience, and the integration of video content, social media, and effective calls-to-action, all combine to make my digital marketing heart explode with joy, peppered with a bit of envy. It's so well done. I'm almost speechless about it…almost.
Because looking at what's there is one thing, clicking through each section of the page opens up a whole other element of awe and remarkable digital marketing.
Finally, Go and Follow Brazuca on Twitter; You Won't Be Disappointed.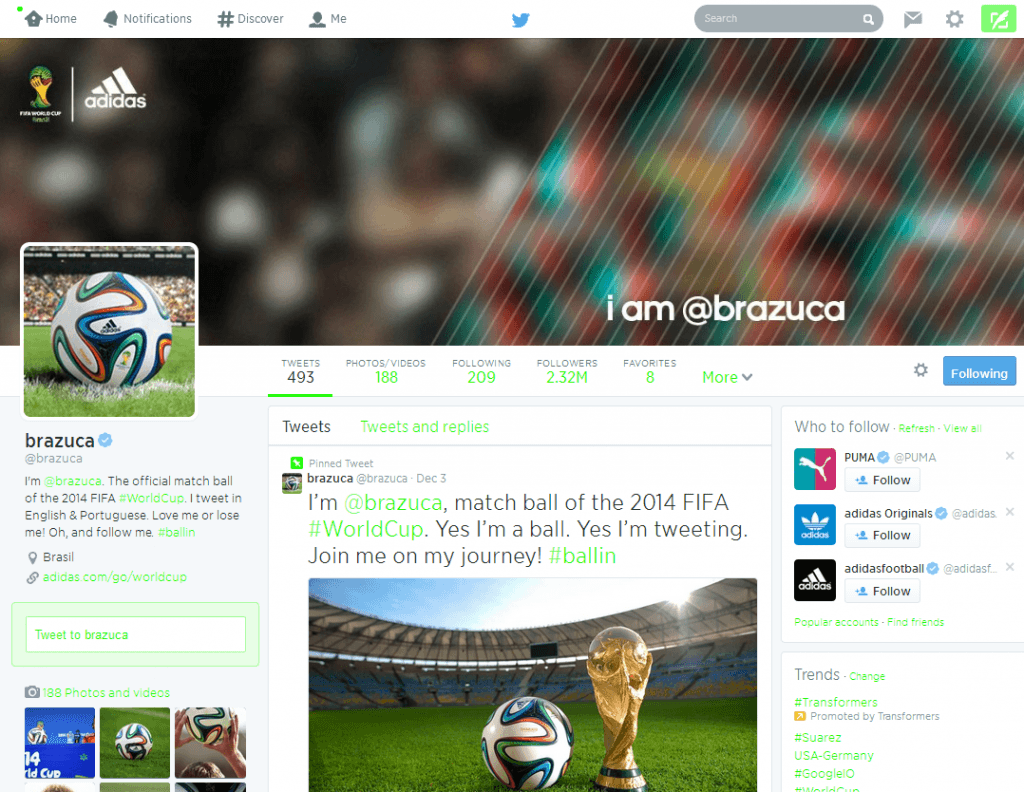 Yet another flawless execution by adidas. This Twitter feed has been following World Cup in brazuca's voice and point of view. The account has 2.32 million followers and is full of photos and videos from brazuca's perspective – pretty awesome if you ask me!
But it doesn't stop at the ball. Because with adidas, its #allinornothing.
Bringing back a couple of the most famous football legends, David Beckham and Zinedine Zidane, the ad below is one of my (many) favorite ads of the tournament.
Adidas "House Match"
Simple and understated compared to some brands' ads, adidas gets their point across loud and clear – and it's fun to watch. Well played, adidas.
McDonald's, a 2014 FIFA World Cup Sponsor
"GOL! FIFA World Cup – Brasil 2014"

This video, which showcases surprising football skills (let's just pretend these are 100% real – it's more fun that way, and hey, it could be real) by seemingly dubious individuals, is fun. It's fun to watch and it's fun to get into the spirit that the World Cup instigates every four years – much like the Olympics. I can't imagine you weren't smiling after watching this spot, which was all to promote their GOL app.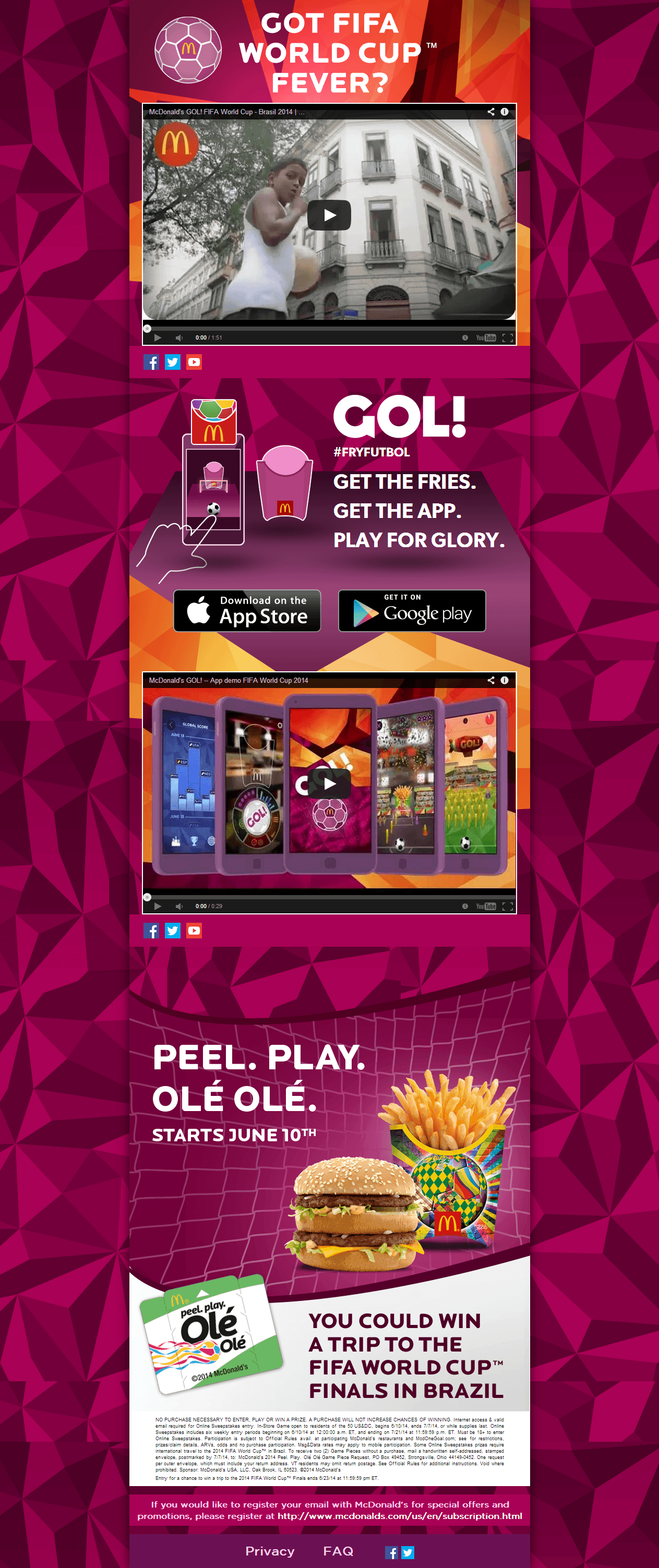 Sure, you'll need to go buy a box of limited edition FIFA World CupTM McDonald's Fries to play the full game (a trial game is available without the fry box), but who doesn't want to play "#FRYFUTBOL"?
An interesting and different concept than their usual stuff, I like what McDonald's is doing here. People are on their phones, tablets and other mobile devices playing games all the time – why not create a new game for them? This app also allows users to stay up-to-date with regularly updated content. So, if you're interested in showing off your fancy footwork, download the app and help your country win the World trickshot title.
Shakira and Activia Team Up To Support the World Food Programme
Four years ago, Shakira produced the 2010 official FIFA World Cup song, "Waka Waka (This Time for Africa)". Although she can't claim this year's official World Cup song to be her own, her "La La La" certainly rivals Pitbull featuring Jennifer Lopez & Claudia Leitte's "We Are One (Ole Ola)".
Despite the unofficial nature of her song (in regards to the world's largest single-event competition), Shakira and Activia teamed up for a greater cause: raising awareness about nutrition around the world with the World Food Programme. Watch the music video (full of appearances by soccer football stars including Lionel Messi, Gerard Pique and Neymar); I'm sure you'll find some subtle and not so subtle brand partnership references. (Hint: look for belly smiles)
Shakira and Activia "La La La"

Not only do I love this song, I also love that Shakira and Activia helping raise awareness for an important issue. World hunger is no small thing, and these brands are two very recognizable ones. To date, the video has been viewed 168,002,618 times and shared about 542,648 times.
In addition to the video, Activia has also dedicated their homepage to promoting awareness, and providing information about the WFP and their mission. A brand partnership at its best, I applaud Shakira and Activia for taking on and calling attention to world hunger.
The World Cup is the perfect platform to drum up some support.
3 Brands Telling Compelling and Memorable Stories
Brand storytelling continues to catch on! I love how brands are moving away from traditional advertising, and beginning to create stories that viewers enjoy watching repeatedly. They're becoming less disruptive and thinking more about what we want to see. And brands know if they create compelling enough stories, we will sit and watch their five minute creations.
In the name of storytelling, here are three brands who have effectively told gripping stories surrounding the World Cup.
Nike's Risk Everything
I couldn't choose just one of Nike's enthralling stories/advertisements, so here are my two favorites. Stacked with game changers like Cristiano Ronaldo, Neymar Jr., and Wayne Rooney, Nike's Risk Everything campaign is surely a winning one.
"Winner Stays"
"The Last Game"
Kia #SurprisesMakeSurprises
I don't think it's just me, but I find it fascinating and heartwarming when a brand gives to deserving individuals. Not only does it make for a great story, but it also shows a humanizing side of said brand. Well done, Kia; surprises like the one below are deserving and exciting to watch.
Kia "Surprises Make Surprises"
Beats by Dre
This spot is by far my absolute favorite World Cup ad. In fact, it might be one of my favorites of the year! Talk about great storytelling. Beats by Dre simply gets it and there's not much more I can say other than, watch this ad.
Watch it and tell me it isn't content marketing at its best.
"The Game Before The Game"

Does anyone else think some World Cup players might be a bit tired from all the work they've put in off the field this year?