And we're going to market like it's 1999.
Just kidding.
But, in honor of our 20-year anniversary, we'd like to take a look at what the digital marketing landscape was like back when Mainstreethost was founded in 1999.
With 20 years in the digital marketing services world, we've seen all kinds of changes: the evolution of search engine optimization and web design standards, mobile-first indexing and responsive design, the ebbs and flows of email marketing and the rise of social media.
So, let's go back…
Back to a time when The Sixth Sense was a number one movie, Eminem was scaring our parents and Will 2k (Willennium) was topping the charts.
Back to the days before Google was, well, Google and Yahoo, Excite, Dogpile and Lycos were among the top search engines.
Back to where it all started: digital marketing in the 90s.
Search Engine Optimization (SEO) in the 90s

Back in '99, SEO was the wild west.
The search engine optimization industry was just getting started.
Getting an appropriate answer to your query was much more challenging than it is today. Looking for results on page two, three and even four was considered a common practice.
Marketers would routinely keyword stuff the heck out of websites, because, well, the more times a keyword appeared on the page meant the more relevant and likely it was to rank well in these early search engines.

"Black-hat" techniques as we refer to them today, were the norm (keyword stuffing, excessive tagging and spammy backlinks). They made the internet a difficult place to find the right info, but hey, it sure beat the encyclopedias and text books we were used to finding answers in.
Google saw this as an opportunity and began to re-imagine the way search engines displayed results, connecting searchers to more desirable websites. Their algorithm helped pave the way to the search experience we know and love today.
In 2019, these unethical, antiquated techniques have been left in the past.
Search engine optimization is all about user experience and delivering the correct result as quickly and effortlessly as possible. Voice search, high competition and 0-click results mean that the SEOs of today need to be much more creative and talented than their counterparts 20 years ago.
Web Design in the 90s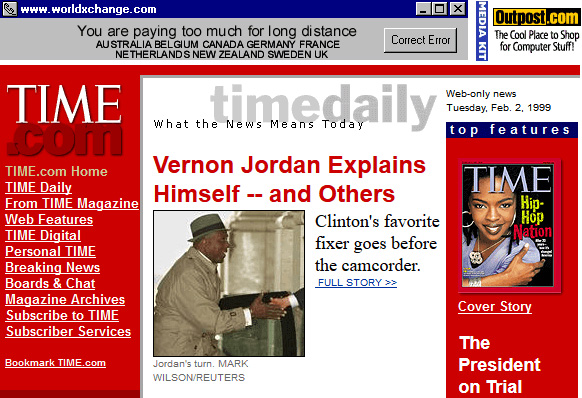 Web design has come a long way in the past 20 years.
In the 90s, the web design industry was under construction (just like many of the websites at the time).
The internet was clouded with flash websites, overused animations, hit counter widgets and cluttered designs.
Let's look back at some of the more memorable (questionable) web design trends.
Flash Websites
You weren't a "real" website in the 90s unless you were running flash. #facts.
Everyone had flash somewhere on their site – from banner ads, buttons, and games, to entire websites. Flash animations were meant to WOW your audience, even if they couldn't figure out how to navigate your site.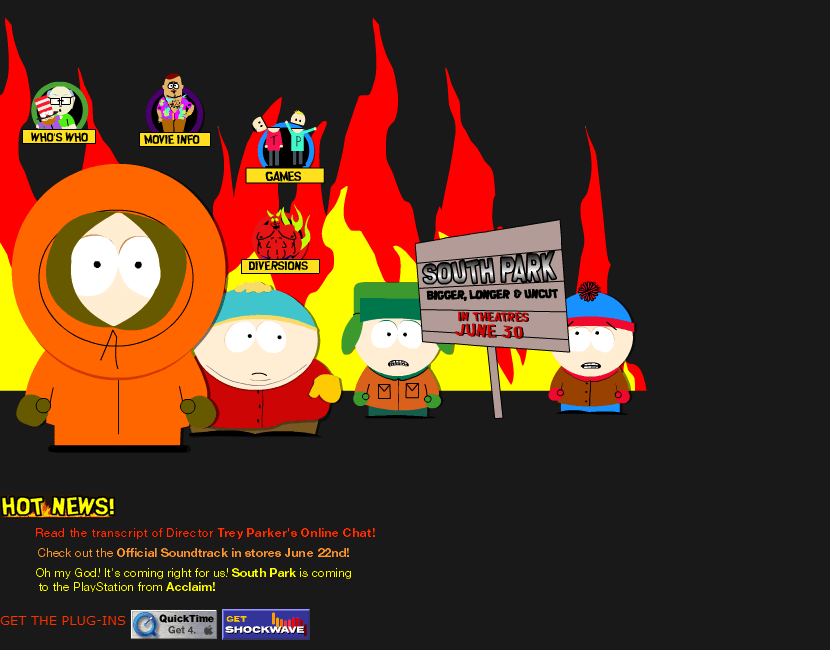 Signups
Oh, you're wondering how to get conversions in the 90s??? Simple. Entice the user with a sexy sign up form or offer "secret personal photos." Thanks Brit.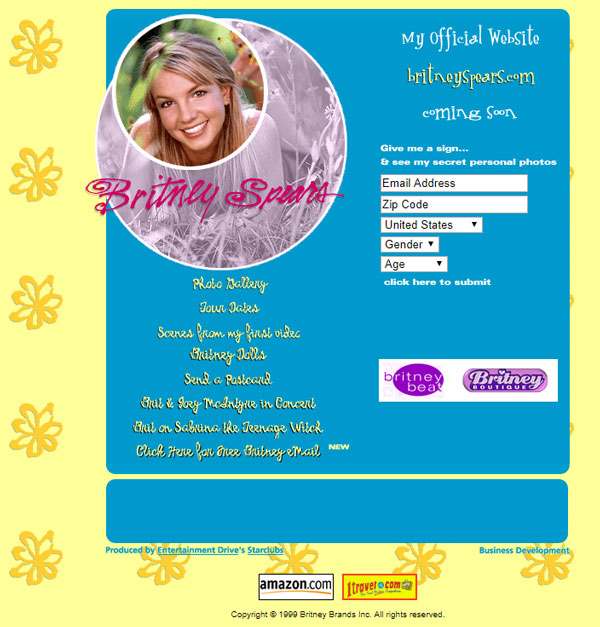 Animated GIFs
When you wanted to add that extra touch of class to your site, animated GIFs were the answer.
We're not talking about the funny GIFs we know today—oh no, the 90s showcased dancing babies, snow globes, MC Hammer and fireworks!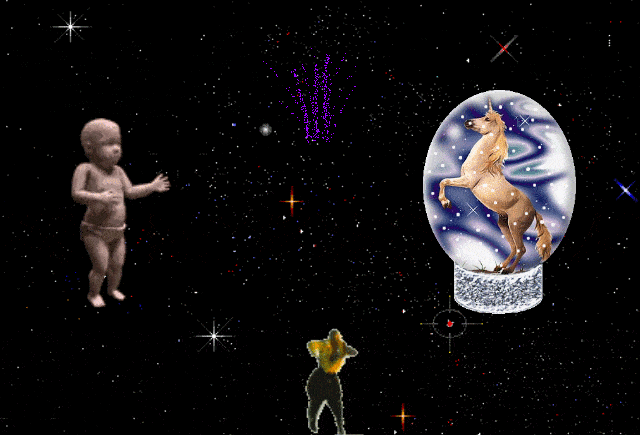 Hit Counters
Before Google Analytics, social likes or follows, hit counters were the most popular way of showing how many people checked out your website.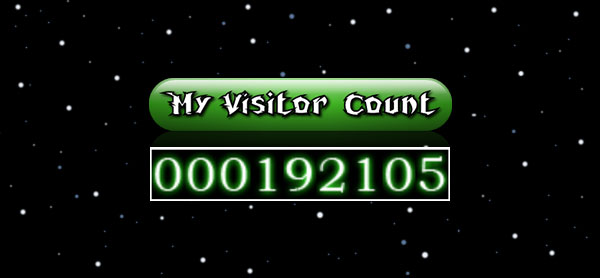 Guestbooks
Because why wouldn't you sign a guestbook when you visited a site? This trend allowed you to let the world know you came, you saw, and you commented. So polite.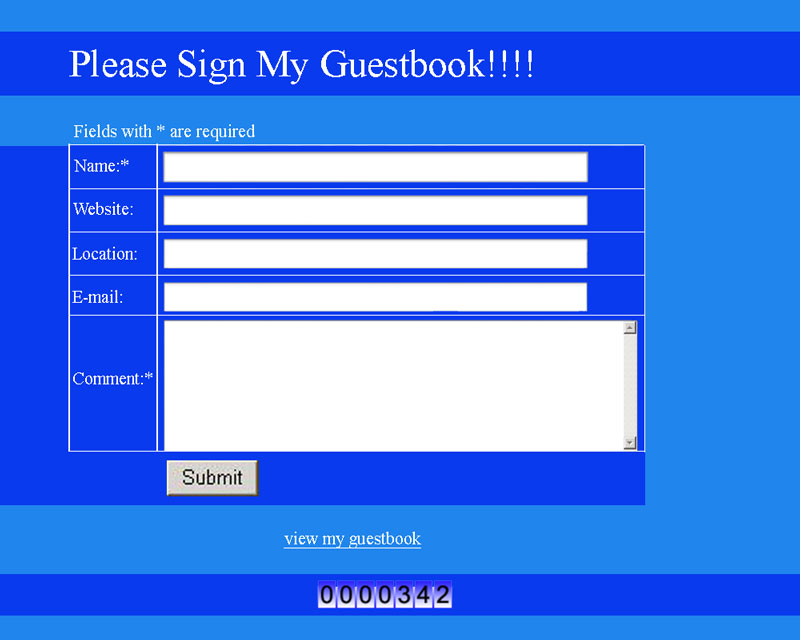 3D Text
What's better than an H1 tag you ask? How about an animated 3D title set on fire!!! Talk about an attention-grabbing heading, amirite?

Oh, and of course we have to poke fun at ourselves, too. Here's our site, in all its glory, from back when it originally launched in 1999. Enjoy 🙂
90s Content Marketing
Picture this: your tips are fully frosted (as if they would be anything else 💁) and you're patiently waiting for dial-up to connect to the Internet.
After what seems like forever, you're finally ready to surf the web and you search AltaVista for the latest news on the premiere of Star Wars Episode I: The Phantom Menace… millions of results turn up and then what?
Well, those websites provided you with content, giving you all the answers to your most pressing questions—or at least we hope they did.
Back in '99, content marketing was simply overwhelming.
There were mounds of backlinks piling up to rank higher in the SERPs, an unwavering dedication to tagging pages with an excessive number of phrases and the all-time favorite: keyword stuffing; the end all be all of digital marketing.
It seemed as though every other word on the page was a key phrase, sending readability and user experience to an all-time low.
In the early 90s, traditional marketing took precedent over digital based solely on the low number of consumers with access to the Internet at that time.
Now, news is consumed through tablets, smartphones, laptops and even podcasts with consumers possessing even shorter attention spans and a fast-paced lifestyle. Everything is digital, of course, and a block of content—especially overstuffed content—is no longer appealing.
Content now must prove it's worth in a matter of seconds; an eye-catching title that intrigues, headings that will determine if it's worth the time to read, and visuals that make the physical page more pleasing to view, filling in the gaps where words were not able to explain.
Email Marketing
Marketing through email was a brand-new idea in the 1990s, uncovering an unexpected opportunity to connect with your target audience with near instant communication and the ability to be shared.
There were two forms of email marketing that emerged.
Let's start with the utter failure: chain emails.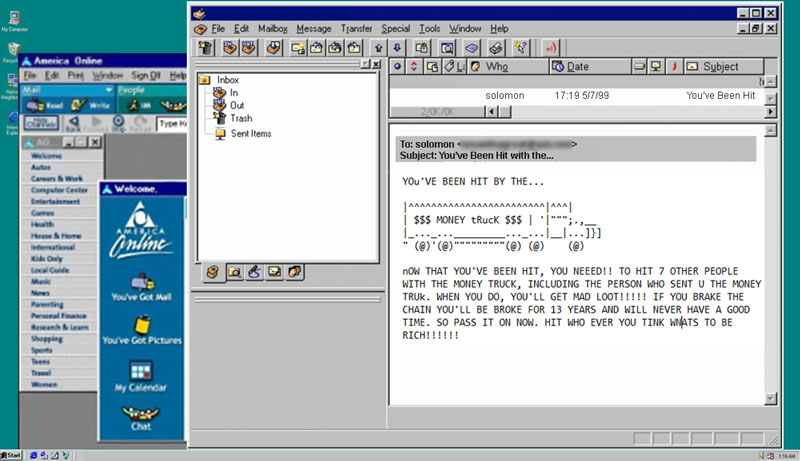 What seemed to be a killer marketing tool in the 90s would be known today as straight up SPAM.
Between 1998 and 1999, Hotmail became a hot commodity, adding 30 million users at an alarming rate. It was an easy way to communicate as well as a golden opportunity to access a new audience with the world's first viral content.
Enter the chain email; passing from one user to another, information spread like wildfire, but was it always the right information? Absolutely not. And later on, this form of email content was exposed as SPAM (regulated in 2003 to clear out all that unnecessary content and get our email accounts back to their former glory).
The 90s success story that began in our inboxes was the emergence of strategic email marketing, a concept that is at the forefront of today's digital marketing campaigns.
A few leading companies began to collect the email addresses from their target audience, building a nurtured community that was loyal to their brand through rewards and VIP treatment for subscribers.
Blogging
Content marketing really hit a stride with what was first known as a weblog, now turned "blog" because time is money and who's trying to waste that by saying another syllable?
It was the start of something completely new on the Internet: putting your thoughts out there on the world wide web for others to read. Did people actually read them? Hard to say.
But these pieces of content gave users and marketers alike the opportunity to write something that could go viral and was shareable.
And 1999 was a HUGE year for blogging with three major platforms rising to the occasion:
First there was LiveJournal, a platform created by Founder Brad Fitzpatrick to keep in touch with his pals from high school. Soon after, it gained momentum and became accessible to everyone.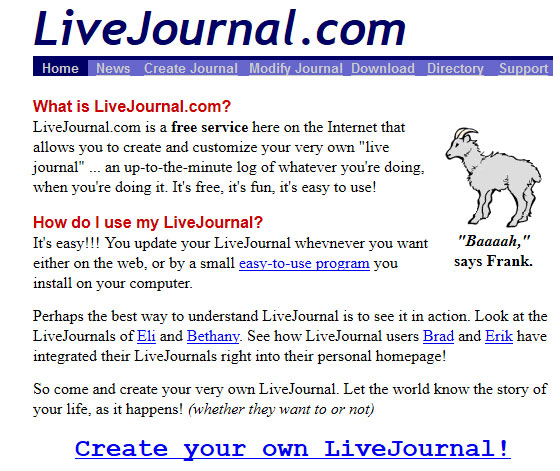 LiveJournal is not to be confused with DeadJournal, which is essentially the same platform, but for a more angsty folk.
Then there was Xanga, every teen's favorite social networking site turned blogging platform just one year later.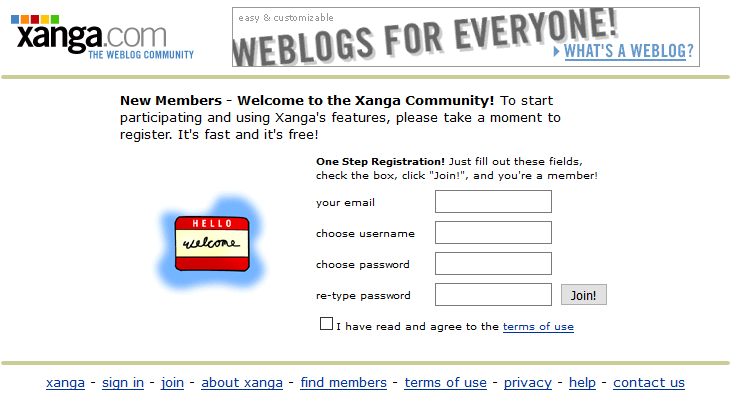 And last, but certainly not least is Blogger, that was—no joke—created on a whim by a company called Pyra Labs.
All of these sites worked towards creating a place to share ideas, stimulate creativity and form a strong online community—and they're still around today!
Blogging actually helped to pave the way for the concept of social media to emerge and flourish.
90s Social Media Marketing
What was the purpose of social media when the idea was first conceived?
Communication and connection over the Internet, or truthfully getting two computers to talk
to each other.
The first social media networking site known as SixDegrees was founded by Andrew Weinreich in 1996 and was set live the following year. The site claimed that you were only "Six degrees away from everyone." Sure you were…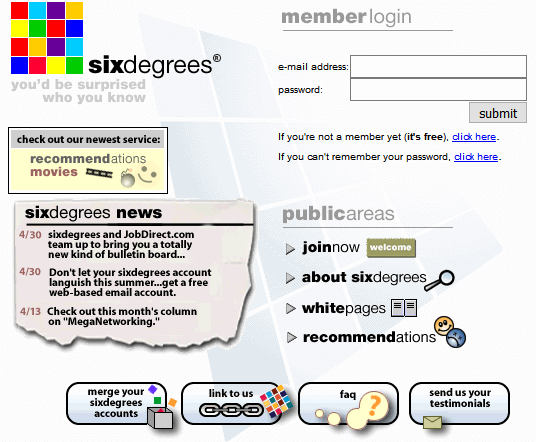 It had all the makings of modern-day social platforms with customizable profiles, friends lists, and even a place to rep your school.
Unfortunately, SixDegrees was ahead of its time.
Though it had millions of users, the site was unable to stay afloat due to the low volume of people actually being able to connect to the Internet. In other words, the struggle was very real.
Next was Friendster in 2002.

The shiny new social media site allowed users to create personal networks where they could easily communicate, share content with friends, and leave comments on profiles within their network.
Since Friendster showed how you were connected to strangers, it became a useful online dating tool as well.
But alas, this social network could not keep up, unable to scale their services to meet the high demand. Friendster eventually became a popular social gaming site giving it that extra edge to stick around until 2015 when the site took a step back to reevaluate its services.
It clearly never found its second (third?) win, because the site shut down completely in January 2019. RIP.
The big players in social media didn't emerge until a few years after these social media pioneers.
LinkedIn: 2002
MySpace: 2003
Facebook: 2004
Twitter: 2007
Keep in mind, we didn't think about mobile—it was never even a thought that crossed our minds as digital marketers since the BlackBerry wasn't even released until 2003.
Now look at us!
Social media marketing is all mobile all the time.
There is a vast array of hashtags that we as marketers love to use #sorrynotsorry; paid ads that can help you grow your audience through brand awareness; beautifully written content just seconds away from going viral (not chain email-viral—those days are long gone and never coming back thankfully).
Plus, brand ambassadors and nurtured online communities? Are you kidding me???
With this amazingly diverse spectrum of networks you can actively listen to your audience, engage with them directly, and work to meet their demands easier than ever before.
Fast-forward to 2019
The internet and digital marketing have evolved.
It's no longer about just having a website or being found in the search results. It's about a multitude of factors including: user experience, developing an online presence and connecting with your audience.