For most of us, the thought of being recruited by the top social network in the world seems like an unattainable and unimaginable dream. But for Gregg Mojica, it became a reality – at 16 years old.
That's right – Gregg caught Facebook's eye with his unparalleled programming skills, a talent that could give industry veterans a run for their money. The now 17-year old from Williamsville, NY and senior at Canisius High School started coding at age 12, and today has dozens of apps on the market and two businesses under his belt.
Viper, an anonymous social networking app, threw Gregg into the tech industry spotlight, and has amassed over 165,000 downloads from the App Store to date. His first business venture is an online, on-demand tutoring platform called Bryt, which allows you to connect with a tutor anywhere in the world through screen sharing capabilities. Gregg is also about to launch Gradology, an educational rewards app that recognizes student accomplishments in school. Students can submit their grades through the app and earn rewards towards gift cards or other prizes.
So while most teenagers are getting their driver's license, working at a retail store, and applying to colleges, Gregg is serving as the CTO of Gradology, reading coding blogs, and coming up with the next big app idea.
I had the opportunity to interview Gregg about his current ventures, how he balances it all, and how he foresees the future of technology taking shape in our already tech-driven world.
Craig: What advice do you have for those interested in teaching themselves how to code?
Gregg: Just jump into it. Get yourself immersed 100% and don't worry about the difficulty.  At first you'll probably be very confused, but that's totally normal. Dedication is key, and if you stick with it, ultimately, it will just "click!"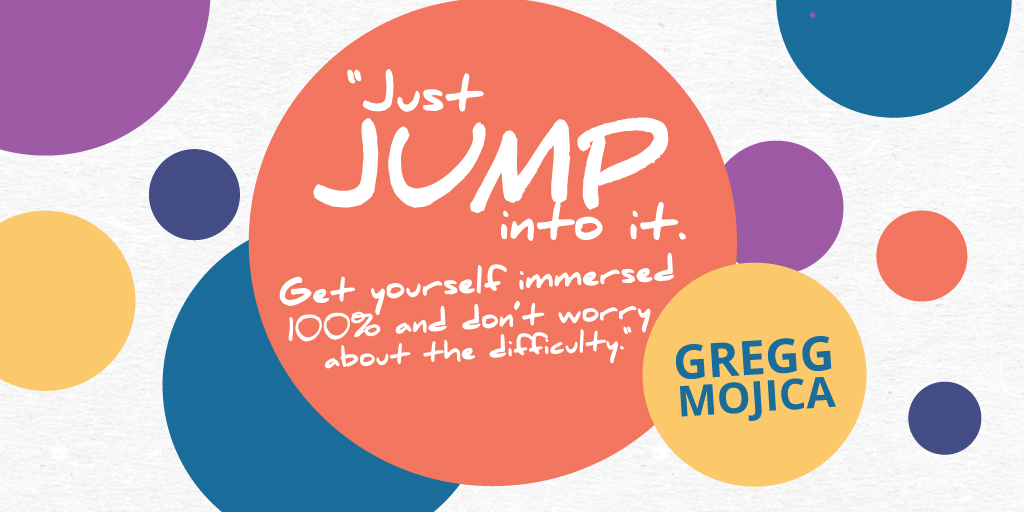 Craig: You're currently the CTO of Gradology, Inc. How much of your time there is spent coding / creating versus time spent on business-related tasks (growth, marketing, leadership / management, etc.)?
Gregg: I end up doing a decent amount of business-related tasks, but as CTO my responsibilities are primarily tech-focused. That means I'm involved in the day-to-day operations of the site, backend, database, etc.  However, I do oversee communication with our employees and partners.  My co-founders Eric Amodeo and Leo Rocco are both businessmen and are more involved in the business and marketing side than I am.
Craig: Is it hard to find the balance between work, school, and personal life?
Gregg: At times, it certainly is. My grandpa [was recently ill]*, so taking care of him, developing (and soon launching) a funded company, finishing homework, studying, and just having fun is at times a bit tricky.
Craig: Any tips for those of us with day jobs that have dreams and aspirations but "can't find the time?"
Gregg: The only way to build software companies is to learn to code. I started by watching coding videos every day — initially only one or two a day. I'd encourage anyone to join an online coding community like Treehouse or read coding blogs like AppCoda and Ray Wenderlich each and every day. This doesn't mean you need to dedicate 5 hours a day to coding, but perhaps only 10-20 minutes. With the New Year here, it's never been a better time to make your dreams come true!
Craig: When you first became interested in learning code, where did the self-teaching begin?
Gregg: Well, no one in my family is a programmer, so I was left to "fend for myself" (haha).  It was an experience.  I remember watching a video where the instructor explained how he had written a line of code into a widget to wire up a button.  I wrote his code, not knowing why it did what it did.  After that, I became very intrigued and this desire only fueled my motivation to write apps (and learn to code).
Craig: What inspired you to create Viper? What was one of the biggest challenges you faced during the creation of Viper? What is one thing you learned during the creation of Viper that has helped you with other programming projects?
Gregg: Viper was my first really "successful" app — with over 165,000 downloads to date.  I'm usually thinking of app ideas and jotting them down in my iPhone whenever they come.  I had been thinking of making an ephemeral and anonymous app for years. When I realized it could be a fun social networking app, I asked a few friends at school. They started using it and giving me feedback.  Before long, it launched to the world and I had my entire school using it!
Managing a database at scale, handling millions of requests (pings to my server) every month, and developing a location-based service were tricky at times. Viper taught me much more than just programming and got me involved in the business, deign, and marketing side of things.
Craig: Walk us through what was going on inside your head when you realized you were being recruited by the world's largest social network. When it was time to "put things on hold," as your mother described in your WIVB interview? How did you feel?
Gregg: It was insane.  I was sitting in class and got an email from someone at Facebook.  Initially I thought it was a joke of sorts, but I quickly Googled the person who had sent it and realized the email was accurate.  For the rest of the day, my head was spinning in utter amazement. My mom was completely shocked as well!  At the end of the day, we consulted with a lot of people (besides our own friends) and realized it was probably for the best to "put things on hold."  I wasn't even 17 at the time, and it would be pretty difficult to move across the country to work a full-time job.
Craig: What are you hoping to learn by attending college that you don't think you would have at Facebook?
Gregg: I'm hoping to meet people from all backgrounds and diversities. I'd like to get to know people with similar but also very different interests and in doing so broaden my horizons.  This seems to be something unique about college.
Craig: What do you hope to have accomplished in 5 years? How about 10 years?
Gregg: In five years, I'll ideally have a somewhat successful startup that has made a product that impacts people's lives. I enjoy making products that help other people.  If everything goes well, I would use any success/experience I have acquired to assist others in discovering and following their passions!
Craig: Intel estimates that by the year 2020, there will be 200 billion connected devices (26 smart objects for every human being on Earth). What type of impact has the Internet of Things had on the way you approach programming?
Gregg: The internet is the single most important resource to a programmer. I couldn't live without it!  Whenever I have a question (especially when I was just beginning), I'd just type that question into Google and sift through the sources until I found the right one.  With the world becoming ever more interconnected thanks to the Internet of Things, I see technology becoming more intertwined with our lives. I've messed with a few Arduinos and other IoT devices, and I'm excited to hopefully put a few ideas to life in the IoT world soon!
Craig: What is one of the biggest computer programming myths you'd like to set straight once and for all?
Gregg: For some reason or another, when people think of programming all they think of are 1's and 0's — binary code!  Programming is much more than just typing an array of numbers and letters on screen and involves a lot of logic and problem solving.
Craig: What are some of your favorite programming resources / tools? What is one resource / tool you absolutely cannot live without?
Gregg: Google!  Seriously though, Google is singularly my most important resource as a programmer and it helps me find solutions to problems I face. Besides that, I love Slack, a team management tool, a blog called AppCoda, and also StackOverflow, a software developer Q&A.
Craig: When you're not writing code, what else do you enjoy doing?
Gregg: I've been an avid photographer for the past 12 years (shout out to Grandpa who taught me)!  I also enjoy watching HBO's Silicon Valley and Game of Thrones, along with reading fiction and nonfiction.
Craig: Who do you look up to for inspiration?
Gregg: I've always looked to Steve Jobs as inspiration.  Aside from Jobs, I have a deep respect for Uber CEO Travis Kalanick (who has revolutionized transportation), Google founders Larry Page and Sergey Brin, and Airbnb's founders.  These people have built not just wildly successful products but enhance people's lives and are insanely addicting!
Craig: Getting into the business side of programming as the now CEO of Viper Networks LLC and CTO of Gradology, do you have any fresh advice for business owners?
Gregg: I have always built products because I love and believe in them!  I encourage anyone and everyone who has a business dream to do the same.  Don't ever give up, even when the odds aren't in your favor.
Craig: Since you've developed apps with social characteristics, do you have any predictions for the future of social media applications?
Gregg: Social is a huge industry, and honestly I feel like we're just getting started. With the rise of social networks, it seems like every 3-4 years another emerges (Myspace, Facebook, Twitter, Instagram, etc.). At the end of the day, I think social networking will become further ingrained in our daily lives in ways we can't even imagine yet. New media formats will also become popular as we've seen in 2015 with animated Facebook posts, Periscope, etc.

Craig: The way people communicate through technology?
Gregg: Communication right now is in many ways one-dimensional. With the rise of new media forms (3D, Virtual Reality, etc.), I see technology being able to convey emotions and become more personal.
Craig: Any predictions for the future of technology in the educational field?
Gregg: Educational technology is, in my opinion, one of the biggest tech opportunities yet.  Education is an incredibly influential field and one that nearly every person in our world is in some way touched by.  I feel technology will continue to be adopted in classrooms around the world not just for learning, but for instruction, assessments, and for engaging students. Technology affords us a rare opportunity to make a difference in the educational field. Most recently I've co-founded two educational-focused startups (Gradology and Bryt, both launching this winter). I'm really interested to see user feedback and how they can enhance students' lives.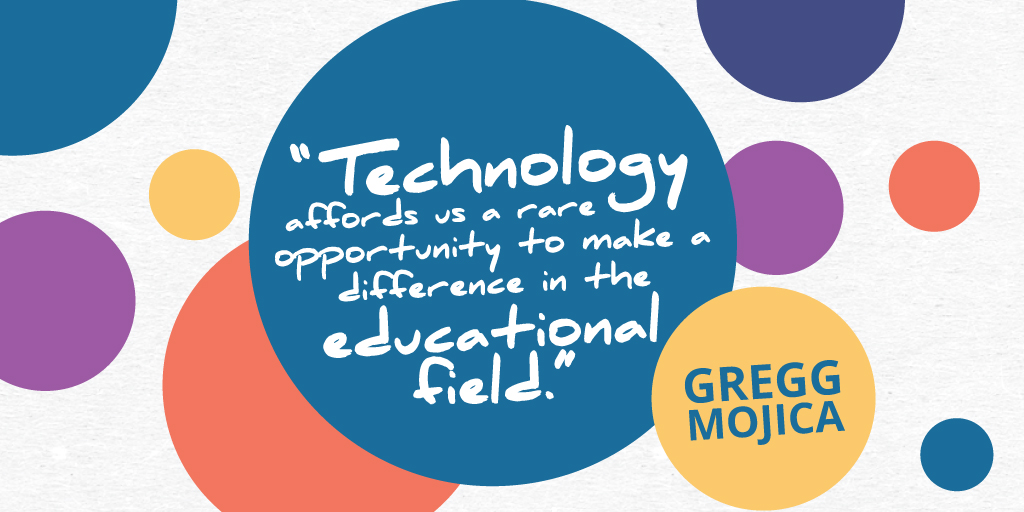 Craig: Since becoming an established app developer, what have you learned about UX best practices? Maybe mobile UX best practices?
Gregg: I've learned to follow common design patterns while adding my own "creative twist."  Too often, I've wanted to redesign an entire design or change a user interface, but this presents a problem to users who are used to common and consistent design.  When you try to reinvent the wheel, especially on mobile, you risk making your users re-learn something that should be consistent with the rest of the system's design. By following standard design patterns, developers can make their users feel right at home and lessen any learning curve.

No matter what industry your business is a part of, there's no doubt that it has been touched by the recent surge in technology. From mobile apps to the Internet of Things, we have the capability to be connected to one another in ways we could never have imagined possible ten, even five years ago.
If there's one thing we can all learn from Gregg it's that anyone can learn a skill or trade, no matter their age or experience level. His self-taught ability to code has opened up an endless number of doors for him as a student, entrepreneur, and programmer, and there's no question that we will be hearing a lot more from him in the future.
*Gregg's grandfather passed away after this interview took place. 
"Your time is limited, so don't waste it living someone else's life. Don't be trapped by dogma – which is living with the results of other people's thinking. Don't let the noise of others' opinions drown out your own inner voice. And most important, have the courage to follow your heart and intuition." – Steve Jobs