It hit me when I was cashing out on a much-needed cup of coffee the other night at Tim Hortons. I'd heard similar suggestions countless times before, but in my fatigued state I really started to digest the function behind this added line of dialogue in my otherwise-painless transaction:
"And would you like any doughnuts, muffins or bagels with that?"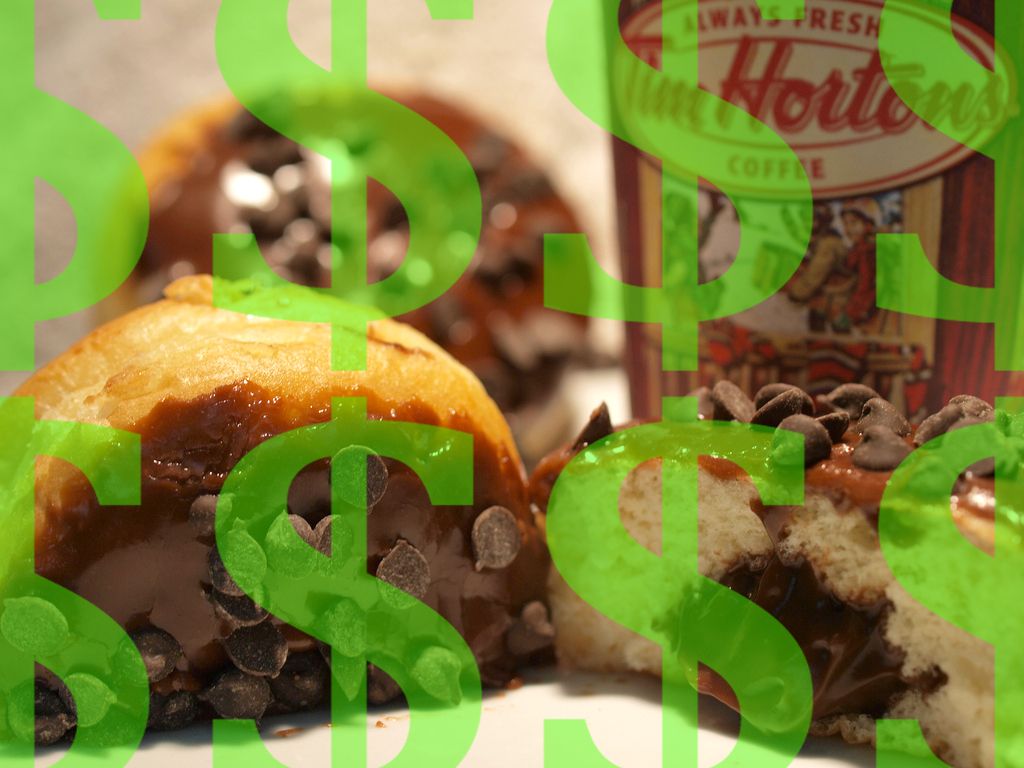 Original image from Michael Gil, under CC Attribution 2.0
Of course I don't; do I look hungry or something? I thought as I kindly turned down the cashier's question and walked away sipping the hot joe. But perhaps the next guy in line will think that muffin, doughnut or bagel sounds like a wise investment.
This is the tempting choice to spend another buck or two that resonates from so many drive-thru windows, checkout counters, online shopping carts and successful sales calls. And it's ultimately the difference between subsequent aggravation and succumbing to a slightly larger price tag. My curiosity lies in how effective this all-too-common technique is, and how often people express annoyance or negative sentiments after enduring repeated inquiries for extra buys.
Does It Work?
In short, yes it does. The terms for this behavior are cross-selling (when they're pushing a similar product) and upselling (when they're pushing a bigger or better version of the same product). These techniques are used by an extensive variety of businesses, and for good reason.
In the popular 2004 documentary Super Size Me, Morgan Spurlock was asked if he wanted to "super size" his McDonald's meal on nine different occasions out of the 30 days he spent eating nothing but burgers and fries at the restaurant. That means 10% of his visits were greeted by significant upsells (all of which he obliged, as multitudes of Americans do on a daily basis). And although the option to "super size" Mickey D's meals has been absent for many years, the age-old mantra of "would you like fries with that?" still earns the fast food giant a surplus of profits every year (and has since the 1970s).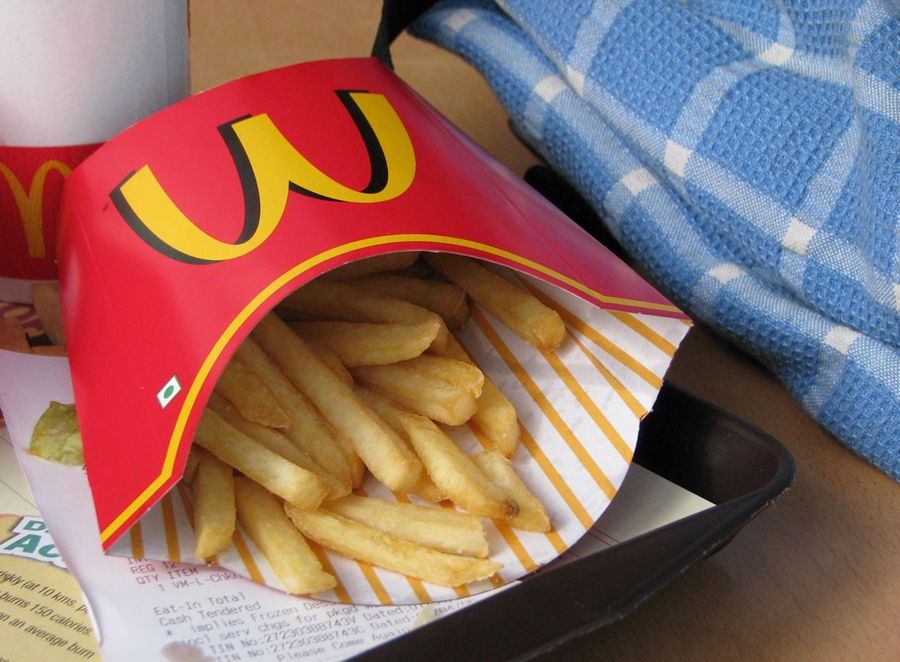 Image from Vivek Patankar, under CC Attribution 2.0
And despite my personal distaste for it, the aforementioned Tim Hortons chain does perform the upsell well. The cashiers frequently change the content and timing of their suggestive additions, and they generally do so in a graceful manner. I've heard variations where they present a summertime special on iced coffee upon introduction (aiding those of us who arrive at the drive-thru in hopeless indecision), brief but relevant inquiries between items, and wrap-up suggestions at the end of the order. What's important is that they keep their upsells short and sweet while giving me prompts that are relevant to my purchase.
Restaurants are notorious for their direct upsell approaches, but there are other, more understated ways that it's accomplished as well. Many ecommerce websites now use cross-selling techniques in their product pages and shopping carts by suggesting similar items and relevant accessories to shoppers.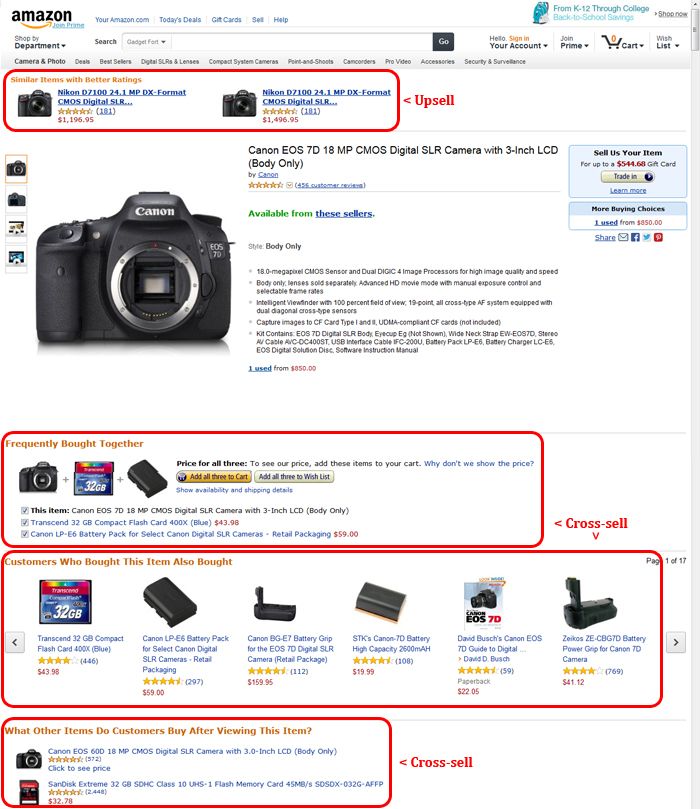 Above is a screenshot from a product page for a camera on Amazon. On this page alone, the retailer has included four different prompts for additional purchases. We've all seen this type of suggestive marketing in our online shopping endeavors, and the strategy has become a prominent part of the ecommerce business.
At this point Amazon has it down to a science, as they've claimed in years past that cross-selling efforts make up 35% of their sales. Additionally, some of the highest-converting sites (such as ProFlowers, Office Depot and Schwan's) utilize upselling and cross-selling to their advantage in shopping cart checkouts. The tactic is so effective because these sites focus on products that make sense with what the customer is browsing or buying, not just spitting any old deal in their face.
But How Much Is Too Much?
Upselling strategies may be an effective way to increase immediate revenue, but when does it go too far? Can inappropriate or poorly timed sales prompts create customer service issues or hurt a company's reputation?
The easy answer is that upsell attempts should make sense while providing a clear benefit to the consumer. Blatant prompts to spend more money can sound mechanical, impersonalized and ultimately piss people off. Below are a few examples of upselling and cross-selling techniques that are common targets of customer frustration.
Panera's cashiers encourage customers to add a drink to their meal to get a deal on a 99-cent bakery item. You'd imagine this must be an effective cross-sell strategy, since the ploy is used so consistently at their locations. But the fact is that they're imploring you to spend money on a drink, to in turn spend even more on a muffin or cookie. Sure, it's only 99 cents. But how much is that drink going to cost you? And this is all on top of the meal you already dropped eight bucks on. Not to mention that the same line is drawled to every customer. It's easy to tell that this is just a way to make you empty your pockets.
I also found several instances of office retailer Staples scrambling with their upsell approaches. Notably, they make a habit of sending follow-up emails to customers after an online purchase, in which they provide entirely unrelated suggestions on various Staples products. Under the headline "You've made a good choice. May we suggest some more?", one of the cross-sell emails provided purchase suggestions such as foam cups and a laser printer to someone who had recently bought ink cartridges.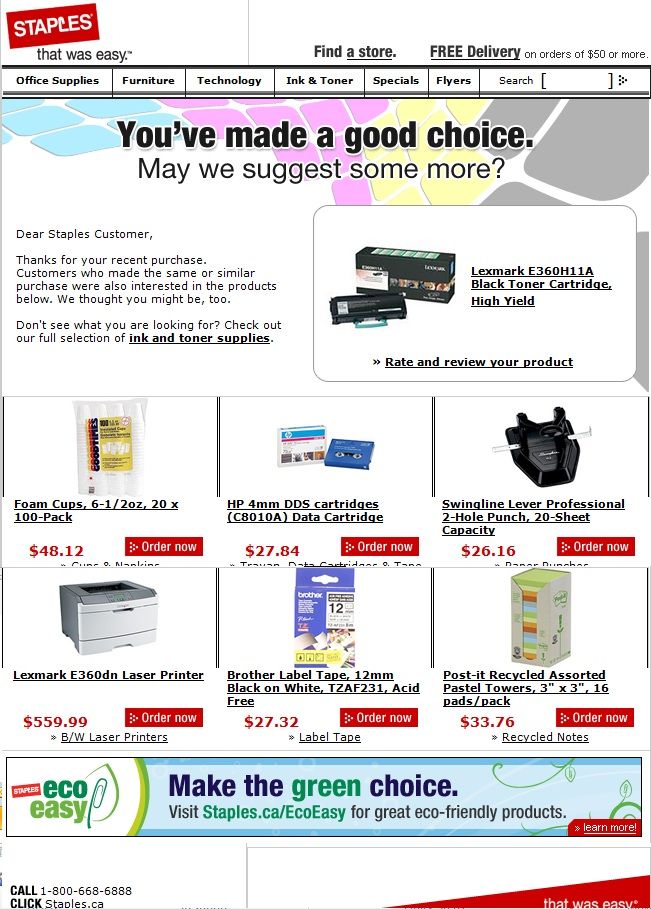 Image from Alex Nuta
In doing so, they neglected to personalize the email's introduction with the customer's first name, and they contradicted their foam cup suggestion with a banner touting the company's "eco-friendly products". But the most important difference between the high-converting suggestive marketing on sites such as Amazon and emails like the one above is what type of products they're pushing. Amazon's suggestions are relevant to what the customer is already shopping for, whereas Staples' are completely unrelated and nonsensical. The presentation is far different, too. Amazon uses softer upsells that utilize verbiage such as "customers who bought this item also purchased…", and Staples neglects to mention the customers at all.
The next is a broader example that's performed in many modern brick-and-mortar stores, but upselling customers on protection plans for their new purchases is becoming an incredibly common practice. I've personally had experiences with said protection plans at Best Buy, Dick's, Galyan's and Gander Mountain (just two days ago I bought a tent and was hit with the inquiry). The problem is that the products you're buying are often already covered under warranty. And when they aren't, the store-issued protection plans are almost always limited to a set period of time (such as a year) and cost far more than they're worth.
So, What's the Best Way to Upsell Without Aggravating the Customer?
After taking a look at the brightest examples of upselling and cross-selling alongside the worst, here are the most important details to remember:
Suggest an improved option that provides them with a relevant benefit. At the same time, be sure that the upsell is fiscally appealing or giving them an unmistakably valuable deal.
Presentation is paramount. The upsell should be a brief, casual suggestion as opposed to a robotic phrase or blatant push for more.
Personalize for the best results. If the upsell is on a product page or email, give them suggestions they'll care about and call them by name when possible.
Don't go overboard. When regular customers hear the same line every time they come back, the charm wears off pretty quickly.
Timing depends on what you're selling and who your customers are. Consider their needs to determine whether it's better to upsell before, during or after the initial purchase takes place.
Do you have any other suggestions for upselling effectively? Give us your insight in the comments below.