I've reviewed what a KPI is and why you should be measuring them, so it's only natural that I move onto actually defining and measuring KPIs.
Let's get started so I can keep my promise of a short and to-the-point post series…
Defining and Measuring KPIs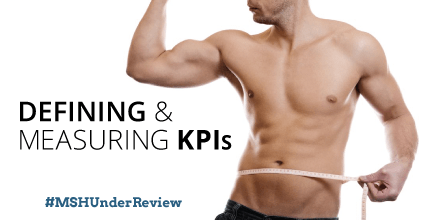 Remember, a key performance indicator is a metric that helps you determine how you're doing against your business' goals and objectives. When defining your KPIs, keep in mind how they fit into the overall goals of your business and what metrics you will use to measure them. You'll also want to note that KPIs tend to be unique from company to company; after all, every business has exclusive objectives.
In a brilliant post by Avinash Kaushik, he outlines KPIs that provide real, useful insights into the state of your business. I suggest you read it before you define your KPIs, but here are some of the key takeaways when it comes to defining KPIs:
Think about the end user – what do you want them to achieve, how will they best be able to achieve it and what will make them loyal to your business?
Don't just think in terms of revenue – think about how all of your micro and macro goals play into the bigger picture. How do all of your goals work together to produce economic value?
Can your users complete the tasks they want to on your website? Are you more concerned with people sifting through your website's pages, or actually getting the information they came for?
Are you more concerned with surface values or conversion rates? Don't just measure success by the number of visits, followers or likes, make sure your efforts are resulting in some type of conversion.
Once you've defined your KPIs, think about the metrics that will help you measure them. Here are some areas that will provide value when measuring your KPIs, again with the assistance from Mr. Kaushik:
Task completion rate
Visitor loyalty and recency (how many times your visitors return to your website in a given amount of time)
Average order value
Share of search( the percentage of search engine traffic to your website compared to that of your key competitors)
Subscribers to your RSS/Reed
Percentage of valuable exits (people who leave your website by clicking on something that is of value to you)