It's official folks: Google Drive is the best thing ever invented.
Yes, penicillin and lightbulbs and microprocessors are cool, but Google Drive has supercharged my productivity like nothing else, positively impacting my life like you wouldn't believe.
No, I'm not being paid by Google to say this.
But let me back up a bit.
The nature of my business involves working with a lot of different freelancers and clients. I've got a thousand different parts moving in a thousand different directions.
Honestly, trying to stay on top of everything can be a logistical nightmare at times.
I tried every project management tool out there, but nothing hit the perfect balance between simplicity and complexity.
Then, Google made some updates to Drive that changed everything for me. Now I use Google Drive to manage just about everything I do.
And now I'm going to share my secrets with you. Without further ado, here are six Google Drive hacks to supercharge your productivity.
1.  Tag Everyone
The ability to "tag" various people within documents has turned Google Drive into my primary project management tool and my primary freelancer communication tool. I'll create a massive list of tasks within a Google Sheet (spreadsheet), but instead of manually contacting my entire team of freelancers to assign tasks, I simply tag them.

Google then automatically sends an email alerting them that they were tagged.
Freelancers can respond to comments within the doc itself, creating a trail of communication that everyone can see. It's a brilliant way to keep a staggering number of people on the same page.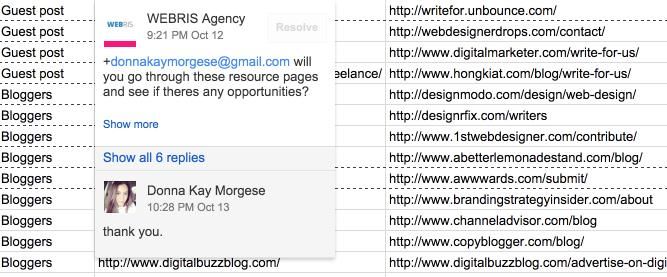 The biggest challenge with juggling multiple detailed projects is keeping everything in front of you. Google Drive (especially Sheets) allows you to keep in touch with freelancers without having to constantly be in email, Slack, HipChat, or any other communication method.
2.  Upload All of Your Files to One Place
Services like Dropbox and Box are great, but they add yet one more digital location I need to track. I don't have time for that. I've got too many details to track as it is.
Now I use Google Drive as my all-in-one storage tool. Using the "File Upload" function, I can upload all client-related files into the same file I use for client documents and spreadsheets. Instead of having to stay on top of multiple Dropbox, Google, and Evernote links, I just dump everything into one place.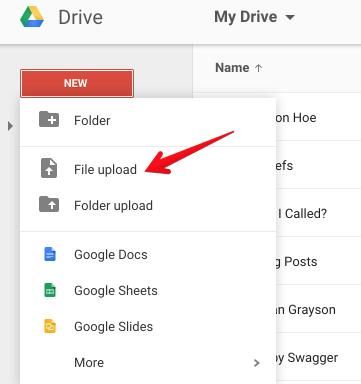 This is massively useful when sharing large files, like PSDs, with clients. And, if you happen to use Gmail, you can share Google Drive files directly from there.

That, ladies and gentlemen, is what Michael Scott would call a win-win-win.
3.  Utilize Those Extensions
Google Drive, much like Google Chrome, has a number of extensions that increase its usefulness.
The "Save to Google Drive" extension allows you to save any file to Drive with a simple click of the mouse.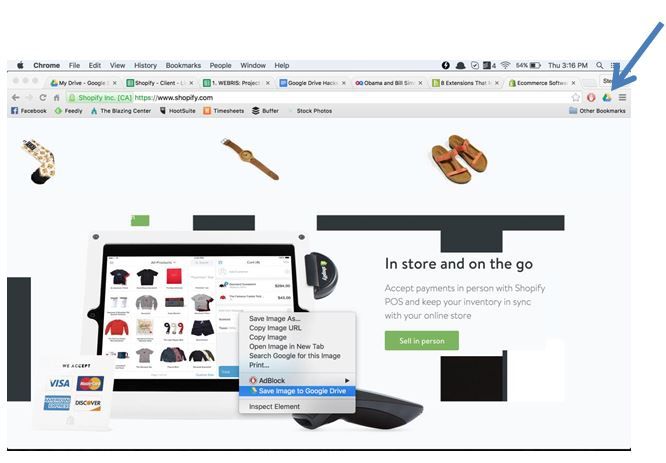 Because not everyone uses Google Drive (even though they should!), the "Sync Google Drive" extension is perfect for syncing files between Drive and other storage options, like Dropbox or Evernote.
4.  Share to Build Trust
Google Drive's sharing settings are brilliant, and I utilize them to maintain total transparency with my clients. This is crucial for me because it allows me to gain the trust of my clients. And without trust, I've got nothing to stand on.
I do quite a bit of blogger outreach on behalf of clients; however, before I reach out to specific bloggers, I let my client go through the master list to approve them or strike them off.

By sharing the document with the edit function enabled, my clients can see everything I'm doing for them and make comments as necessary. When a client can see exactly what I'm working on, he or she is more inclined to trust me.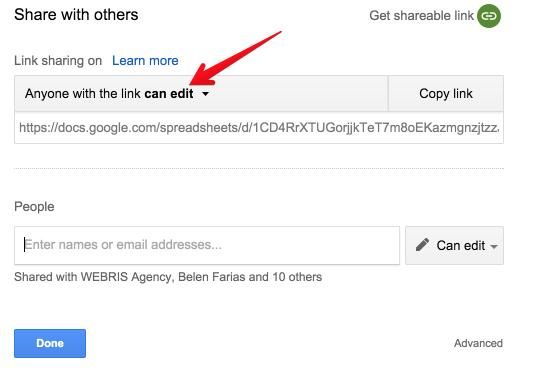 5.  Voice Command – Go!
Did you know that Google Drive has a voice typing function? I know, right? It's like something out of Star Wars.
With a simple set of microphone-enabled headphones, you can use your voice to dictate text.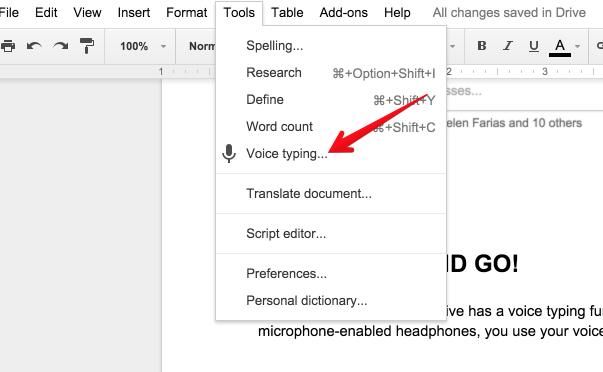 It can take a while to get used to voice dictation, but once you get the hang of it, you can fly through tasks. Voice dictation tends to be most effective for things that require less detailed thought, such as an email.
If you need help getting started, Lifehacker has a helpful guide (it's for Mac dictation, but the principles still apply).
6.  Use The Google Drive API
The Google Drive API allows it to integrate with a TON of other services. One of the best ways to hack the API is to utilize a service like Zapier. Basically, it allows services to work together.
Using Zapier, you can connect Drive to other apps like Slack, Trello, and Buffer.

If you happen to run a Shopify eCommerce store, Zapier makes it simple to create a new file from every Shopify order.

Like I said, I'm all about managing everything in one place. With Zapier, I can put Google Drive at the center of my command station and integrate other apps with it.
Conclusion
At the end of the day, you're always going to need documents, spreadsheets, and storage. Tools like Asana and Basecamp are good in their own right, but they end up adding an additional layer of complexity on top of what you're already doing.
The reason I'm so enthusiastic (overly?) about Drive is that it allows me to do everything I need to do without being excessively complex. And by implementing all these productivity hacks, I can take it beyond just a simple word processor and spreadsheet creator.
Ultimately, you've got to find what works best for you and your team. Maybe Google Drive will prove to be exactly what you're looking for.