It seems like we hear a whole lot about how crummy Buffalo is. Of course, people love to complain, and it's often far easier to pick out the bad from the good. But it's coming up on a year since I moved to this city, and frankly I've found a plethora of reasons to love and enjoy it.
I'm here to dispel the misconceptions and pessimistic outside views by taking a closer look at all the benefits Buffalo has to offer. Read on to discover why the Queen City is, in fact, a wonderful place to live.
1) The Food
Everyone is familiar with the Buffalo chicken wing phenomenon, and many may liken our cuisine to what dishes they've sampled at Buffalo Wild Wings (the chain restaurant ironically based in Minneapolis). But it does get better than this. If wings are what you're looking for, Anchor Bar (the OG in Buffalo wings) and Duff's lead the pack. Just don't go thinking that's all we've got here…

Images from Vincent X under CC Attribution 2.0, and Ted Thompson under CC Attribution-NonCommercial-NoDerivs 2.0
I can pick from an arsenal of delicious restaurants any day of the week to satisfy my cravings. Since I settled here, I've had spectacular Chinese, Indian, Greek, Polish, Lebanese, Irish and traditional American favorites. To name a few: Great Wall for the best Chinese, Mezza for delicious shawarma (that meaty picture on the left), Ted's for phenomenal hotdogs, Cole's for great burgers and salads, Thirsty Buffalo for awesome bar food and wings. These are just some of my favorites – I'll assure you it's only the tip of the mouthwatering iceberg.
There are also a number of hole-in-the-wall hidden gems throughout the West Side, and they're perfect when you're eating on a budget. Two of my favorite small joints are Nick's Place and The Kitchen Table in the Black Rock neighborhood. Nothing beats a hardy breakfast for five-ish bucks.
And for quick late-night refreshment, Buffalo's food trucks frequent street corners near the best bars. Tacos, barbeque, risotto and even vegetarian dishes are popular finds at the trucks. In the nice months, the 16 food trucks gather in Larkin Square every Tuesday night to vend their best offerings.
2) Not Too Big, but Not Too Small
The beauty of Buffalo is that it's juuussst right. Larger urban centers can be overwhelming and impersonal, while smaller cities don't necessarily have much going on. But Buffalo is the ideal median size for those settlers chasing the best of both worlds.
You'll sometimes see familiar faces when you walk down the street or drop into a bar, but there's plenty of room to escape the routine spots if you're looking for something new. Going back to its affinity for bicycling, Buffalo is small enough to navigate quickly and efficiently, while avoiding the headaches of congested traffic and distant commutes that larger cities bring with them.
The neighborhoods have a tendency to transform abruptly from block to block, crafting an intimate amalgamation of people from different cultural backgrounds and economic demographics. Which brings us to the next best thing about Buffalo, NY…
3) The People and Rich Cultural Diversity
For the most part, Buffalo's populous is friendly, down-to-earth and approachable. There have now been multiple instances where I've had worthwhile conversations with complete strangers in the city. Of course, every place has its scrooges, but I have yet to log any notably unpleasant encounters.
The city is also a melting pot of various cultures and values. There are numerous annual events celebrating the heritage of the city's ethnic groups, some of which are nationally recognized.
Dyngus Day is one of the largest and most well-known Buffalo traditions. The city is unofficially the Dyngus Day capital of America, with a significant concentration of dance hall events and live polka music. I attended it myself for the first time earlier this year, and it's nothing short of a blast. Buffalo's huge Polish population is extremely friendly and welcoming, as the celebration's slogan states "everybody is Polish on Dyngus Day!"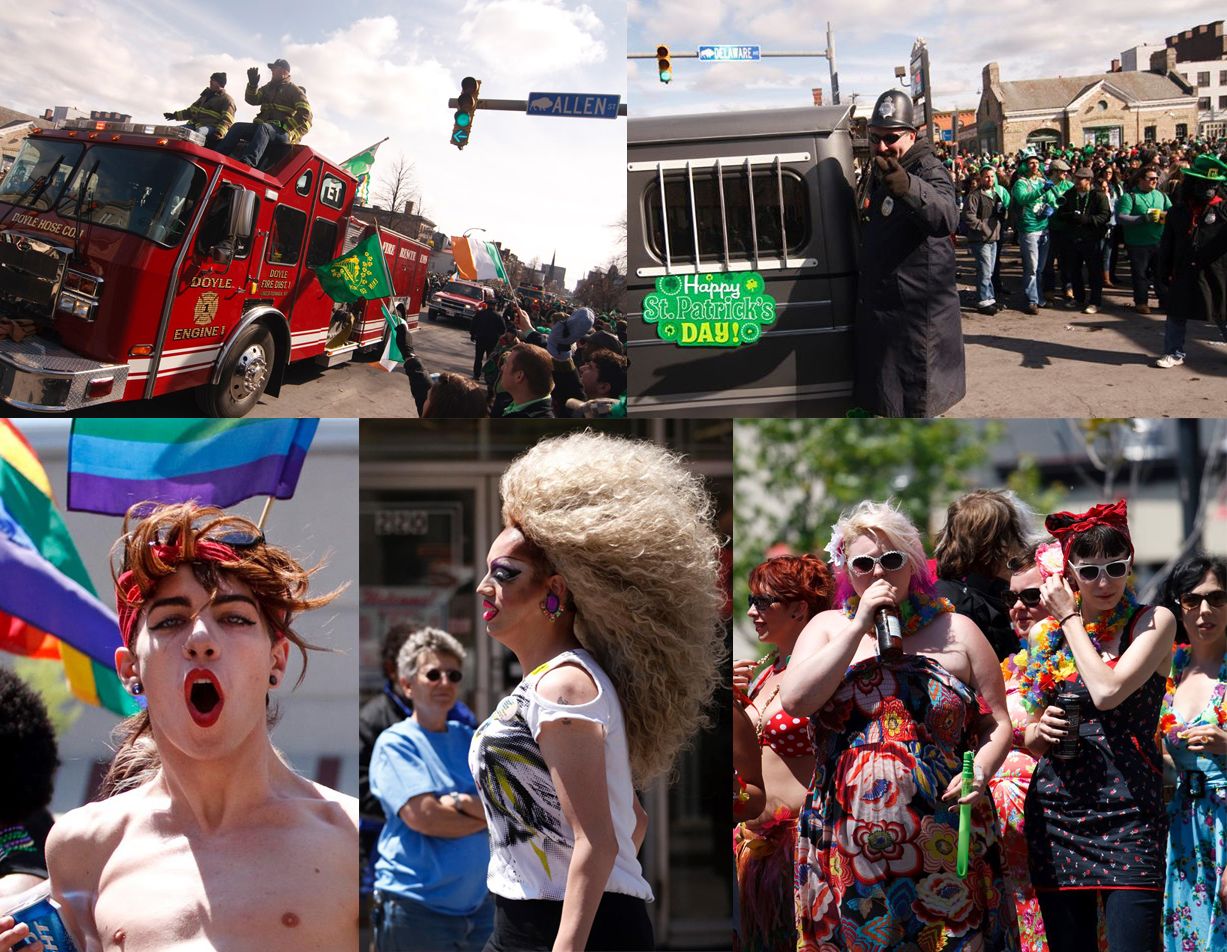 Images from Pat DePuy (from St. Patrick's Day and Pride Parade 2013 in Buffalo)
Buffalo's Saint Patrick's Day Parade is one of the largest in the country (that is, the parade on Delaware Ave. – there are two different Paddy's Day parades in Buffalo). The parade turns into an all-day affair with some of the most boisterous celebrations along Delaware and Allen in the city. Again, my first Paddy's Day in Buffalo was this past March, and I must say I was impressed with its sheer size and scope.
But it doesn't stop here. The Juneteenth Festival is a celebration of African American culture, Buffalo Greek Fest, Buffalo Italian Festival, the Puerto Rican and Hispanic Day Parade, the Pride Parade and many more are all staples of Buffalo's cultural wealth.
4) The Sports
Bills, Sabres, Bandits and Bisons. Sure, every city has their teams. But Buffalo's professional teams have an exceptionally fervent following, and it's the thrill of routing for the underdog that has kept Buffalo fans loyal for so many decades.
There are several telling testaments to the devotion and passion of Buffalo sports fans. For starters, The Bills' tailgating experience is ranked one of the best in the country. The line "Nobody circles the wagons like the Buffalo Bills!" was famously claimed by ESPN studio host Chris Berman, and some tailgates have become so extravagant that they've been asked by NFL officials to tone it down.

Images from bustedcoverage, Craig Kilgore (the boss), and commissioneroftailgating
Despite the fact that the team has never won a Super Bowl, its diehard fans continue to turn out in droves. Just last Sunday, the Buffalo Bills training camp sold out tickets for its opening day of practice. The fan-initiated #BillsMafia hashtag has become a phenomenon on Twitter that now has its own account and following of over 15,000, along with a popular line of merchandise.
While we're on the subject of solid fan turnout, the Bandits set a record for the most fans present in one season (143,581 fans in 2009) in the National Lacrosse League. They also have the record for second-highest overall attendance in a season (2,086,412 attendees over 162 home games) and come in second in average attendance at 12,879 attendees.
Season tickets for Sabres games are currently inaccessible due to a capped number of season ticket holders, and to get your hands on them you'll need to join a wait-list of over 2,700 people (as of 2012). They're one of the few US-based hockey franchises that have a waiting list for season ticket purchases.
But regardless of statistics, I've seen firsthand how intensely the emotions fly during a Bills or Sabres game. I'll never forget the times spent sitting in my Fredonia dormitory room during a Bills game, and hearing synchronized screams emanate from faraway windows after a fouled play or (occasional) touchdown. Or my first experience in a local bar during a Sabres game, as a successful shot conjured more ruckus from the excited patrons than I could've possibly fathomed.
There's certainly something special about Buffalo sports that continues to defy the overwhelming odds.
5) It's Bike-Friendly
It's remarkably easy to get around Buffalo on a bike, and in some cases you'll reach your destination more quickly on two wheels rather than four.
Many of the city's busiest streets have shared and dedicated bike lanes to make safe travel easier for bicyclists. Below is a map of the existing bike lanes, bike projects in construction and proposed facilities for the future.
There are also over 300 bicycle parking locations installed throughout the city of Buffalo, NY. Now abundant throughout Buffalo's downtown neighborhoods and surrounding areas, what started as an initiative of only 25 bike racks has grown to offer secure lock-up locations across the most populated areas.
GO Bike Buffalo is responsible for the aforementioned lanes and parking, along with programs to educate and enable bicyclists of all ages and abilities. The Safe Routes to School program offers resources to get parents to and from school on their bikes. Complete Streets gets involved with road construction and repair to push for bicycling safety and interests. GO Bike Buffalo also provides businesses with the opportunity to request bike parking locations outside their storefront, following legislation that installs these racks free of charge.
The community around Buffalo bicycling is growing exponentially as well. The Sunday Night Ride is a weekly meet-up of cyclists, yielding a bike pack that often reaches hundreds of people. The informal event can last for hours at a time and traverse one end of the city to the other.
6) The Architecture
There are a number of notable structures among Buffalo's cityscape, and many buildings that were drafted by the nation's most gifted architects. What makes it more interesting is that the city's most contemporary buildings rise alongside centuries-old constructions, giving the urbanized areas an eclectic mix of masonry.
Below are a few highlights of Buffalo's most noteworthy architecture.

Images from Tom Bastin, Maureen Jameson, and JasonParis under CC Attribution 2.0
The HH Richardson complex (left) is a mammoth red sandstone building with copper roofs at the southern edge of Buffalo State College. The structure is exemplified by its twin towers that rise 185 feet from the 91-acre campus, and these 19th century buildings are widely considered to be haunted. It was designed by Henry Hobson Richardson, one of the recognized trinity of American architecture greats (alongside Frank Lloyd Wright and Louis Sullivan). And after many years of vacancy and decay, the complex is finally being restored to its former glory.
Buffalo City Hall (center) is an Art Deco style building (and the second tallest in Buffalo's skyline) that features extraordinary exterior design elements and detailed sculptural friezes. City Hall towers over Niagara Square and marks the city center. It is listed on the National Register of Historic Places, and was one of the most expensive city halls to construct in the country's history.
Frank Lloyd Wright's Darwin D. Martin House complex (right) is a considerably smaller Buffalo landmark, albeit one of the most impressive. Located near the Buffalo Zoo on Jewett Parkway, the original building had been abandoned following the Great Depression, suffering structural decay and vandalism throughout the 20th century. After flip-flopping property ownership and a number of modern modifications, the house is being restored to its original structural specifications, in what Mr. Wright had claimed his opus work.
7) Four Season Climate
Buffalo's climate may be wacky, but the region yields all four seasons to its residents.
Some may favor the meteorological stability offered by places such as Florida, but I've never been one to prefer year-round snow or sun. I find it difficult to claim a "favorite season" like some can aptly share. This may have something to do with being raised outside of Rochester (another tumultuous town for weather conditions), but the prospect of blooming flowers and butterflies on Christmas Day just depresses me.
Just think about all the activities we get to enjoy thanks to having all four seasons:
Pumpkin picking, haunted hay rides, Halloween and harvest festivities (plus delicious locally-brewed pumpkin beers in the fall).
Building snowmen and igloos, watching the snow fall with your significant other, sledding, skiing, snowboarding, and shoveling your driveway! (heh…)
Watching the world thaw and become green again in Spring, and dancing in the rain if you're so inclined (as a neighbor of mine recently decided to, sans-clothing).
Enjoying a picnic in the park, swimming, bicycling, driving with the top down on your Jeep (or motorcycle, or other convertible vehicle).
There's just something wonderful and climactic that comes with the change of seasons. If nothing else, I'd venture to say the variety makes life more interesting.
Not to mention that we're 99% off the hook for threats of natural disaster, save the occasional blizzard or ice storm. But a few days without power and some toppled trees is nothing compared to a hurricane or earthquake.
So ponder that next time you have an issue with the grey skies.
8) Abundant Green Space
This city has a ton of green space to enjoy. Complementing the many buildings and roadways, Buffalo's parks are plentiful and easily accessible.
The Olmsted Park system makes up six major parks in the immediate vicinity, offering playgrounds, golf courses, sports courts, open lawns, foot and bike paths. Many of the city's traffic circles are embedded with open grass, trees, fountains and benches.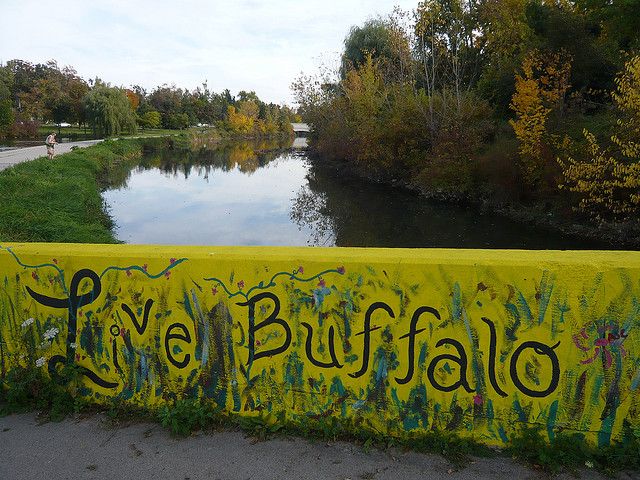 Image from efoxsolomon, under CC Attribution 2.0
Bidwell Park is a wide median of green space that runs along Bidwell Parkway and continues along Lincoln and Chapin Parkways to form several miles of open lawns and foliage. Delaware Park makes up the largest expanse of greenery in the city and borders both the Buffalo Zoo and Albright Knox Art Gallery. Squaw Island is another sizable outlet for outdoor activities, settled just across the shoreline of the West Side.
We may take it for granted, but it's a fantastic convenience to take the dog for a walk, throw the pigskin with the guys or let the kids play in a nearby park.
9) It's on the Up-and-Up
It's time to turn our noses up at the idea of Buffalo in urban decay and take a moment to appreciate how much this city has going for it.
A much-neglected part of Buffalo's goodness is its potential. I can tell that the city has a lot of room to grow, and from everything I've seen there is vast potential for Buffalo to bloom into a revitalized and glorious urban center (as it once was before its industrial downturn).
The people are passionate, and in my experiences shooting reportage for a local newspaper I've seen what Buffalo's empowered citizens are capable of achieving. Growing efforts are already in motion to make this city a better place, and I'll cite movements such as the Clean Air Coalition, Buffalo First, GO Bike Buffalo and the Silo City arts initiative for their progressive roles in doing so. Not to mention so many of the local business leaders who are collaborating to work towards a more sustainable economy. Some big things are in the works here, and I believe there's far more to come down the line.
So did I miss anything? I am a newcomer, after all. Let me know what you'd add about Buffalo's assets in the comments below. And if you're looking for more #BuffaLove, check out a time-lapse of our 26-foot mural of the Buffalo city skyline.