I think about SEO all day and night. Occasionally I have dreams about SEO. Over the weekend, I began thinking about how time consuming and difficult SEO is (I am aware that this is nothing new, I just never stop thinking about it).
In addition to all of this, I began thinking about how hard it is to blog about SEO. There's an abundance of awesome SEO bloggers out there as there are in most other industries. The question is how can you overcome these challenges and make yourself stand out? Many of the ideas I am going to share are fairly broad but will help in your everyday SEO tasks (link building, on-page stuff, blogging, etc.).
I am personally responsible for my company's SEO, paid search campaigns, social media, content marketing, and a list of other tasks. I have been personally responsible for overseeing the redesign of my company's website, improving organic rankings under highly competitive SEO phrases and improving our social presence on the web.
In addition to this, I enjoy being involved in client projects as this keeps me on my toes and thinking more outside the box than I would normally have to.
So All of This Got Me Thinking, What Are Some of My Biggest Day-to-day SEO Challenges?
Coming up with new ideas is one of my biggest challenges. With so much out there, it is hard to set yourself apart from others in your industry.
Being creative – being creative is one of my hardest tasks to overcome while performing SEO. Luckily for me, I have access to an extremely creative team of designers, SEOs and copywriters.
Staying on track – it is so easy to get sidetracked when doing anything, especially SEO. Given the amount of tasks you are responsible for, how do you stay focused?
Staying organized – similar to staying on track; organization is huge in SEO and in every other industry for that matter. Do you have any organization tips or tricks?
Bridging the gap between SEOs, designers, developers, copywriters and upper management – this is by far one of my biggest challenges and is something I face on a day-to-day basis.
How Do I (And How Can You) Overcome These Challenges?
The broadest answer I can give you to all of your challenges is to be creative. Don't just be creative, stay creative. Focus on your competitors but try to put more time into focusing on what they are doing well and not just everything they are doing. When you see something that is working, ask yourself, "how can I make this better?" Think of new ways to set the bar instead of constantly following. Here is a more than creative way of responding to blog comments via @iPullRank:
Don't give up. If something doesn't work the first time, don't just throw in the towel. As an SEO, you have to do a lot of testing and if everything worked on the first attempt without failure, many of us would be out of jobs. Apply this to your business as well. Don't be afraid to do A/B testing and don't forget to measure results. If you were to ask any of my colleagues, they would tell you that I constantly forget to set benchmark statistics when performing tests. If you don't benchmark, it makes it that much harder to gauge your improvements.
Communicate – the easiest way to bridge the gap between SEOs, copywriters, designers and upper management is to communicate. Don't just communicate though, communicate in a way that people will understand. Don't just explain the "what" explain the "why". Communicate in a way that is easy to follow as this will more likely get you the results you are looking for.
Stay organized in new and exciting ways. Organization and exciting probably don't belong in the same sentence but give it a try. I took away an idea from @JoannaLord at a @distilled SEO conference I attended in Boston a few months ago. It is basically a board of movable post-it notes. Each post-it represents a task and each employee has their own column of tasks. This has improved organization and has helped get things done within my department. If you aren't getting things done, what are you doing?
The below "post-it" board idea is courtesy of Joanna Lord's presentation.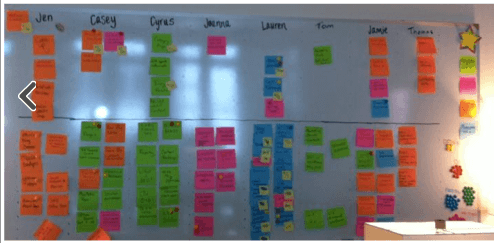 How do you overcome these challenges? Outside of SEO, if you are a business owner and feel like you are presented with similar challenges; do you overcome some of them in the same manner? Feel free to share your thoughts and ideas!