The use of Snapchat is ubiquitous. Whether you are an avid Snapchat user or have family or friends using the app to add dog-ears and flower crowns to their faces, it is likely you are aware of the role that Snapchat has come to play in our everyday lives.
Snapchat offers users a way to interact with friends and family, sharing everyday experiences. Geofilters are location specific overlays, which are only available in certain places. Geofilters showcase where the good times are taking place.
How do businesses capitalize on the success of Snapchat stories? On-demand Geofilters make Snapchat a powerful marketing tool for businesses looking to engage with customers and increase brand awareness. Not only will your current customers enjoy the chance to snap photos featuring your Geofilter, but these very photos will help to attract new customers of the same or similar demographic.
What is a Snapchat Geofilter?
As you are reading this article, you may be wondering what exactly a Snapchat Geofilter is. One of Snapchat's most interactive features, Snapchat Geofilters allow users to show off their location with a fun photo overlay that typically displays the name or logo of a particular brand or business.
Users love these overlays because they are a timely and creative way to share their day-to-day activities with other users. Businesses love them because they are a fun way to improve brand recognition and get the word out about sales and special events.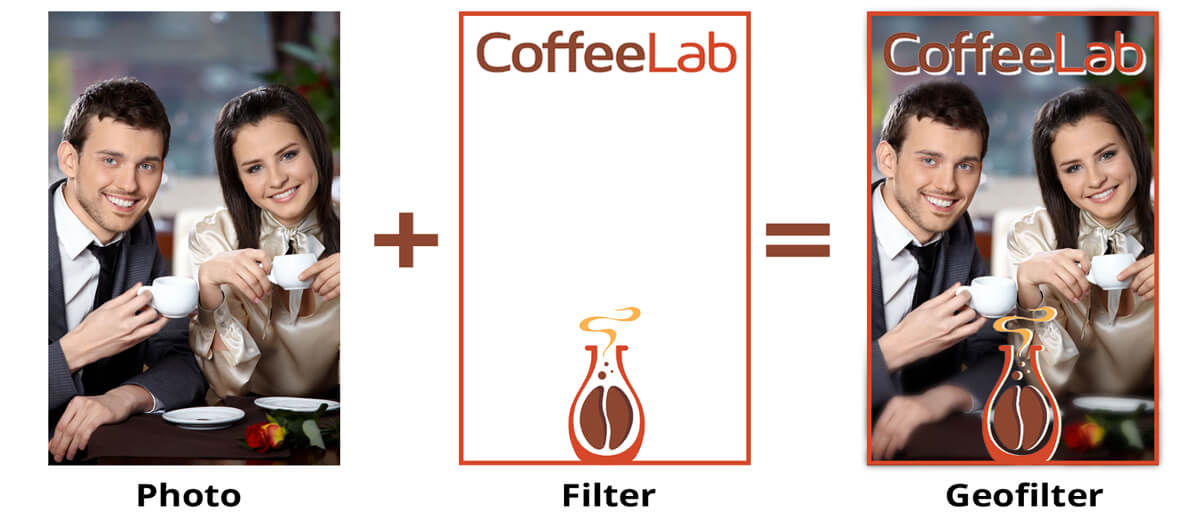 How do Geofilters Work?
Wondering exactly how (and where) Snapchat Geofilters work? The first step to creating a custom, on-demand Geofilter is to design your custom overlay.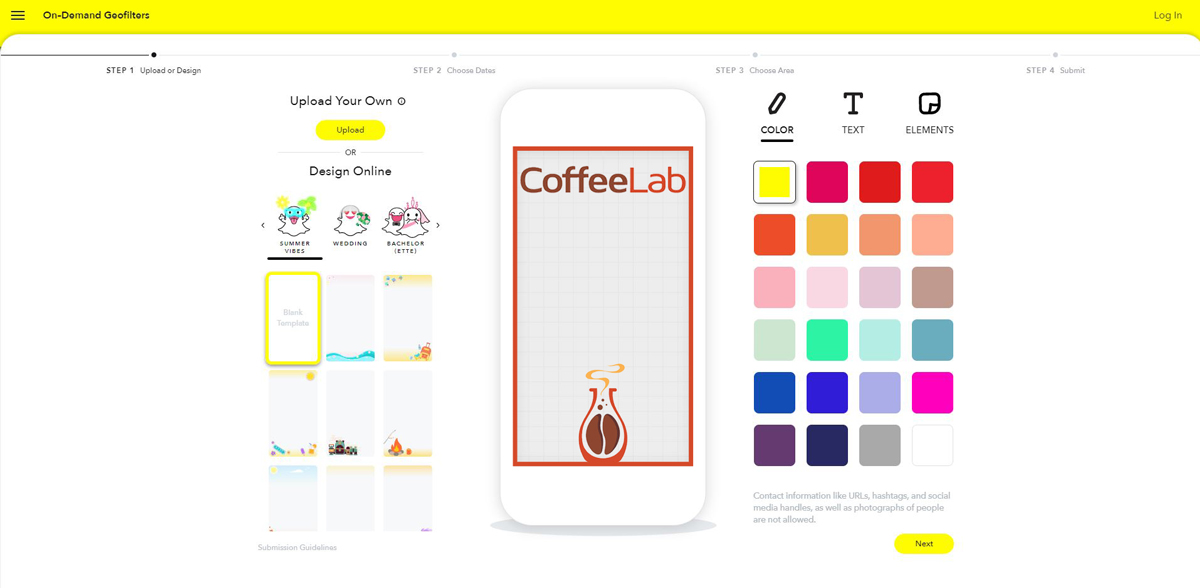 Once you have your 1080 x 1920 image uploaded to Snapchat's website or app, you get to select the date range that you would like it to run.

Step three is drawing a "geofence" around the area you want to target. Location size can range from 20,000 to 50,000,000 square feet, giving businesses and organizations of all kinds the opportunity to share their branding with consumers in a fun and unique way.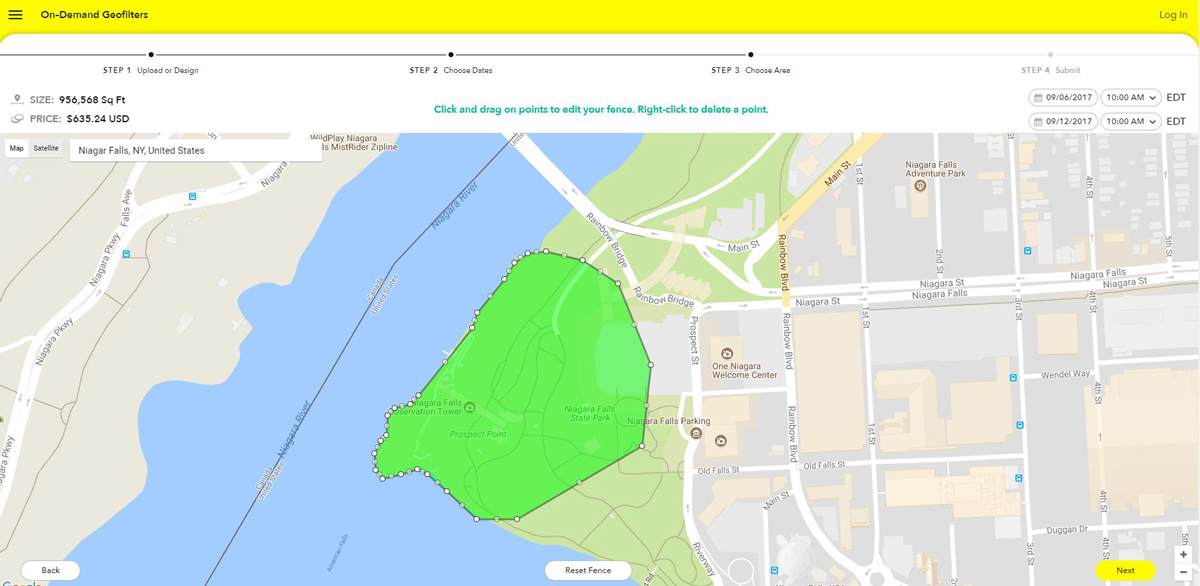 Step four: log in to your account (if you haven't already) and fill out your contact and payment information.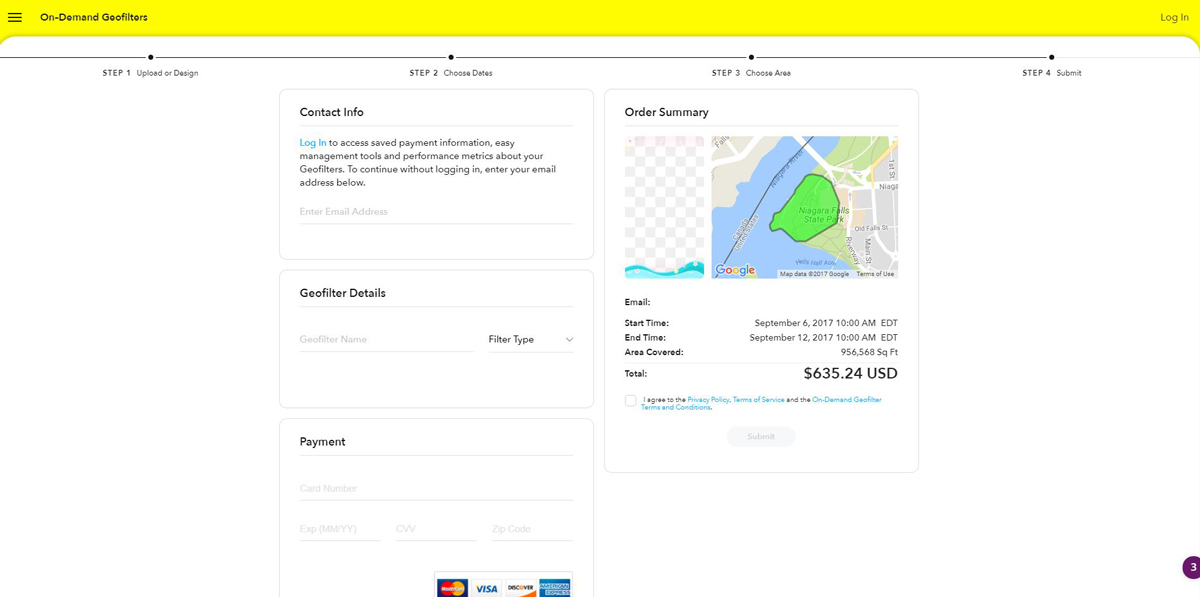 Once you have your Geofilter's custom overlay designed, the setup process takes about five minutes.
What Benefits Do Geofilters Offer Businesses?
Not only are Geofilters a ton of fun for Snapchat users, they also benefit businesses who use them. Geofilters help you to improve brand recognition while increasing exposure to current and new audiences.
Looking to attract more attention to your restaurant's new outdoor patio area? A Geofilter "fenced" around your property will allow guests to share the good times at your location with friends and family– with your branding right on screen.
Hosting a weekend-long festival at a local park? "Geofence" the whole area in and visitors will be Snapchatting away with your filter. Friday's guests will inspire friends to check the event out on Saturday, and Saturday's participants will draw more attendees to join in the fun on Sunday.
How Much Will Your Geofilter Cost?
Wondering how much it will cost you to try out this trendy Snapchat feature? Geofilter cost is based on a few different factors, including location and time. The size of your Geofilter "fence", the length of time you run the filter for and the demand in your location all play a role in the advertisement's final price.
There is also the design itself to consider. Basic Geofilters can be created right on Snapchat's app. Alternatively,  you can get more creative, and work with a designer to create a filter that best represents your brand's style.
A trend that appears to be here to stay, Geofilters do so much more than just reside in your customers' Snapchat stories. They show off the enjoyment guests are having at your location and entice friends and acquaintances across the area to check out your location and join in the fun.