The effort to "go green" has been felt across industries, as companies are beginning to realize how their operations impact the environment. From using recycled or renewable resources to reducing energy consumption and waste, there seems to be a universal effort by businesses and consumers to protect our planet and do what we can to live a more sustainable lifestyle.
But we still have a ways to go. According to a survey conducted by RetailMeNot, the perceived higher cost of environmentally-friendly products is the major holdup to consumers fully committing to going green. Most consumers polled believe that eco-friendly products are always more expensive, so until that changes, they're not as inclined to purchase these items. However, 3 out of 5 individuals surveyed would purchase an environmentally conscious product if there was a cost savings associated with it. And they're also likely to view a company more favorably if they support eco-friendly initiatives.
In addition, 89% of consumers already do what they can to live sustainable lives by reusing or recycling goods or buying at least one green product. So it's not that the willingness to adapt isn't there; it's the way that this lifestyle is portrayed. If brands can market the benefits of using green products, like protection from toxic chemicals, energy savings, or a lower price, they'll likely get consumers on board.
These six brands have made environmental consciousness a major focus of their business and are succeeding on both the sales and consumer perception fronts. If you haven't considered incorporating environmentally-friendly products into your life, these companies might convince you to.
Seventh Generation
Whether or not you've purchased a Seventh Generation product before, there's no doubt you've encountered the brand on your latest trip down the laundry and cleaning aisles. The company produces a variety of laundry detergents, soaps, and other cleaning products, as well as baby diapers, wipes, and more – and all in an environmentally conscious way. They use plant-based and recycled materials for all packaging, and they leave out any added fragrances or chemicals that could be harmful to consumers.
To promote their efforts to go green, they use the hashtags #ComeClean and #GenerationGood throughout social media. The Come Clean initiative supports legislation that would require manufacturers of both consumer and industrial cleaning products to disclose all added ingredients on product labels and websites. This means that those additives you probably can't pronounce must be prominently featured on packaging so you're aware of what you're being exposed to.
Seventh Generation also effectively breaks down the stereotype of the expense associated with eco-friendly products by pricing their items competitively with other brands – so you don't have to spend significantly more to purchase products that are not only safe for the environment, but for your family and pets.
Seventh Generation's efforts towards a more sustainable planet have not gone unrecognized, with several awards given to the company for their leadership and dedication to change. In 2011, they were named a Leader for Change by the United Nations; and in 2012, CEO John Replogle was given the Global Green Millennium Award for Corporate Environmental Leadership by the Corporate Social Responsibility Newswire.
In a statement, Replogle said:
"We know that creating products that are non-toxic and safe for everyone in your home is no small task – yet for us, nothing is more important."
Seventh Generation puts the safety of their customers first, and is willing to take the time to research and develop quality products to meet these high standards.
Patagonia
Popular outdoor brand Patagonia isn't just known for their durable outerwear; they're also a major proponent of the Go Green movement.
In their company mission statement, they state that their intention is to:
 "Build the best product, cause no unnecessary harm, [and] use business to inspire and implement solutions to the environmental crisis."
What's probably most admirable about the company is that they own up to the fact that not all of their products or processes are entirely eco-friendly. They admit that they have to use fossil fuels to produce the shell of their coats, but that they're seeking out alternative energy sources to develop a more environmentally-friendly process. Being transparent about the fact that they are contributing to climate change, they support a variety of initiatives to reduce their carbon footprint and discover more sustainable ways to produce these high-quality products.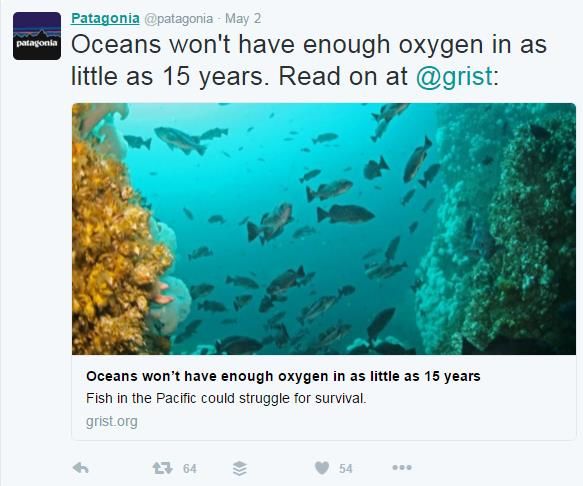 Patagonia donates 1% of sales to an Earth Tax, which supports environmental organizations around the world that take down dams, restore forests, protect endangered species, and promote sustainable agriculture practices. To date, they've donated $70 million to these initiatives. They're also looking for ways to make their facilities more eco-friendly through LEED certifications and using renewable construction materials.
Customers and employees are strongly encouraged to get involved in their efforts to improve green practices as well. The Employee Drive Less Program provides monetary incentives to employees that car pool, take public transportation, walk, or use any mode of transportation besides driving alone. Employees can earn up to $500 per year through this program. They also have an eco-friendly return policy so customers can bring back any worn products to their stores to be reused or recycled. Since 2004, 164,000 pounds of clothing have been brought back for proper disposal.
Keurig Green Mountain
Another high-profile brand, Keurig Green Mountain also realizes that its efforts to go green are still a work in progress. From an environmental standpoint, Keurig brewing systems are much more eco-friendly than traditional coffee makers due to the lack of wasted water. With a regular home or office coffee pot, 12-15% of a batch of coffee tends to be wasted; but with a Keurig, you can brew individual cups as needed so there's no waste.
The company's major concern is how their K-Cup pods are disposed of. Currently, three out of the four pod types are recyclable, but many consumers don't think to recycle them. Keurig's goal is not only to better educate customers on how to properly dispose of these items, but make all of their pods recyclable by 2020. They also have a Keurig Recycling program in place for areas where you cannot recycle #5 or #7 plastics (the pods' recycling numbers), allowing you to mail them back to Keurig in exchange for a discount on a future purchase.
In addition to improving product packaging, the company has plans to source 100% of products according to established sourcing guidelines, which would ensure that materials are collected in an environmentally conscious way. To minimize waste at manufacturing and distribution centers, Keurig intends on achieving a zero waste-to-landfill status to further reduce their carbon footprint.
A product stewardship framework was developed to hold them accountable by setting strict production standards, defining what it means to have a "sustainable" product, and monitoring energy and water use. It's evident that the company is dedicated to environmental initiatives, contributing over $55 million to sustainability efforts in 2014.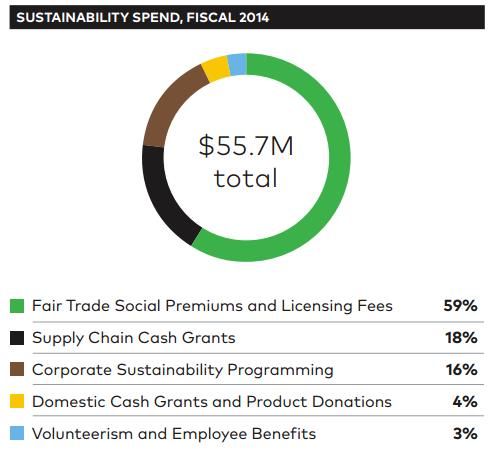 Source: Keurig Green Mountain 2014 Sustainability Report
IKEA
Furniture and home goods giant IKEA utilizes a variety of renewable energy sources and waste management tactics to give back to our planet. Through their sustainability strategy called "People & Planet Positive," they believe that consumers shouldn't have to choose between design, functionality, price, or sustainability when purchasing a product. Their product lines are not only manufactured through eco-friendly practices, but they encourage customers to live a more environmentally conscious lifestyle.
IKEA was the first major retailer to sell exclusively LED bulbs and lighting fixtures in their stores, and they utilize only these types of bulbs in their facilities. 90% of their buildings in the U.S. have solar panels installed, and they also own two wind farms in Texas and Illinois that generate 3-4 times the renewable energy needed to power these locations. To further offset CO2 emissions, they have planted 2.4 million trees in American forests and only send about 15% of waste to landfills.
But their efforts are truly just beginning. IKEA is working towards 100% renewable energy through their wind farms and solar panels as well as sourcing wood from more sustainable locations, and have spent over $1 billion on these initiatives.

Source: 2015 IKEA USA Sustainability Summary
To acknowledge their continuous effort to create a more sustainable planet, IKEA was recognized by The Guardian in 2015. They received Sustainable Business Awards for being the Impact Company for both the Supply Chain and Net Positive categories. The Supply Chain nominees represent businesses that show respect for human, economic, and environmental rights, and the Net Positive category represents those who make a positive contribution to society through regenerative environmental efforts. It's clear that IKEA is just getting started when it comes to transforming the retail space as we know it.
The Hershey Company
As a company that relies heavily on a product grown naturally around the world, The Hershey Company makes environmentally-friendly practices top priority. From their manufacturing and distribution centers to their hotel and amusement park in Hershey, PA, the company has sought out as many ways as possible to keep their sustainability efforts in check.
By 2025, the company plans to reduce greenhouse gas emissions by 50%, achieve zero waste-to-landfill status at all facilities (there are currently 11 facilities at this status), and reach a 95% company-wide recycling rate.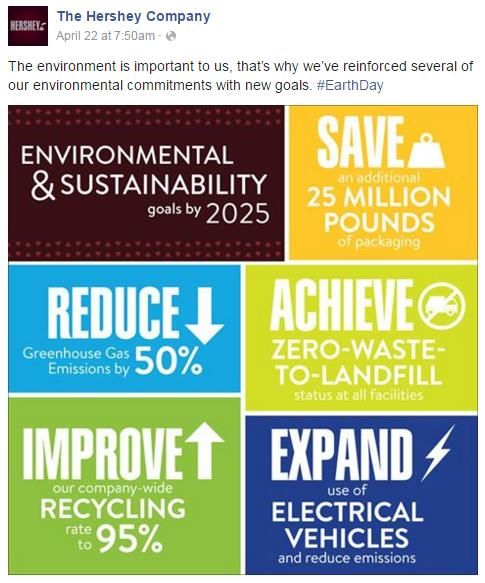 They also plan on transitioning to 100% certified cocoa by 2020, meaning the cocoa will be verified by independent auditors to ensure that it is grown in line with the highest labor, environmental, and farming standards. Hershey has led the pack in their industry with these plans, and competitors like Mars are starting to make this pledge, too.
The Hotel Hershey resort is a Silver LEED-certified building, and all light bulbs in the hotel and amusement park have been replaced with CFLs or LEDs. The company also repurposes as much waste as possible by donating used items to charities. They send wine corks to the United Way, magazines to the Ronald McDonald House, and used computers to the Association for the Blind and Visually Impaired. Hershey tries to donate any items that others could have a use for instead of creating unnecessary waste.
Johnson & Johnson
Among these brands, Johnson & Johnson seems to be the most heavily-focused on internal operations to make sure sustainable practices are being adhered to. The company's Environment, Health, Safety, & Sustainability department monitors performance and compliance, and sets strict sustainability standards for the company. There are teams within this department that focus solely on product packaging, stewardship, and other key issues, and provide on-the-job training to employees in these areas. They established a Management Awareness and Action Review System to review any potential environmental risks within the company through an annual assessment of their suppliers. This ensures that suppliers are compliant with waste management, employee safety, biosafety, fire prevention, and much more.
Johnson & Johnson's sustainability plan is called Citizenship & Sustainability 2020 Goals, which focuses on making both individual consumers and their homes healthier. Some of these goals include increasing recyclability of products and reducing carbon emissions by 20%. The company's progress is displayed below.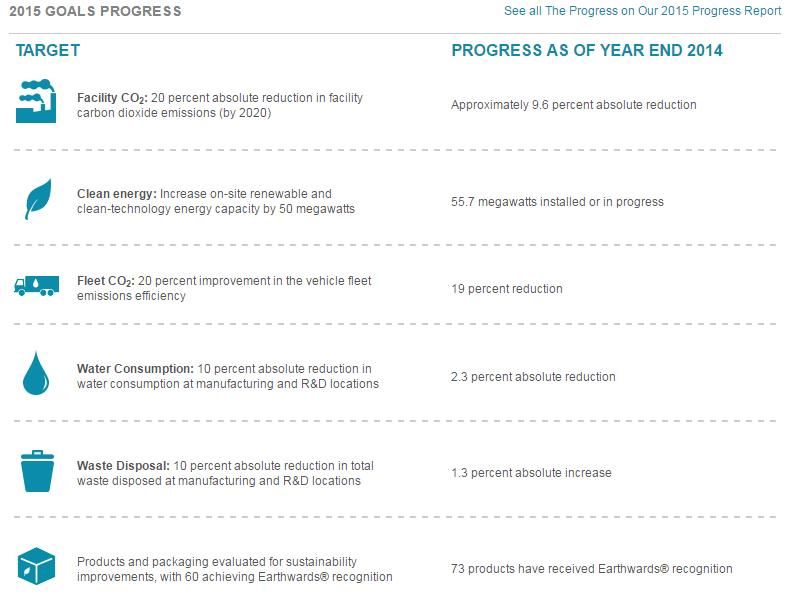 Source: Johnson & Johnson 2015 Goals Progress
Currently, 95% of the company's facilities are certified by the International Standards Organization's (ISO) Environmental Management System and there are 25 LEED-certified buildings. For product packaging, post-consumer recycled paper products are used whenever possible. To promote this initiative further, they developed the Responsibility Standard for Forest Materials in 2014 to prevent deforestation and encourage further use of post-consumer recycled materials.
Like some of these other brands, Johnson & Johnson has been repeatedly recognized for their sustainability efforts. In 2014, they were ranked #12 on Interbrand's list of Best Global Green Brands, and #1 on Corporate Responsibility Magazine's Top 10 Best Corporate Citizens in the Healthcare Industry in 2015. Newsweek also ranked Johnson & Johnson #17 in the U.S. and #23 worldwide in their Green Rankings list.
Join The Movement
These are just a few of the many examples of how the Go Green movement is making an impact on the way consumer products and services are manufactured and delivered. From more eco-friendly packaging to waste and energy reduction to alternative energy sources, these brands are spending a significant portion of their revenue to research ways to operate more sustainably.
As consumers (and/or company decision-makers), it's important to consider how our purchases impact the environment and what eco-friendly alternatives are available to us. Understanding the conditions in which products are manufactured might make you think twice the next time you're deciding between a few options. Being informed about the changes happening to the environment as well as what we can do to help can effectively slow down or stop the effects of climate change.