It's perhaps the most iconic beer bottle in the world. Though it's been delicately transformed over the years due to the evolution of its brand, Heineken's renowned green bottle is easily distinguishable worldwide.
According to its website, Heineken was one of the very first companies to import bottled beer. In an attempt to become instantly identifiable with consumers, the company chose to use a green bottle instead of the typical brown beer bottle.
In essence, Heineken has always been conscious of its unique brand. Three days after Prohibition came to an end, the first imported beer made landfall in the U.S. — Heineken. Ever since, it has remained one of the most successful imported beer brands in the nation, second only to Corona.
Decades later, Heineken continues to search for new ways to further its brand internationally. Aside from the fact it recently expanded by acquiring brands such as Newcastle Brown Ale and merging with the company that makes Dos Equis (another beer with clever marketing), Heineken put an emphasis on engaging customers in thoughtful, inventive ways through means of social media, mobile marketing, crowdsourcing and traditional advertising.
An exceedingly overcrowded beer market breeds fierce competition, and Heineken understands it constantly needs to reinvent ways to keep its brand relevant and stay in touch with consumers' varying interests and needs.
Heineken has developed some of the most comical and wittiest TV ads, and recently it has branched out those same ideas onto different platforms. Small businesses can learn a thing or two from Heineken's marketing initiatives. Here's a short list of some of Heineken's best promotional ploys that companies can apply to their marketing strategy.
Incredible Hulks of Social Media
With the largest beer brand fan base worldwide on Facebook, Heineken boasts more than eight million likes on the social media platform. Add another 55,000 followers on Twitter), and that's a devoted following (Heineken now has multiple local accounts for the U.S., United Kingdom and Spain.)
CNBC recently described Heineken as one global brewer who has managed to successfully navigate the social media waters.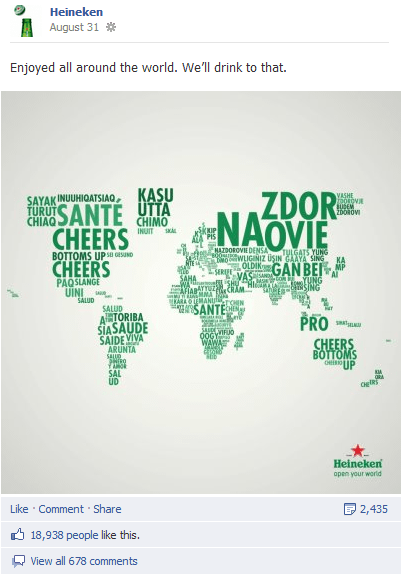 Heineken posts at least once a day on its Facebook page, inducing likes and comments with photos, videos and timely topics. According to CNBC, Heineken is very optimistic about its social media endeavors, allocating about 15 percent of its marketing budget on social media to remain pertinent across the globe.
"We don't want people to leave us behind by just pressing Like. That's not the end, that's the beginning," Heineken senior brand director Olga Osminkina said in the CNBC report. "One of the No. 1 drivers of conversation in the beverage industry is relevancy, and the idea that 'this brand speaks to me' and that all starts with a dialogue with the consumer."
That story was written in May, and since then Heineken's Facebook page has grown by roughly two million likes. Not even a revered beer brand like Budweiser can compete with that.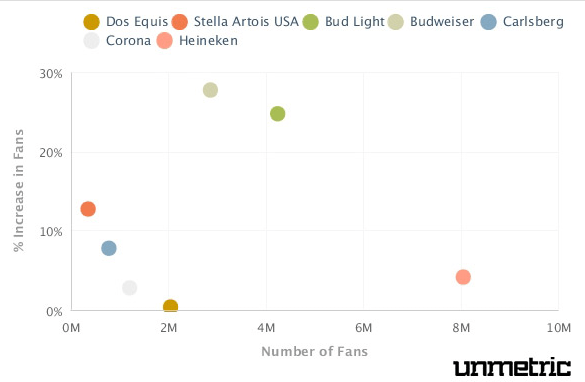 Courtesy of Unmetric.com
That same Unmetric report shows that although Heineken has seen tremendous growth on Facebook, it is still behind Bud and Bud Light in fan engagement. Despite eight million fans, Heineken has plenty of work to do. Eight million fans is a fairly solid start, though.
Always Swinging for the Fences
Approximately 20,000 brands of beer are brewed each year. Budweiser and several other American breweries are notorious for their TV ads, especially during the Super Bowl. Due to the copious competition, Heineken has to stay ahead of the game.
I recently wrote about MTV's Fantasy Election '12, and the trend aptly dubbed by MTV's Jason Rzepka as the "gamification of youths." Heineken unveiled this mobile marketing campaign last year to target customers and soccer (or football) fans alike:
The premise of the 'Star Player' app is pretty intuitive. Rules and scoring are quite simple. Users have eight 30-second windows to correctly predict a team will score. In addition, users can predict what will happen in certain game scenarios, such as if a corner kick will result in a goal, save or missed opportunity.
Soccer is still the most popular sport worldwide with more than 3.5 billion fans. More than 50 percent of people watch TV while simultaneously using their smartphones. Heineken tried to capitalize on that, but it failed to work thus far based on these numbers: In a little more than a year, the Heineken Champion's app received a mere 16 reviews for a 3-out-5 star rating on iTunes. According to some of the app's reviews, while the concept was enjoyed by users, there were some flaws in the app, including scores and schedules not being updated regularly.
Heineken wasn't wary of failure, and that can be a good thing to an extent. When drawing up the next great marketing strategy, swing for the fences. Like Wayne Gretzky once said, you miss 100 percent of the shots you don't take.
Although the app hasn't taken flight via iTunes judging by its short list of reviews, it's still available to play on mobile devices and on the Heineken web site. The Star Player app was recently released for Android users as well and has been updated on iTunes for the 2012-13 season.
Open Your World, Seriously
While some companies take a stab at devising useful ways to implement QR codes into their marketing strategy, Heineken unleashed its "U-Code" this year at a music festival in Poland.
Heineken spun their new brand message "Open Your World" into a call to action by essentially turning concert goers into "walking billboards." More than 5,000 attendees created their own "U-Codes," which served as an excellent ice-breaker. Instead of developing yet another run-of-the-mill QR code campaign, Heineken thought outside of the box and created something rather entertaining.
What better way to increase the likelihood that thousands of people may talk about your product? As Rick Mathieson wrote a while ago, this isn't the first time Heineken exhibited marketing genius at a concert.
Heineken once enabled concert goers a chance to literally become part of the show by snapping photos and videos of themselves and their friends with their mobile devices and sending them to broadcast on the "Starvision" screen. Consumers were able to become part of the Heineken graphics, thus a fun way to generate brand awareness and spawn conversation about the product.
"Crafting" a Crowdsourcing Campaign
There seems to be a growing trend in Heineken's marketing campaigns. Through social media, mobile marketing and QR codes, Heineken has stressed consumer engagement in countless ways. Earlier this year, Heineken launched its "Your Heineken" crowdsourcing campaign.
Crowdsourcing "is the act of taking a job traditionally performed by a designated agent (usually an employee) and outsourcing it to an undefined, generally large group of people in the form of an open call."
The green bottle is such an integral piece of Heineken's brand. Through this campaign, however, consumers were challenged to conjure up some pretty remarkable concepts.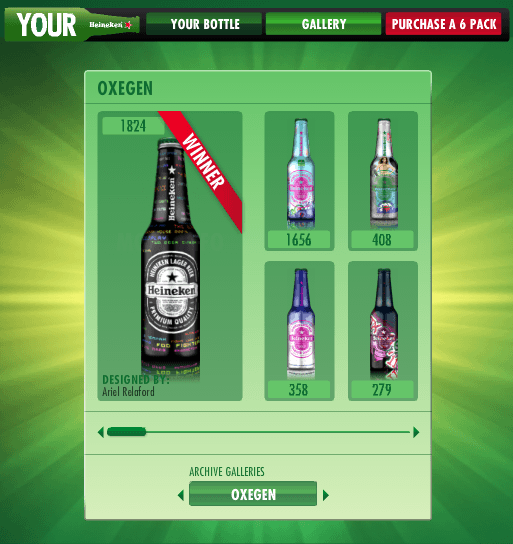 Users dug deep to create an array of bottle designs for a number of categories. Contestants personalized schemes and thousands of people browsed each proposal and voted for their favorite ones. The contest has ended and now customers can customize and purchase a six-pack of their favorite design.
Take Notes, Save The World
Granted, Heineken is a massive entity and its look and taste have remained the same–for the most part–for more than a century. That authenticity is part of what makes the Heineken brand unique.
If you want to know what Heineken tasted like in 1886, order one.

– Heineken_US (@Heineken_US) June 7, 2012
Heineken's approach continues to be to "delight and surprise consumers everywhere."
Much can be learned from Heineken's marketing tactics. Small businesses can apply Heineken's marketing practices to their company by using various social media platforms to interact with customers. They also can develop thought-provoking ways to promote their product via crowdsourcing and mobile. Consumers typically welcome fun and collaborative marketing efforts with open arms, so it's essential that all areas of advertising and marketing are fully explored.
There are plenty of things to consider when building a brand and there's a wealth of opportunity for companies to succeed by merging the various platforms of advertising and marketing. Igniting frequent discussion with loyal customers can lead to better brand awareness and even more people being introduced to a particular product.
Interactive promotions (QR codes) and contents (such as "Your Heineken") also lead to more conversation about a brand as well. By keeping a close eye with what's trending (interests among targeted demographic), companies can take advantage and better structure their next promotional campaign.
From the color and shape of its infamous bottle, to its hilarious television commercials, Heineken is at all times mindful of its brand's small businesses should be as well.
Furthermore, Heineken is tirelessly motivated to seek new ways to cultivate its brand and build strong relationships with customers. It's critical to sometimes break the mold and discover exclusive ways to reach potential consumers. In Heineken's case, that's both globally and locally.