Tamagotchi pets, Crystal Pepsi, Zima: it seems like all of our favorites from the '90s are making comebacks in 2017, and it's true of email, too.
Email marketing saw slumps in popularity through the 2000s and even the early half of this decade, but it's been making major strides in the past few years for a number of good reasons. During the 2000s, many of us dreaded our email inboxes, especially if we had signed up for one of those listservs or Joke of the Day sites that were all the rage. Enter your email once in the wrong place and your inbox was so full of spam it might as well have been in the canned meat aisle of your grocery store.
However, like we did in '90s hit "Independence Day" – speaking of comebacks – we refused to let our inboxes go quietly into the night, and we fought back. Spam folders, anti-spam laws, smart filtering and more have all made us less and less susceptible to seeing our email full of things that aren't relevant or that offer you a surprise inheritance from a long-lost Nigerian prince and lottery winner you didn't know was part of your family tree.
Don't Call it a Comeback
OK, so let's take a page from LL Cool J, who's actually right – email marketing isn't really making a comeback, but instead showing back up as one of the most effective ways to reach your customers. Social media marketing, pay-per-click ads, landing pages, location marketing – all have their uses and their applications, but they pale in comparison to the efficacy of email marketing.
Business 2 Community reveals some rather stunning stats in a recent post that really help tell the story of why email is coming back … er, making such a strong resurgence:
Email has an incredible ROI, averaging a whopping $38 per dollar spent.

The millennial generation – for all the maligning it receives – is helping drive email. A "part of everyday life" for millennials, email is the preferred contact method for 73 percent of this generation
Email brings in big-time buyers. People who receive marketing emails spend 138% more than those shopping without receiving emails.
Email has also continued to grow every year since it was first developed. In 2000, many people might not have had an email address at all, especially as dial-up was still a dominant phrase and home internet usage was nothing like it is today. Fast forward to 2017 and a vast majority of us have multiple email addresses – one for work, one for personal, one for a group or organization we participate in, maybe one for college or other schooling, and perhaps yet another you intentionally set up for email subscriptions, online shopping or sharing with friends or family. Email is ubiquitous, and that means that there are more and more opportunities for email campaigns to reach potential and existing customers.
Like Santa, You're Going to Need a List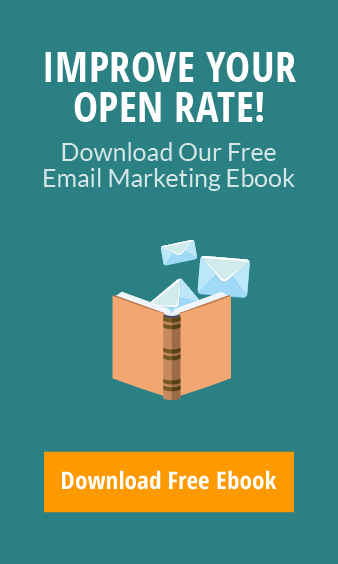 Of course, you can create the shiniest, glitziest, most glamorous email ever made, but if you're only sending it to your mom, cousin and the email address you set up for your cat's Tinder page, it's going nowhere fast. So it all starts with putting together an email list to reach out to.
While you used to be able to buy lists – and truth be told, you still can, although it's a very poor tactic that email providers will shut down fast – the best list is one you put together yourself. Odds are you actually have some people already – your existing customers. If you sell products online, you likely collect email addresses as part of the checkout process. Since these individuals already have a relationship with your business, they're the first ones to add to your list.
Next, your website is another great tool. Having a contact form on site provides a place for people to request more information from you or sign up for marketing emails or blog lists. These individuals, too, can be added as subscribers to your marketing list.
Finally, you can branch out and try to draw in even more subscribers through other media and pages. Tools like social media campaigns, landing pages, contests and more can invite people to come to your website and provide their information. You can also kick it old school – analog, that is – by placing a signup list on your storefront counter or signing up new subscribers in person at a trade show or industry event. It takes work, but with a concerted focus, you can start drawing in new addresses and grow your email list in a blink of an eye.
… And Check it Twice
It's also important to check your list regularly, as well. A healthy list will naturally start to decline over time as you look at people who unsubscribe, never open emails or addresses that have bounced. Just like you need to keep your home and business clean, you need to clean your marketing list periodically.
HubSpot reports that research data from Marketing Sherpas shows that email marketing lists decline at a rate of roughly 22.5 percent annually. That means if you enter January with 1,000 subscribers and do no additions during the year, you can reasonably expect to be down to 775 subscribers at year's end – statistically speaking. This occurs for a variety of reasons – people canceling old accounts, company or ISP email users moving to a new email provider or simply just fake email addresses that managed to slip in from spoofers or spammers.
You should also manually review your list periodically to trim out subscribers that don't open your communications. You can group them into a subsection of your list, send a targeted email that tries to win them back, and, if you're not getting opens, remove them entirely. This is also an excellent opportunity to divide your list up more, whether it's by location (if you want to target regional demographics), age (if you have that information) or any other metric.
Don't Forget to Integrate!
One of the final ways you can use email marketing to help get a message out is by integrating your email with your social media channels. This is something that goes both ways. First, in your email, don't forget to include links or buttons that lead to your presence on different networks. You could also include a distinctive hashtag or message for people to use as well to see if you get any response.
On the other side, you can also reach out to your followers by connecting your email application with your social accounts. Many of the most popular platforms offer connections with Facebook, Twitter and other outlets, allowing you to schedule a post to your pages to coincide with the email submission. Often this will take clickers to a web version of your email and give them a chance to subscribe while also providing them with the information sent in your email – a potential win-win scenario.
There's so much more to email marketing and a full world of possibilities with a well-executed plan. Get even more insights, tips and best practices by downloading our latest eBook, "Message Received: A Guide to Email Marketing," and learn how to take advantage of your contacts to grow your business today.