Have You Heard about Google Posts Yet?
The truth is that you may have, and not even realize it. First introduced during the last presidential campaign and given the name "Candidate Cards" by Search Engine Land, these snippets are a new way that Google has enhanced the capabilities of Google My Business to help small businesses promote their content, events and other highlights within search results.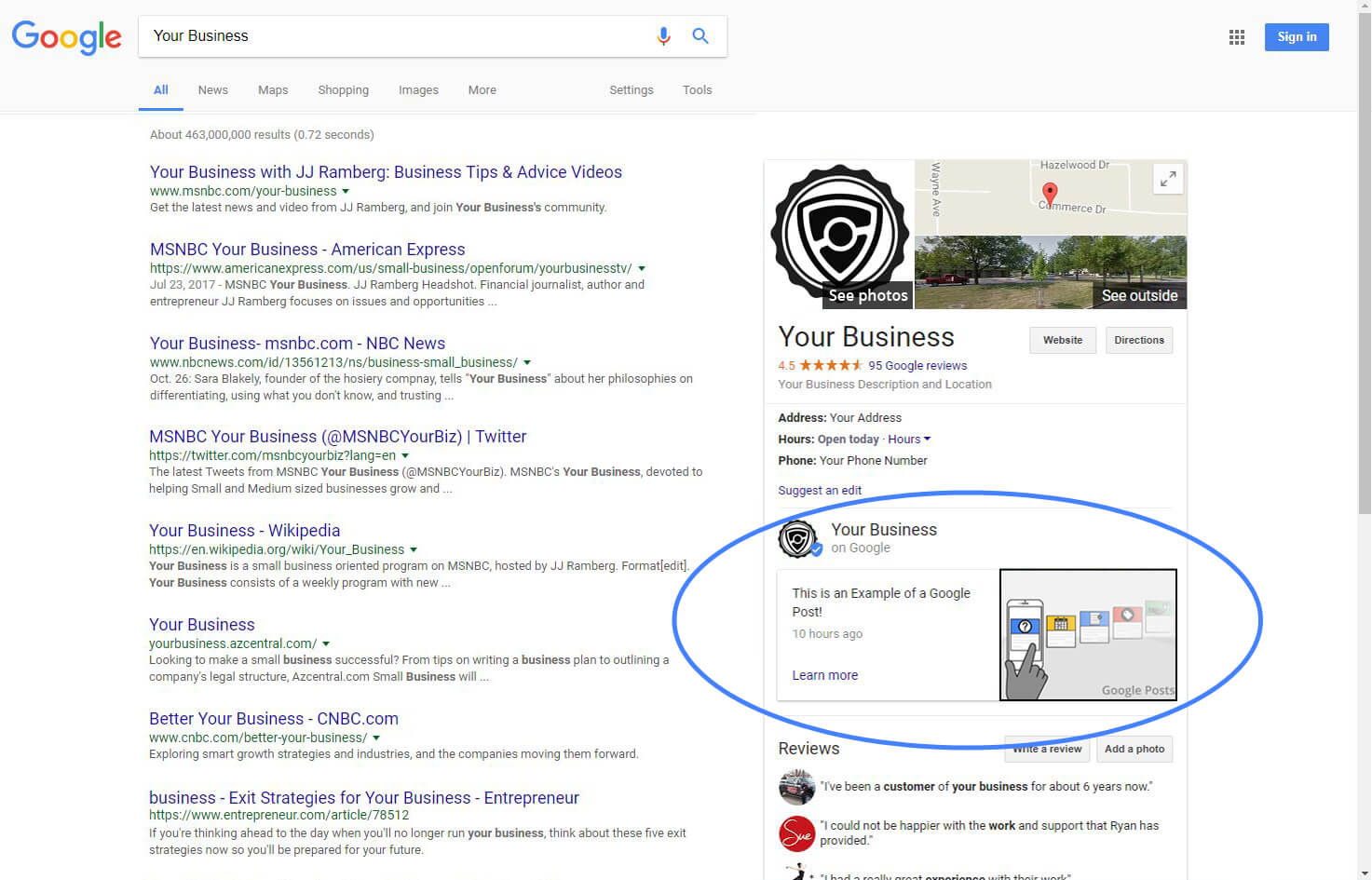 How to Get Started
Having an opportunity to broadcast some of your best content in a prominent place alongside your business' search results is a great way to help intrigue and interest searchers as they look into your company or brand. So how can you start?
It all begins with Google My Business. Most companies are already familiar with this platform, but in case you're not, it's a free listing that you can sign up for – or claim, more on that in a moment – through Google. This listing helps you ensure your contact details are correct and that your location is properly plotted on Google Maps, and also offers opportunities to further grow your business by putting your phone number, Google review ratings, features and amenities, menu and much more into a single easy-to-see location.
If you don't already have one, you can create it with your company Google account. You can also use your account to claim an already existing listing which may have been created by fans or customers who previously checked in at your business or completed a review of your products or services. The process involves finding your business listing in Google and submitting a request to become the owner of that listing.
To verify you're actually associated with the business, Google will send you snail mail in the form of a postcard at your business address to verify your identity. You should expect to receive the postcard within one to two weeks of submitting your request, so make sure that you keep an eye on your mailbox – the one the postman comes to. Keep a close eye on your mail, too, after claiming or creating your Google My Business profile, as the postcard can easily blend in with other spam mail.
OK, Now What?
Once you have your profile, you can access posts from within Google My Business by clicking "Posts" beneath the navigation bar at the left of the dashboard. Here you can set up your post, much in the same way that you might draft copy for a post on social media.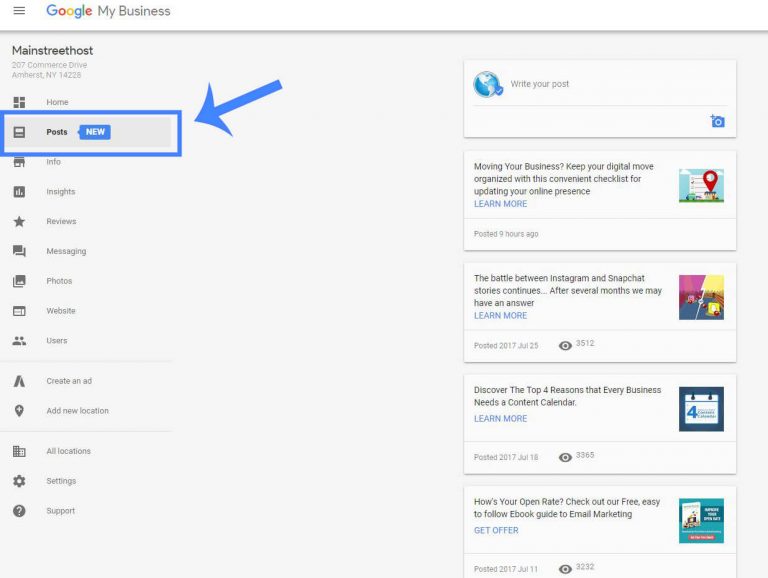 Google Posts can include images, a limited description (100 to 300 words), and even a customized call to action button from a predetermined selection of choices. This means that your post could promote a new menu item, share details about your latest service offering or let readers learn about a product line that you've recently introduced.
Posts will stay online for seven days once created, as Search Engine Land reports, though timed posts for events will fall off after the set date.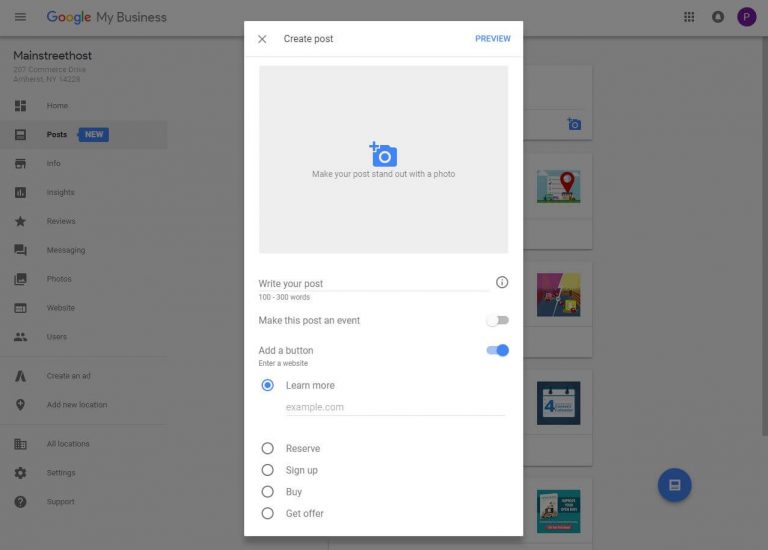 It's important to keep in mind, though, that you can't use Google Posts as a blatant selling tool. The company's guidelines dictate that posts can't be overly salesy or loaded with capital letters or exclamation points. You'll also need to reign in your focus with posts and limit to a single offer or theme that's targeted and to the point without including an abundance of exceptions or exclusions. Read more on Google's guidelines and best practices here.
But Wait, There's More!
While sharing news and product details right on the search engine results page is appealing enough, you can also use Google Posts for specific campaigns. Let's review a few prospect cases:
Daily or Weekly Deals: Are you offering a daily (or weekly) discount on a service, product or menu item? Create a Google Post. When creating a post, you can set start and end dates and times, meaning you can customize a campaign to highlight the latest discounts or deals. Keep in mind, though, that timed posts will expire after the end date is reached.
Highlight Upcoming Events: Are you hosting a sidewalk sale or putting on special discounts for an upcoming holiday or citywide event? Set up an event! As noted above, event posts will stay live right up to your event day, and can be a great way to promote an upcoming occasion within your Google presence.
Promote Signups or Engagement: Google Posts can also work as a way to bring people to your site for a specific purpose. For instance, if you're trying to draw traffic to your landing page for email marketing campaigns or a page for people interested in your new product or service, drafting a post that links to that page with a call to action button can help guide and direct people who find you through search right to those pages.
While Google Posts aren't going to replace social media marketing campaigns or blogging, they're yet another versatile tool to use and pay attention to as part of your overall marketing campaign. Still working on improving your local presence or building up your online marketing? Let us help. Call us today and find out how we can help you with your online efforts.