On July 10, Lady Gaga's social networking site, Littlemonsters.com, opened to the public. The site first launched five months ago in February with limited membership, but now every single Little Monster in the world has an outlet through which they can put their paws up and bow down before the Mother Monster altar. (Don't hate, they were born this way!!)
I'm a fan of Lady Gaga, though I really don't feel the need to join a social media site in order to peruse and profess my love for Gaga memes like this one: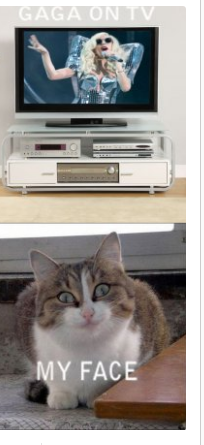 But, I felt that I had to join Littlemonsters.com in order to be able to accurately write on it, so yesterday I became an official Little Monster. Here is what the front page of the site looks like: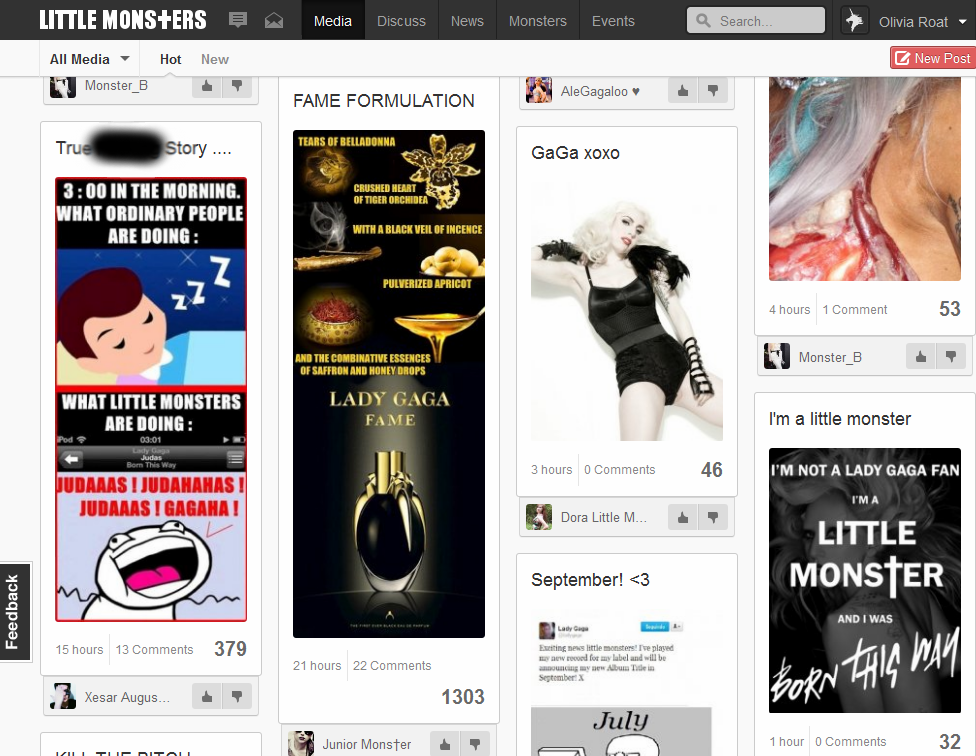 It features the waterfall layout, so it looks very much like Pinterest at first glance. After some investigating, I found that Littlemonsters.com is kind of a hodgepodge of existing social media sites. There's the Pinterest layout, Facebook-esque "like" buttons, and a Reddit-like news page. There are some images and topics devoted to artists besides Gaga (I saw a picture of Adele and Lana Del Ray on the front page today), but this site is Gaga central. Yes, this seems obvious, but until you have perused the site, I don't think you can truly comprehend the obsession these Little Monsters have for Mother Monster. There are pictures of Gaga (the majority of which are definitely PG-13), memes, photos of fans with Gaga, a list of fan-generated discussions under the "Discuss" tab, and an online chat. People can even purchase tickets to the Born This Way Balls through the site.

I think it's very easy to dismiss this site as a digital meeting place where infatuated, crazed fans meet to gush over Gaga and discuss trifling, insubstantial topics (like whether Gaga is in fact better than Katy Perry and Nicki Minaj). It was termed a "socially awkward social network" by Fast Company. But, the fact that this site is even in existence is a testament to Lady Gaga's social media clout.
Lady Gaga is the most followed person on Twitter (over 27 million at last count). Her Twitter following is actually larger than the population of Australia and New Zealand combined. With such a massive legion of fans, a Gaga social network makes complete sense. And Littlemonsters.com is currently flourishing as far as fan participation and engagement. People are posting pictures, starting conversations, and talking to each other. Gaga herself is on the site, under the name Mother Monster, interacting with fans.
Littlemonsters.com piqued my curiosity. How did this site come into existence, and more importantly can it sustain its current level of engagement? Also, what it does reveal about the way we as social media users interact with our favorite celebrities? Put your paws up; I'm about to dive in to terra Gaga.
The Backplane Backstory
The protagonist in Gaga's social story is Troy Carter, Lady Gaga's business manager. Carter and three prominent individuals (a kind of triumvirate of business/tech savvy businessmen) founded Backplane, which powers Littlemonsters.com. The co-founders include former Google designer Joey Primiani; former director of operations for Palantir Technologies (one of the most tech-heavy companies in Silicon Valley) Alex Moore; and Matt Michelsen, a former U.S. hedge-fund manager who started making his rounds in Hollywood when Fiddy Cent (aka 50 Cent) himself called Michelsen's wife wanting to invest in her company.
According to the website, Backplane "is creating a new type of social corridor" and thereby filling "a gap in the current social spectrum by empowering sharing and conversation that is effortless but not automatic."
The New York Times published a profile on Carter last June, which included some interesting information about Backplane. The company raised more than $1 million from a group of investors led by Tomorrow Ventures, the investment firm of Google's chairman, Eric E. Schmidt. Lady Gaga serves as an "informal consultant," and has a 20% stake in the company.
Wired UK magazine featured an article that revealed the incredible amount of creativity and innovation behind the Backplane-powered Littlemonsters.com. The site started with a phone call: after Lady Gaga saw an advanced screening of The Social Network, she called Carter and suggested they create a social network for her fans. Carter told Wired that the site is for the "die-hard die-hard." There are numerous sites devoted to Lady Gaga, so before the dawn of this new social network, fans had to access multiple channels to get the latest Gaga news, photos, and tour information. Now, they have access to a single platform (or "hub" as Carter puts it) that provides them with content that is all Gaga, all the time. Not only that, this Mother Monster digital nucleus is by definition social, so it enables Little Monsters across the globe to gather together for daily Gaga worship. And from my two days on the site, it's obvious that these petite Monsters feed off each other (in a good way) in a kind of alternate Gaga universe populated by the most loquacious and devoted aficionados.
Appearance vs. Reality
Littlemonsters.com looks like it's all about Gaga, and on the surface it is. It looks like solely an expressive and creative outlet for fans, but in reality, it's much more than that. It's greater than Gaga.
Wired said this about Carter:
"For several years, Carter has been plotting a digital disruption of the music business and, by extension, the whole entertainment industry."
Littlemonsters.com is one small but significant step in that digital disruption, the initial strike in the Carter-fueled blitzkrieg on the music industry as we know it. Carter told Wired that Gaga still has a deal with Universal Records, "but there will come a time when she'll release music through her own site. It's not just going to be about sells. It's going to be about the streams coming through the site. For us, it's important to be able to identify who's listening to what. We want to own that data. We have to own that data."
Carter says that record and iTunes sales don't give any information as far as listener demographics. If Gaga releases a song on Littlemonsters.com, she and Carter will be able to see just who exactly listens to that song: is it a tween girl who loves anything Gaga puts out? Is it a twenty-something guy with a weakness for tech-infused dance anthems? Having access to this information will strengthen the connection between Carter and Gaga's fans. This can change the idea of record sales: currently, when someone purchases a hit single, there's anonymity to the sale. Music execs don't know whether the person who bought that single is old or young, male or female. But if Gaga releases a song through Littlemonsters.com, Carter (and Gaga) can gain a better understanding of fans. It seems to me like in the music industry, getting a record deal is the ultimate sign that an artist has "made it." Sure, people like Justin Bieber and Colbie Caillat can release music through a digital medium and acquire fans in that way, but they still want a record label. And yet, if artists of Gaga's magnitude will one day ultimately forego a record label for a social media site, then the music industry as it's traditionally known will be transformed.
And it all starts with a monster and a dream. According to Wired, Carter is talking with actors, studios, and sports teams, so these people can manage their Facebook fans and Twitter followers from a single platform. Currently, there is only one such hub; a star-specific social network is somewhat unconventional at the moment (and it fits that Gaga, who seems more aptly associated with the avant-garde than the conventional, is the sun around whom this social-networking earth revolves around), but in the future, it might be the norm.
Sustaining That Social Success
The aims of Carter, Backplane, and Littlemonsters.com seem very ambitious, but if anyone can help usher in a new era of celebrity-fan interaction, it's a pop singer who can generate over 27,000 Facebook comments when she posts a picture of herself without makeup. Her new social network has been public for just over a week, and fan participation is more powerful than the bass on "Just Dance" at a NYC nightclub. If Backplane is truly going to shake up the digital world, then Littlemonsters.com needs to maintain this.
In order to answer this question, I thought it would be most useful to look backwards and find examples of Lady Gaga's social media sway, because I think these would be the best indicators and predictors of her future social-networking success. Friedrich von Schlegel said "a historian is a prophet in reverse," and while Schlegel is most definitely not Gaga-esque (he actually opposed political and religious freedom), I think his quote is extremely applicable when I'm trying to act as a social media soothsayer. If Gaga has a proven track record of effective social media calls to action, then it would seem to me that all signs point to success.
A Case Study in Mother Monster Mastery
The sheer number of Lady Gaga's fans and followers indicates that she has an unprecedented level of reach and influence. Spin.com points out that her "insanely large" Twitter following equals about 5.2% of Facebook's entire user base. (!!!) An infographic by Laughlin Constable shows that one out of six people on Twitter follow her. And, her followers could fill the state of Texas. These numbers are impressive, but not as impressive as Gaga's ability to mobilize her army of monsters.
South by Southwest (SXSW) actually conducted a panel this year entitled "Celebrity and Causes" that focused on the best way for stars to use their "celebrity megaphones." They discussed the attention Lady Gaga brought to the Don't Ask, Don't Tell repeal effort. Gaga tweeted and posted Facebook statuses asking people to call Senate Majority Leader Harry Reid and urge him to bring Don't Ask, Don't Tell to a vote. She also asked fans to phone Reid when she brought four gay veterans to the fall 2010 VMAs as guests. The Senate switchboard crashed from the amount of calls it received.
Reid responded to Gaga on Twitter, telling her that a vote was scheduled. Little Monsters then broadcasted their support for Reid through Twitter and Facebook. And, of course, Don't Ask, Don't Tell was repealed.
Gaga also generated worldwide support for her anti-bullying initiative and Born This Way Foundation through Twitter and Facebook. She in part helped put the very real and very problematic issue of bullying on the world stage. In fact, Littlemonsters.com features a Monster Code, which encourages kindness, tolerance, and acceptance.
The fact that Gaga can marshal support for real, important, contemporary issues through social media reveals two things: one, her social media influence and two, the dedication of her fans. A quick perusal of Littlemonsters.com makes it seem that her supporters are enamored, borderline fanatical fans who discuss topics like this:

("Fame" is Gaga's new perfume, by the way). Discussion topics like this are fine, and anything that gets Little Monsters using the site is putting it on the path to success, but this topic is pretty trivial. However, when push comes to shove, Little Monsters can be extremely influential on topics that really matter and that affect a lot of people: Don't Ask, Don't Tell, anti-bullying. This is a testament to the wide scope of Gaga's influence; she can inspire fans to buy her latest singles and she can inspire people to call Senator Reid and demand he bring anti-gay policies to a vote. Sway in pop music and politics: both within Lady Gaga's reach, and both signs that if any celebrity can make a social network succeed, it's Gaga. In fact, according to the Laughlin Constable infographic, Lady Gaga's authority score (how influential she is) is 100 out of 100.
One Potential Problem
The only evidence I found to suggest that Littlemonsters.com might not take off was a study from Pew Research Center that found that people use social media to connect with friends and family rather than to stay in touch with their favorite celebrities. The study found that staying in touch with current friends is a major reason for using social media for 67% of people; staying in touch with family members is a major reason for 64% of people. Contrastingly, reading comments by celebrities, athletes, or politicians is a major reason behind social media use for only 5% of people. 74% of people have no interest in the social media activity of celebrities.
Yet, I think this evidence contradicts what I and many other people have found when it comes to Gaga's social media clout. And there is an explanation of this contained within the study: Twitter users are more interested in celebrity interaction than those on other social sites. This holds true when it comes to Lady Gaga. 93% of social mentions of Lady Gaga come from tweets. Maybe it's these Gaga Twitter followers that are flocking to Littlemonsters.com. I think that given the past habits of Lady Gaga and her fans, the Gaga-centric social site will succeed as long as Lady Gaga continues to remain a pop-culture fixture (and she shows no signs of slowing her current momentum).
Tiger Beat, Say Hello to Twitter
I think the social-media-savvy ways of Lady Gaga shed light on celebrity-fan interactions in general. A Forbes article entitled 'The Millennials Who Rule Twitter: How Bieber, Rihanna, and Gaga Turn Followers Into Fortunes'€ includes some quotes from Matt Britton, who runs Mr. Youth marketing agency. Britton has some interesting insights on the social media habits of celebrities; he states that social media gives celebs "direct and complete control" over their audience, because they can converse with fans directly.
The days of writing stalker-esque love letters to the members of boy bands and reading Tiger Beat to get the low down on the Joe Bros. might be on the way out, because Twitter can put fans in contact with celebs instantaneously.
Social media is dat new new, and it fosters a much closer celeb-fan connection.
A Non-Monster's Take on Littlemonsters.com
Obviously, Littlemonsters.com is a dream come true for Gaga-ified individuals, but what do non-fans think of Littlemonsters.com? How do people who don't melt at the mention of Mother Monster view the site?
Here's what one person who commented on a Huffington Post article thinks.

Gaga as a "true American?" Why, this HuffPost Super User clearly must be referencing the "Telephone" music video!
Mother Monster: pop-star patriotism at its finest.