On the surface, choosing your ad campaign objective is simple: select a goal based on the action you want people to take when they see your ad on Facebook or Instagram.
For example, if you are looking to generate some hot leads from your ads, you can implement a campaign objective that encourages people to complete a lead form.
There are three main categories (goals) that your campaign objectives will fall under:
Awareness: A top-of-funnel objective perfect for targeting people who are unaware or problem-aware. Used to generate interest in your product or service—you can help people become more aware of your solutions.
Consideration: If you're looking to get people thinking about your business and seeking out more info, this middle-of-the-funnel objective is perfect! This objective is all about targeting people who are problem- or solution-aware, and getting them to take action.
Conversions: This bottom-of-the-funnel objective is for targeting people who are solution-aware and encourages them to make a purchase.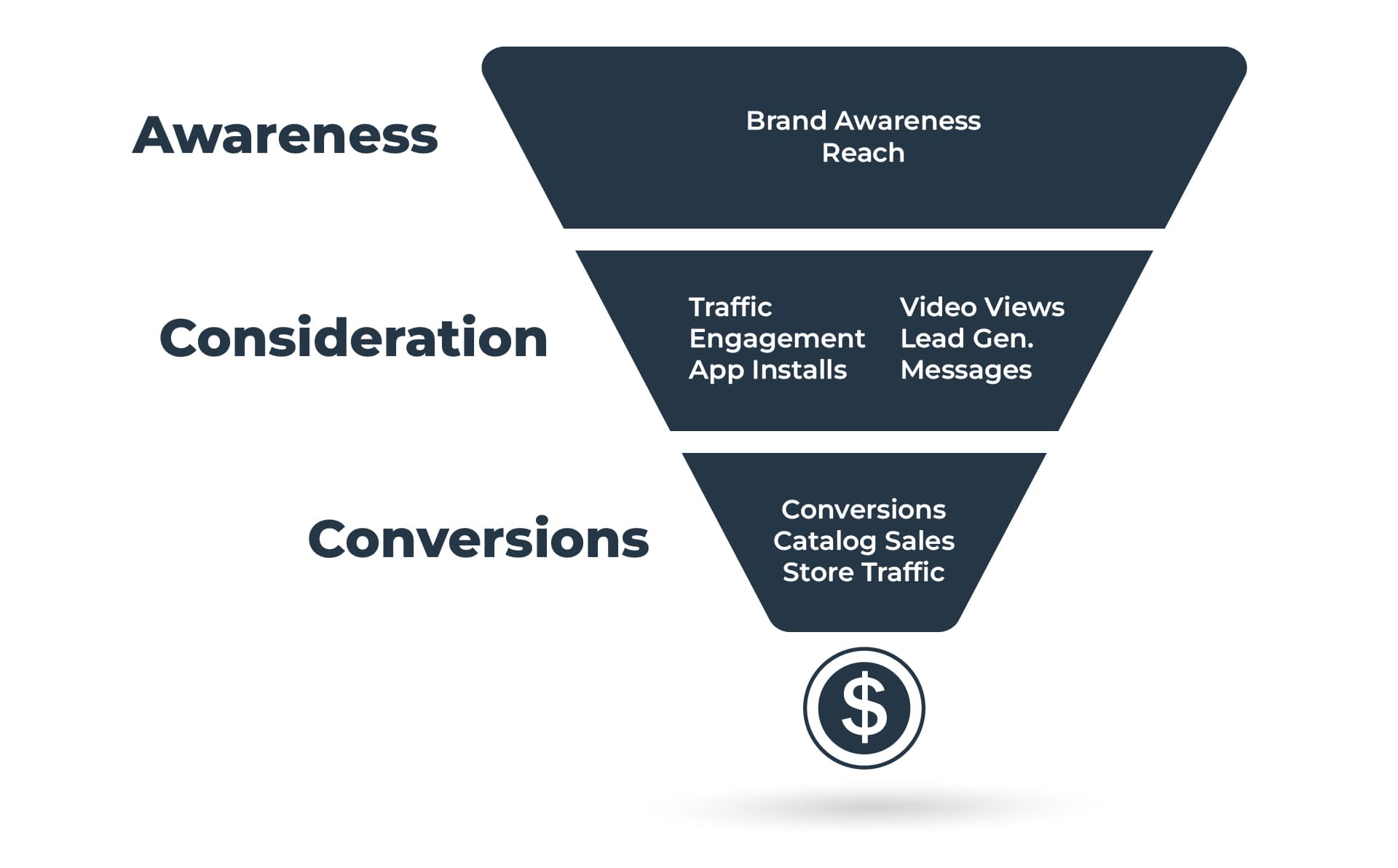 Awareness Campaign Objectives
These impression-based objectives are designed to have your ad reach as many people in your target audience as possible, while staying within your budget limits.
Given the nature of these campaign types, don't expect too many clicks or much engagement since these objectives mainly focus on the top stage of the funnel.
Facebook and Instagram currently offer two Awareness objectives:
Brand Awareness – Increase people's awareness of your business
Reach – Show your ad to as many people as you can
Brand Awareness
Brand Awareness should be used when your goal is to have an audience become familiar with your brand.
These ads are shown to people who Facebook deems to be most likely to remember your business.
Reach
The Reach objective should be used if you want to get your ad in front of as many people as possible, and keep it there.
Typically reserved for warm audiences, this can be an effective option when combined with other strategic retargeting campaigns or if you are just looking to deliver your message to an entire audience.
Consideration Campaign Objectives
Encourage people to learn more about your business with these six low-intent, middle-of-the-funnel campaign objectives.
Facebook and Instagram currently offer these Consideration objectives:
Traffic
Engagement
App Installs
Video Views
Lead Generation
Messages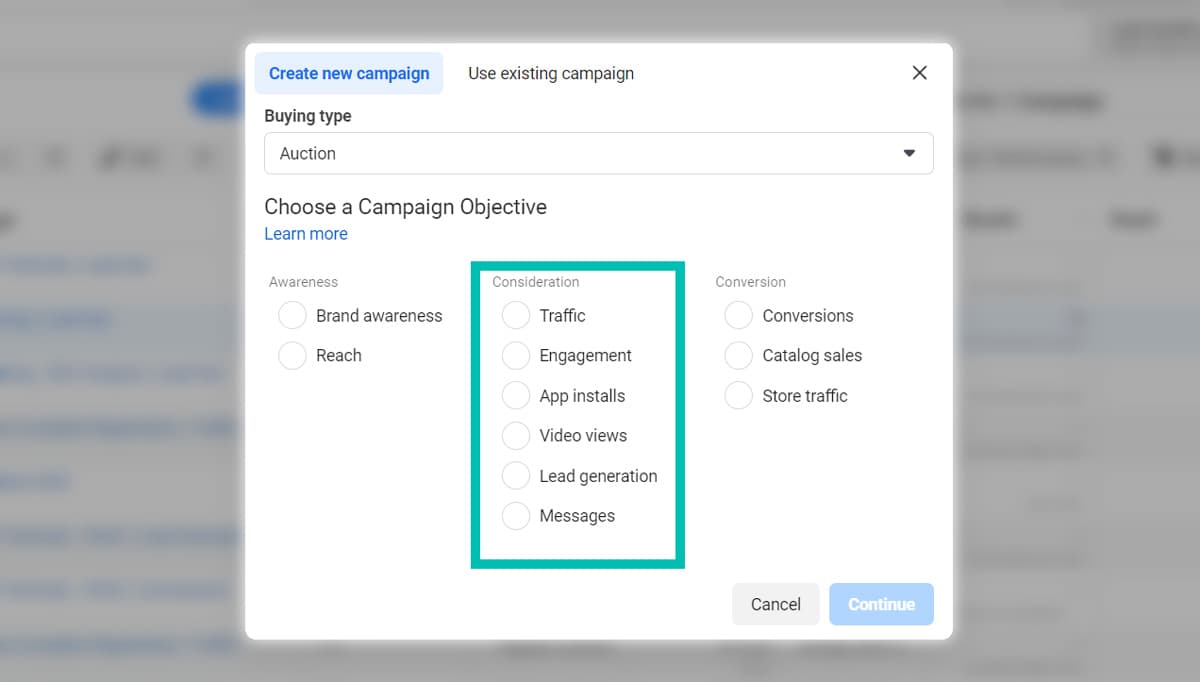 Traffic
The goal here is to get more people to visit your website, without expecting them to do anything else while they're there.
Your ads will be shown to Facebook users who are most likely to click the link in your ad. However, they may not necessarily complete a conversion or make a purchase.
Traffic campaigns often gather cold, unaware visitors to your website. But, you can use this to your advantage with a layered strategy that retargets these Facebook users in an alternative campaign focused on moving them down the funnel.
Who is this for?
This type of campaign is effective if you want people to read an article or blog post on your site. Additionally, if you derive revenue from ads on your site, this could be a cost-effective way to get more eyes on your content.
Engagement
Engagement campaigns attempt to show your ads to those who Facebook predicts will interact with your content. These are people who are most likely to Like, Comment and Share your ad—which could generate additional organic reach.
There are three options available when setting up this type of campaign:
Post Engagement: This attempts to gain reactions, comments and shares—a great way to build social proof.
Page Likes: This option encourages people to Like and Follow your Facebook page.
Event Responses: Invites users to mark that they are "Going" to attend an event, either online or in-person. This is not the same as driving actual ticket sales.
If you're looking to grow event sign-ups, or promote your brand's credibility through social proof, the Engagement Campaign type could work for you.
App Installs
The goal here is pretty straightforward: Facebook will show your ad to those who are most likely to download your mobile app.
For optimal results, you should register your app with Facebook Developers' site and implement the SDK—which allows you to track event data, like installs or purchases.
Video Views
The Video Views objective is geared toward getting as many people as possible to watch your video within your target audience. So, if you're looking to rack up some views on your video and don't expect users to take any additional actions, this could be an objective that works for you.
Since Facebook tracks how long each user watches your video, it's a great way to build an audience of engaged viewers who watched your video for an extended period of time.
Lead Generation
Lead Generation Campaigns offer a unique way to collect leads for your business right within the Facebook platform. Meaning you don't need to interrupt someone's social media experience by taking them off-platform to convert them into a lead. Talk about reducing friction!
Once someone clicks your ad, Facebook will display a form, which is often auto-filled with the available information Facebook has on that user—reducing the amount of typing a user needs to do in order to submit a form.
You will need a way to collect these leads from Facebook, which you can easily do by directly connecting your CRM if you are using one of the Facebook partner integrations or with Zapier to have them automatically populate. If you do not have a CRM, you will need to download these leads from your business page.
Who is this for?
This objective is great for anyone looking for a seamless way to collect leads directly within the Facebook and Instagram platforms. When combined with an enticing offer, Lead Forms work well for those prospects in the consideration stage.
Messages
The goal of a Messages campaign is to encourage users to engage with your business on Messenger, WhatsApp and Instagram Direct by starting a conversation.
This is great for warmer traffic prospects that might just need a few questions answered in order to move forward with your business.
Conversion Campaign Objectives
Facebook's Conversion objectives (Conversions, Catalog Sales and Store Traffic) are focused on high-intent actions that are designed to move your target audience closer to making a purchase or visiting your store in-person.
Facebook and Instagram currently offer three Conversion objectives:
Conversions
Catalog Sales
Store Traffic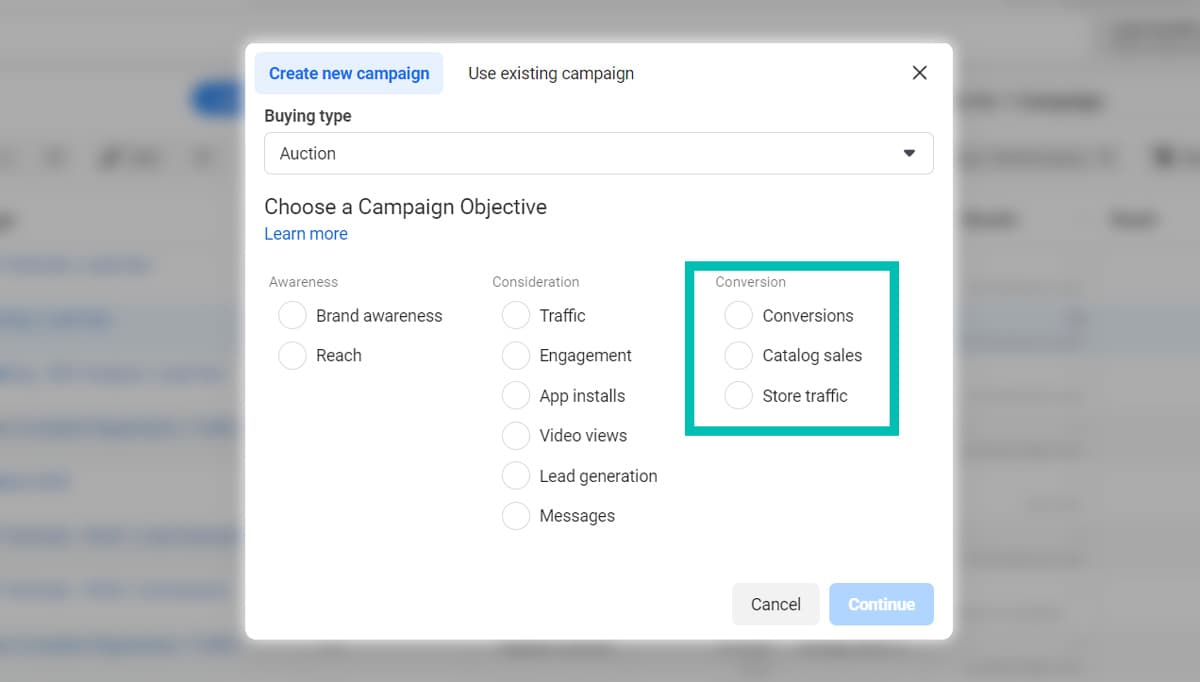 Conversions
The goal of the Conversion campaign objective is to have people take specific actions on your website, like completing a form or adding an item to their cart.
Conversion campaigns allow you to optimize your ads around specific actions users would take on your website.
These actions, or conversion events include:
Add payment info
Add to cart
Add to Wishlist
Complete registration
Contact
Donate
Purchase
Lead
Customize product
Find location
Initiate checkout
Schedule
Search
Start trial
Submit application
Subscribe
View content
Custom conversion events
The Conversions objective requires the Facebook, now Meta Pixel, to be installed on every page of your site along with Facebook's Conversions API and a verified domain.
This type of campaign can work well if you want people to make a purchase or submit a form on your website to become a lead.
Catalog Sales
Catalog Sales campaigns are designed for eCommerce stores that want to push dynamic ads for their entire product line.
Instead of just advertising one product, Facebook can show relevant products from your whole catalog to people who have indicated prior interest.
These ads can be set up via a feed plugin on major eCommerce platforms like WooCommerce or Shopify, or manually set up through a direct upload to Facebook.
You will often see these ads executed as retargeting campaigns, concentrated on individuals who did not complete a purchase on your website (non-buyers). If you have ever viewed a product on a website, only to find that same product show up in your Facebook or Instagram feed later on, you've seen the power of a Catalog Sales campaign in action.
Store Traffic
Are you looking to drive more foot traffic to your stores?
The Store Traffic campaign targets prospective customers that are physically near one of your locations. This objective is only for businesses with multiple physical locations who are looking to drive more in-person traffic.
For this campaign to run effectively, you will need to enter all of your physical locations and hours of operation in the Meta Business Manager and on the consumer side, the user must have Location Services enabled for Facebook or Instagram.
If you have a single brick-and-mortar location, consider using a Reach campaign objective instead to connect with your local audience. With Reach, you can target as many people as possible within your ideal audience and still utilize geotargeting to reach those within a set radius of your store.
New Campaign Objectives Are Rolling Out
Facebook is introducing a new set of campaign objectives grouped together based on their expected outcome. Facebook claims the names are changing, but you will still be able to perform the same functions.
Here is how the campaign objectives will align in the future:
| Previous Objective Name | New Campaign Objective |
| --- | --- |
| Brand Awareness | Awareness |
| Reach | Awareness |
| Traffic | Traffic |
| Engagement | Engagement |
| App Installs | App Promotion |
| Video Views | Awareness & Engagement |
| Lead Generation | Leads |
| Messages | Engagement & Leads |
| Conversions | Engagement, Leads & Sales |
| Catalog Sales | Sales |
Wrapping Up
If you're looking to reach new audiences or connect with your customers across multiple platforms, social media advertising can prove to be a very effective method of generating new business.
Facebook and Instagram offer some powerful targeting options that can help you engage with your audience. However, these campaign objectives can involve some experimentation to see what will work best for your business to drive the most results.