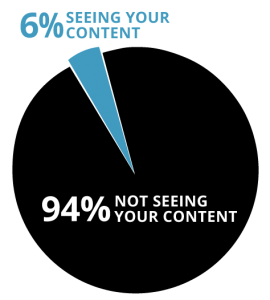 Facebook for Business can often feel like a pay-to-play system with Facebook Ads and boosted posts demanding cash for results. These paid-for tactics, among others, are worth a look because they can dramatically increase audience engagement, Page likes, etc. However, in some cases spending money on social is just not possible. So how do you gain Facebook engagement while fighting statistics that say out of 100 Facebook fans only 6 are seeing your posts? Ouch.
Despite the figures, improving your organic reach is possible. If your budget is limited, you're new to social media marketing, or you just aren't willing to pay for results, below are 6 easy and FREE ways you can start improving your Page's engagement.
1. Get Creative with Some Videos
Recent research and discussions about organic reach show that videos are currently the most effective medium (with 8.7% of a Page's fans seeing the post organically) compared to links (5.3%), plain text (5.8%) and photographs (3.7%). And now with the introduction of Facebook and Twitter's native video, the importance of video marketing has only increased. Facebook's auto-play feature on their native video helps draw viewers in. Simply scroll down the page and the videos will immediately begin playing. Since it's hard to look away from a moving image, you've effectively grabbed your audience's attention. But what are they watching?
Videos reach out to viewers in ways that photographs can't. Is your office setting up a cornhole tournament during the summer months? Take a video! What about an interactive promotion that involves your customers? Footage of your team members engaging with customers in creative ways can inspire brand loyalty and a sense of community on your Page. And you can do all of this right from your smartphone with apps like Vine, Vidstitch, YouTube and others. Shoot the video right on your phone and edit it with these apps to create something your followers will enjoy. Digital marketing is becoming more video-centric every day. Posting quality videos will increase your organic traffic and make it clear that your business is up-to-date on the latest trends in the industry.
Here are some amazing examples of successful video marketing.
2. Post More Community-Related Photographs
You probably noticed in the previous section that photographs were assigned the lowest percentage of organic reach with only 3.7% compared to videos, links and plain text. But that doesn't mean that photos have no place on your Facebook page. Businesses often need to post graphics on their page that advertise events and promotions. Pictures of employees and images of contest winners are also important. All of these are valuable ways to reach your audience, so if you've ever wondered if posting a graphic or a photograph makes a difference for your organic reach – it does.
Facebook's algorithm prevents your promotional posts from reaching a large amount of your followers. Promotional posts include information about you, your products or services and are essentially trying to sell something. And that's basically the reason businesses are on Facebook in the first place, right? Wrong.
To increase organic reach with photographs, organizations have to change their expectations about what Facebook is actually doing for them. Instead of beating that dead sales horse, focus on building brand awareness and developing a community around your Page. What do you want to see when you go on Facebook? I bet it's not 25 advertisements asking you to buy products. You want to see relevant and engaging content that you care about. That's what Facebook's algorithm tries to give your followers.
Look at the content you're posting and ask: Is this interesting to my fans? Photographs of employee and customer engagement are examples of good content for business Pages. If you give out an Employee of the Month award, take a good photograph and congratulate that person via Facebook! Fans who know the employee may take the opportunity to do the same.
Never forget that Facebook needs the human factor. It was created as a way for friends to share photographs and connect. Don't fight this model – become part of it. Become a valued member of your Facebook community!
3. Use a Strong Voice
The videos, photographs, links and text you post are all reflections of your organization's personality. And every personality needs a voice. Using a strong voice doesn't mean you should be aggressive or pushy. It means you should pick a tone for your business and go all-in! If your brand is fun and trendy, don't be afraid to add some spice to your posts and reflect a playful tone. Keep it professional, but a little personality is never a bad thing. Take a look at big businesses like Taco Bell that have embraced their inner fun guy.
Life is like a box of tacos.

— Taco Bell (@tacobell) August 28, 2015
4. If You Want Something, Ask for It
Otherwise known as the call to action (CTA). Page administrators can relate – sometimes the quest for likes, shares and comments on your posts can feel like pulling teeth. Likes and shares are important because they help disseminate your post to a wider audience. People who haven't followed your Page are still able to see the content you post when their connections are engaging with it. Remember that 6% figure? That's why post engagement is so important.
So how do you get the 6% to spread the word? Ask them to! Including a CTA in your post lets fans know what they should do. If you want people to share your post, include a sentence at the beginning or end of the post urging them to. It may not have occurred to them before you asked.
5. Start Conversations
Asking open-ended questions is a great way to spark conversations on your Page. Direct questions can lead to a meaningful dialogue with your customers. And don't feel like you can only talk about your business. Be creative with your questions and try to keep the topic positive. If your city's team is on a roll, ask your followers who the MVP of the next game will be. The question is direct, encourages people to respond, and draws on a hot community topic.
Or you can ask questions about your products. If you have an ice cream business, ask your followers what their favorite flavor of custard is. Or pit two flavors against each other and see which is victorious. Besides being fun for your fans, these conversations can also win you some valuable insight into what customers are thinking about your products. If Deep Dark Chocolate Fudge won by a landslide and Crunchy Carrot didn't get a single vote (and if you're surprised by that), then that's good to know.
6. Respond Quickly
Now that you've posted some great new content, hopefully customers will start actively engaging with posts. With this engagement comes a need for constant maintenance in the form of reputation management. It's not always easy to respond to customer questions and concerns, but doing so is necessary. Responding to these comments lets people know that there's someone out there listening. It's that human factor again.
But responding is not always about complaints. You want to keep a dialogue open with your supporters as well. A simple "thanks" for a nice review can go a long way.
Expanding your organic reach isn't easy. It takes consistent and responsive posting to cultivate a loyal fan base and consistent engagement. But the results are worth it. Creativity is key. If you're having trouble getting those creative juices flowing, just take a look at what the best of the best are doing. With a little inspiration and these tips, you'll be on your way to better engagement in no time.