With the list feature on Twitter, you really get out of it what you put in. It's not the sort of thing you have to be using as part of your social media strategy, but creating some strategic and effective lists could potentially be the element that sets your efforts apart.
Download Our Free Ebook Here and Learn How to Drill down on Your Social Media Marketing Strategy.
A Twitter list is a specifically grouped collection of accounts, usually connected by a shared interest, career, club, etc. With millions of people tweeting every minute of the day, things you might be interested in often get pushed down by other, more recent content. Lists create a separate space, or feed, for users that you want to see – making the most important tweets easier to follow.
In this post, I'll go through how to create your own lists and give some creative ideas for how to use them!
How to Create a Twitter List
1.  When you're signed in to your account, click on your photo icon in the top, right-hand corner.

2.  Select "Lists" from the drop-down menu that appears.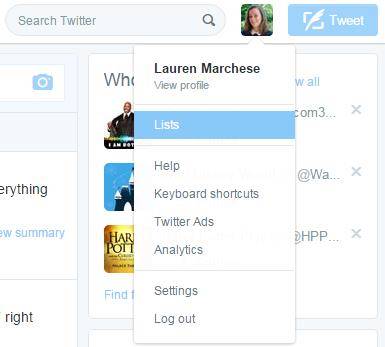 3.  This will take you to the Lists section, which is also the fifth tab on your Twitter profile page.
4.  From here, you can see two sets of lists. The first includes the lists you are subscribed to. These are the lists you have either created or that you have joined. The second set includes lists that you are a member of (someone had to have added you to these).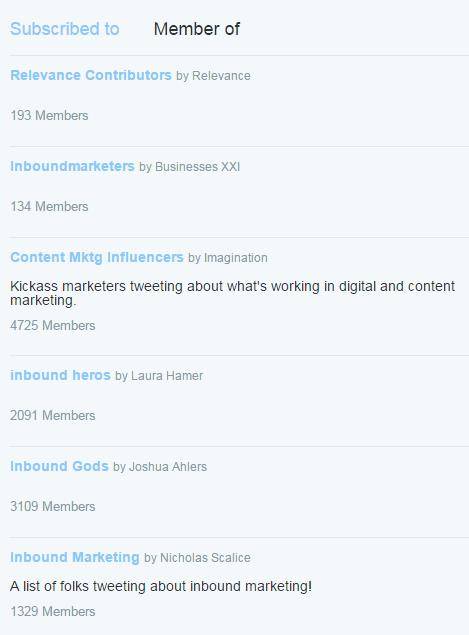 5.  There will be a button to "Create new list" on the right-hand side of the page (under "Edit profile").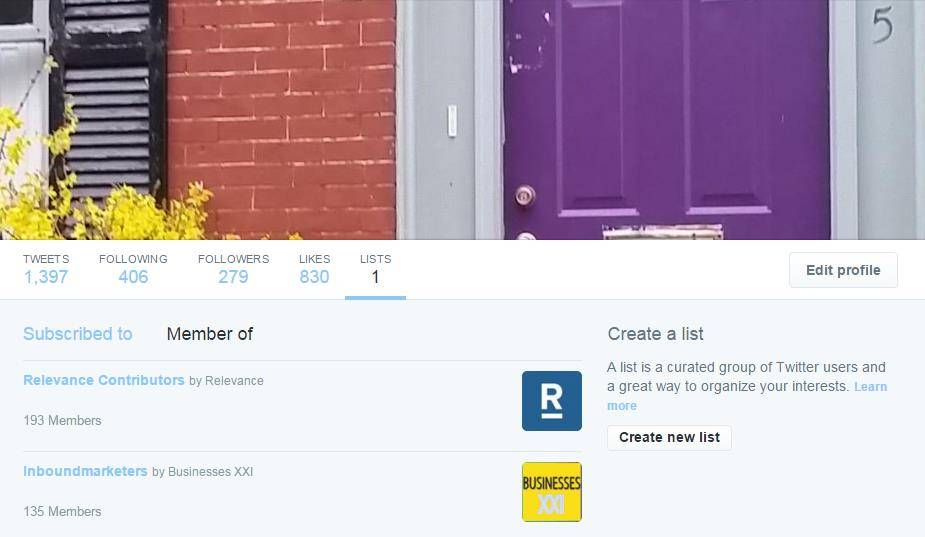 6.  Name the list and add a description if you would like to explain what it is focused on. Don't forget to set it to either public or private. A public list is accessible to anyone, while a private list is accessible to only you.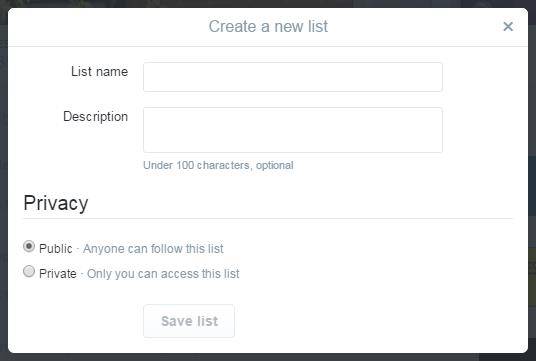 7.  Once you finish these steps and save your list, you'll go to a page where you can add users. This is the most important aspect of Twitter lists, since their value is derived from what the included members tweet.

8.  Although the number of people you add is up to you, it's sometimes better to keep the size of your lists small. If you add too many users, you'll defeat the purpose by adding clutter to an area that is intended to be clutter-free.
Note: The people you add to your lists will get a notification that they have been added, but they will not see tweets from the list unless they subscribe to it.
Utilize Your Twitter Lists
So now that you know how to create lists on Twitter, what should you do with them?
There are many applications that encompass everything from team management to competitor and customer monitoring. A few of the most creative ways to use this feature are shown below:
Inter-Departmental Lists
Create a list and include everyone in your department. You can also create one for everyone in the company, but that can get crowded very quickly. An inter-departmental list will help you keep track of what everyone on your team is tweeting, which is especially important when social media is a part of your organization's marketing strategy.
Collaboration over Twitter is a commonplace activity in today's work culture, and a cohesive team presence is very important. Have team members tweet out content and information from the company, as well as interact with each other.
These lists can be public or private, depending on your preferences. But a public employee list could be interesting – especially when there are people outside your organization that are interested in what your team is tweeting about.
Industry Topic Lists
Many people like to create and subscribe to lists that focus on specific industries, brands, and fields of study. For example, our marketing team tweets about digital marketing and trends within that industry, and we use hashtags that pertain to the industry and to what we're tweeting about. As a result, we have been added to hundreds of Twitter lists.
Whatever your interests may be, there are sure to be others out there that like to tweet about the same thing, or who just like to read tweets on that topic.
Competition-Monitoring Lists
You should already be monitoring your competitors and industry leaders to see what they're doing that is successful. This is just another extension of that.
It's important to know what your competitors are saying about themselves, their customers, and (potentially) you. A list where you can keep track of their tweets is extremely useful. Plus, monitoring the best in your field is bound to give you some great ideas on your future strategies. This is one list you should probably keep private.
Customer or Client Lists
If there are people actively talking about your brand on Twitter, it would be helpful to have all of the tweets within easy reach. First, this can help you keep track of negative feedback on your products or services. There may be something in there that you really need to know about.
On the other hand, this list would also be a way to keep tabs on positive things that are said about your brand. When customers tweet good things about you, they should be rewarded with a "like" or retweet. You can also easily tweet back at them, thanking them for their support. This kind of reputation management on social media is very important and goes a long way towards building relationships with your customers.
Note: Check out other great ideas for useful Twitter lists here.
Using TweetDeck
If you're looking for a way to easily monitor your lists without having to go "find" them on Twitter, TweetDeck is the platform for you. It's free to create a profile, and is endlessly convenient when it comes to managing your Twitter presence.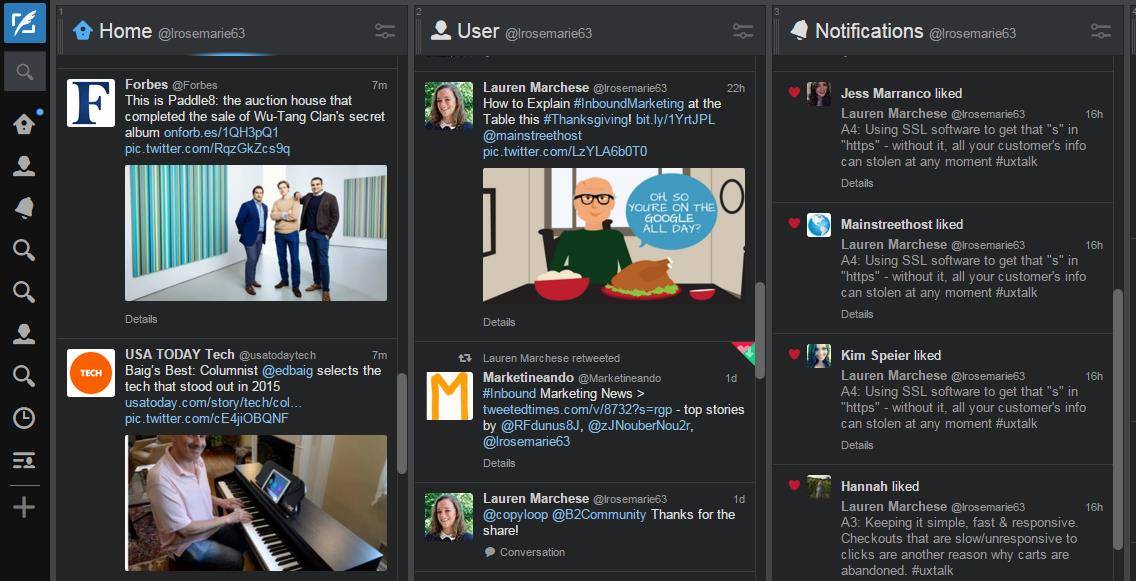 On your "deck" you have several columns, including your Twitter feed and notifications (likes, retweets, follows, and mentions). You can also have columns that track a certain hashtag, handle, or (you guessed it) lists.
Just click the "+" symbol in the left sidebar and click on the "Lists" option. From there you'll have the option to choose a list you've already created or are a member of. You can create a list from here as well.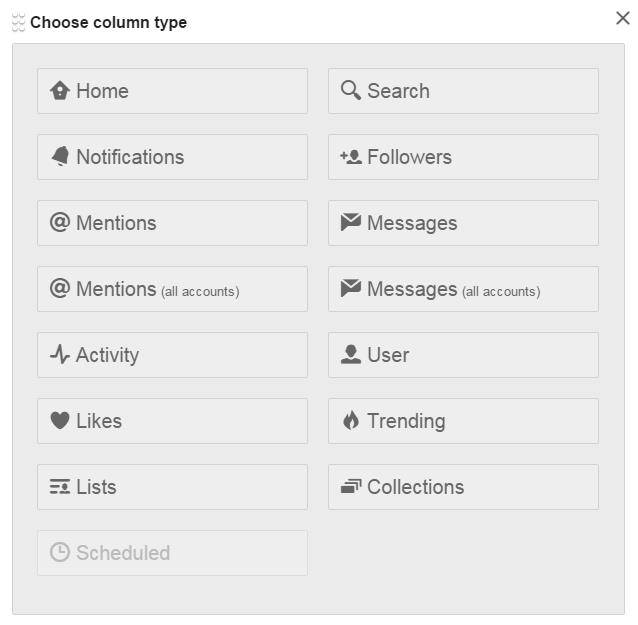 You can make up to 500 lists, so there's plenty of room to experiment. Do you have any creative list ideas not mentioned in this post? We'd love to hear about them in the comments below!