Some people go out of their way to regularly participate in Twitter chats. Others have heard of them but are not sure exactly what they are or what purpose they serve.
Even if you've never heard of a Twitter chat, rest assured that anyone can make the most of what they have to offer by both participating in and setting up their own campaigns.
Want to Learn More about Marketing on Twitter? Download Our Free Ebook on Social Media Here.
What is a Twitter chat?
A Twitter chat is a collection of tweets about a specific subject grouped together by a common hashtag. By using the same hashtag for every tweet associated with the subject, people are able to organize chats between multiple professionals and/or enthusiasts.
TweetDeck helps facilitate chats through the column feature, which lets you filter tweets by Twitter handle, mentions, or hashtags. Creating a column with the chat's hashtag as a filter will create a separate space for all of the tweets of people in the conversation. In addition, TweetDeck's auto-refresh feature brings in new tweets instantly – so there's no need to constantly click that refresh button.

These features, among others, create the perfect environment for a hassle-free conversation.
But Why Should You and Your Company Use Twitter Chats?
Twitter chats are used by countless people to connect with customers, clients, and other professionals. Used correctly, chats can be an indispensable customer engagement and networking tool.
The tweets are public, so even though your new column with the hashtag filter makes it seem like the people in the conversation are the only ones listening, your followers and each participant's followers are as well. That's a whole lot of exposure for the hashtag and your organization! We'll talk about how to maximize this exposure later in the post.
Twitter chats are the perfect forum for immediate feedback from other experts in your field. If you have a question for others like you, just ask – you'll have your answer in no time.
This is also a great way to turn employees into advocates for your brand. Use employees and their Twitter accounts for chat participation to further expose your business. Employees really do make the best advocates.
Although it might seem risky, using chats to engage with clients can lead to truly excellent customer service. And even though customer service should be responsive, respectful, and helpful no matter what, the fact that the world can see everything about the conversation means that your stellar responses to complaints and questions will serve as testimonials to future customers.
How Do I Make My Own?
Now that you're ready to start your own campaign – let's dive in with a step-by-step process that will turn your Twitter chat into an unmissable weekly event.
1.  First, have your team of employee brand advocates participate in a few already-established chats. This will give them a sense of how successful chats work and are moderated – something they will have to do eventually.
2.  Now it's time to start thinking about what your chat will discuss. This is highly dependent on your industry but also doesn't have to cover every single aspect of the field. If a topic is too broad, it will be hard for participants to converse in a meaningful way because there will be too much to talk about. But a topic that is too narrow is hard to expand on and may cause the conversation to quickly peter out.
Try to identify a topic that is specific and targeted, but also multi-faceted – something you can have a weekly discussion about without running out of topics.
3.  As soon as you have an idea of what general topic you want to use, it's time to create a hashtag for your chat. Think of this as the title. The hashtag you choose is what you will use to market your chat, it will be included in every single tweet, and it will be seen by hundreds (or thousands) of Twitter followers.
It's important to keep the hashtag as short as possible. Tweets can only have 140 characters, and you don't want quality responses from participants to be cut off because of a lengthy hashtag.
The hashtag also needs to be completely original and unique, like a Twitter handle. One of the hashtag's main functions is to filter tweets from your chat away from the general noise of our Twitter feeds. If you're using something commonly tweeted by thousands of people, outside tweets will show up as part of your chat.
Because your tag functions as the title of the Twitter chat, it should include what the chat is about. For example, Mainstreethost uses #uxtalk to discuss topics surrounding user experience (UX) in the digital world.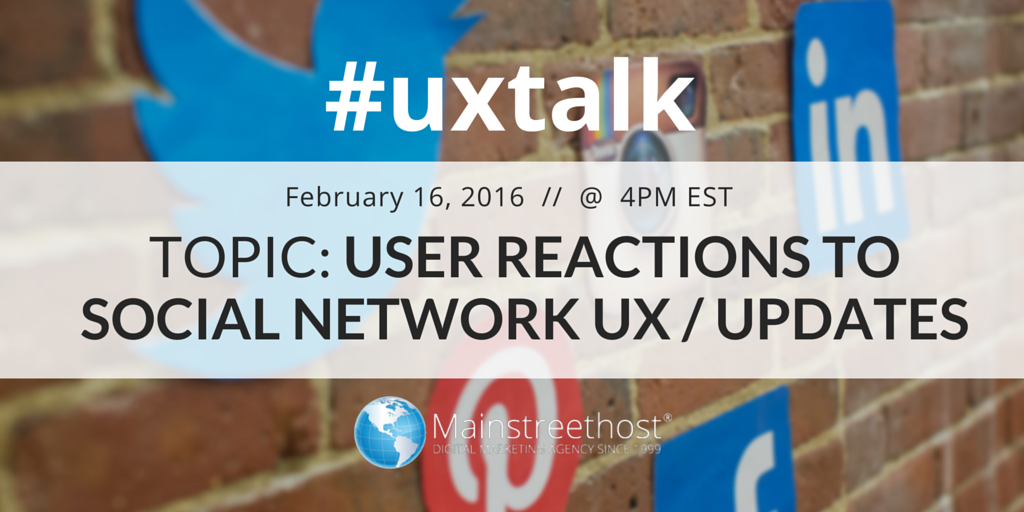 4.  Set up a consistent day of the week for the chat. Search for Twitter chats in your industry to make sure you don't choose the same time slot. You don't want to compete for participants.
Pick a schedule and stick to it – changing the date and/or time confuses your followers.
5.  Set up a moderation schedule. Your employee brand advocates should be participating in the chat every week, with one of them as the moderator. Rotate each week so that each employee hosts the chat every so often.
Think of the Twitter chat as a set meeting. Employees should keep their schedules clear during that time slot, whether they are moderating or not.
During the first few weeks of the chat, your group of tweeters might be the only participants – but that's ok. You're still spreading the word and establishing a consistent presence during your time slot, so it's important that they are not only present, but actively participating.
6.  So how do you get the word out? Like we mentioned, starting to consistently host the chat each week is extremely important and will attract participants.
Create a logo or graphic for the chat that only needs to be updated with the new topic each week. A consistent and recognizable image will help brand your Twitter chat.
Your employees should be promoting the chat (with the branded image) on social media using the established hashtag, along with other related tags to get the right people's attention.
Use the Hashtagify tool to pick out popular hashtags used by people in your industry. This will help target professionals who might be interested in your chat.
You can also directly invite your followers on Twitter by tweeting at them.
7.  The mechanics and schedule of a Twitter chat are also important. Most chats are highly structured, but a great one makes that structure feel natural.
The moderator should prepare 5-6 questions to ask the group during the hour-long period. This will serve as the main content of the chat, so make sure the questions are thought-provoking (i.e. questions that can't be answered with just one word).
Most Twitter chats are 1 hour. You'll want to avoid sending questions out too close together – this will both cut off potential discussion between participants and you might run out of things to talk about before the hour runs out.
Tweet questions starting with "Q1," "Q2," etc. Participants should respond with "A1," "A2," etc.
Feel free to tweet back and forth with other participants, and make sure to engage with any participants outside your organization; Respond to their tweets, and "like" any good points they make. You want them to enjoy themselves, come back next week, and tell all their friends to come, too!
As always, remember to include the chat's hashtag so no tweet goes unnoticed by users following the conversation.
Important Things to Remember While Moderating:
Make sure moderators and all employees participating tweet about the chat topic several times before it starts.
Start with introductions, and welcome each person that joins.
After tweeting a question, give participants a few minutes to respond to the question and then to each other's ideas. Many chat participants are so passionate about the topics that moderators may have to politely interrupt the conversation in order to ask the next question!
Moderators should favorite and retweet excellent points made after each question.
Use semi-casual language to put people at ease. This is not a lecture – it's a discussion among peers. Contending statements are fine, as long as they're made in an academic, "I see your point" fashion vs. "you're wrong!"
Let people know when the chat is over, thank them for coming and let them know that you look forward to seeing them at the same time next week.
Now You're Ready to Start Your Twitter Chat!
Follow these steps and practice on chats moderated by other businesses to hone your skills. Your team will be experts in no time.
If you're looking for inspiration, check out the information on our own chat, or join in one of these weeks! We'd love to see you there. 
People who take the time to participate in these conversations are genuinely passionate about what they do. They're more than willing to share their wisdom with others, but are also humble with the knowledge that they still have lots to learn. Guaranteed, this is one of the most educational and inspirational ways to spend an hour.