Of all the reasons our society has become so internet-reliant in the past two decades, video content is one of the most important. Many of the most common online activities – communication, education, and entertainment – rely on video. Our society has long been obsessed with video in the television and film mediums, and the internet allowed us to archive that content so that it's always at our fingertips.
But what about live video?
Since real-time, written content has been mined by social media companies like Twitter, it makes sense that video would find its way into that world as well. But it's taken some time. Broadcast and cable television are still hugely profitable industries and have long been dominant in the world of live video.
Facebook and Twitter are now positioning themselves to take advantage of how new technologies and the rise of social media are changing that.
Facebook Is Aggressively Seeking Ways to Enhance Live Video Experience for Users
It's a fitting time to talk about the rise of live video on social, with South by Southwest (SXSW) wrapping up last month in Austin, Texas after another week of music, film, and tech festivities. It was during last year's festival that live video startups like Meerkat and Periscope stole the show, setting up 2015 to be a year in which they would jostle for live video supremacy.
Eventually, Meerkat CEO Ben Rubin had to concede that that title was going to be out of his startup's reach. In a letter to investors, he described the company's decision to give up their quest for live-streaming preeminence:
Mobile broadcast video hasn't quite exploded as quickly as we'd hoped. The distribution advantages of Twitter/Periscope and Facebook Live drew more early users to them away from us and we were not able to grow as quickly alongside as we had planned.
This represents a trend in the tech industry that's troubling to some. Whenever a new social tool pops up, it's either acquired or demolished by one of the reigning giants – Facebook, Google, Apple, or Amazon (some in the industry have half-jokingly termed this group the "Four Horsemen of the Apocalypse"). But fair or not, this is the reality – and it's likely here to stay.
Facebook took notice of the buzz around live video and used its vast resources to position itself on the true cutting edge of live-video technology. In fact, Facebook delivered what was probably the fatal blow for Meerkat by announcing that it would start giving algorithmic preference to live video at the beginning of March. This means that, as you scroll through your News Feed, live-stream content will appear higher and more frequently.
Live video allows Facebook to create meaningful engagement between users and celebrities – one area that Twitter (and, increasingly, Snapchat) has dominated amongst social platforms. Because of the live, unvarnished feel of real-time video, users feel as though they can glimpse into what the everyday lives of their celebrity idols are actually like. In fact, longtime Facebook executive Cheryl Sandberg has been reportedly making trips to Los Angeles, hoping to woo celebrities into live-video agreements in which they'll be paid for regular content.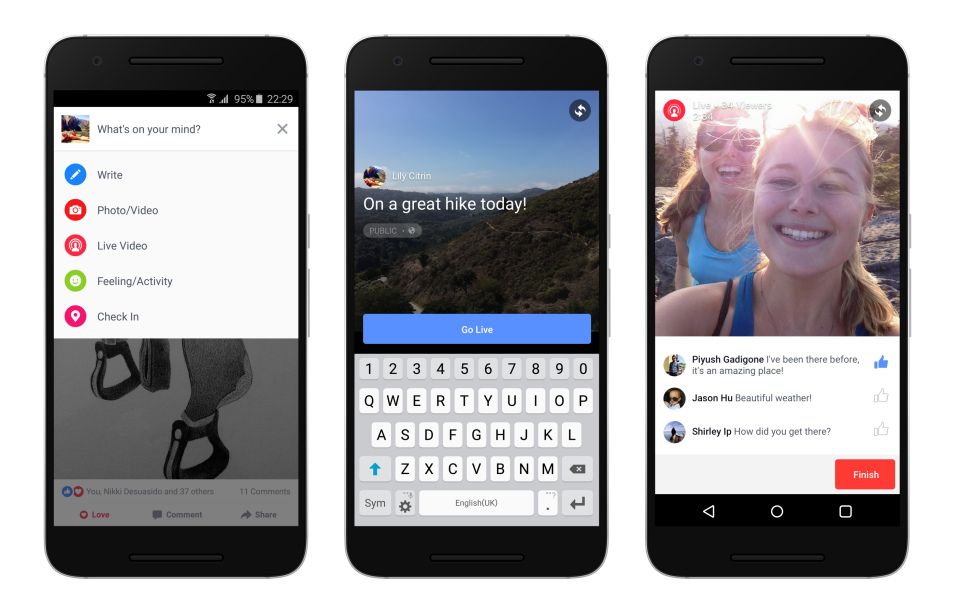 And, finally, the culmination of over a year of strategizing that likely had its beginnings during last year's SXSW live-video bonanza: Facebook's newly released video hub for its mobile app.
The hub was announced on April 6th and is featured prominently at the bottom of the screen (where Messenger used to be). In it, users will find:
Live video content from brands and celebrities, similar to how Snapchat harnesses those sources.
Video content uploaded for specific groups of friends and family.
Video content uploaded to broadcast a specific event, such as a child's bar mitzvah or sporting event.
An organized archive of pre-recorded video content for all of the above categories (making this move not merely a coup for their live video ambitions, but a targeted attack at YouTube, as well).
Comment replays that visualize reactions that occurred during the initial live stream.
Topic-tagging to help you get your video archived in the right category in the hub.
Ability to comment in real time with any of Facebook's reactions buttons – also released this year.
The depth of and spotlight on the hub proves that Facebook sees video as the future of communication, time spent on its app, and how it will make money.
The hub represents a bold new emphasis on live video for Facebook, and it will be interesting to see whether users will be ready to jump on board with the new features as quickly as the company is hoping.
Twitter's Live Video Strategy: Periscope and pro Sports
As I mentioned above, it was Twitter that first discovered and capitalized on our innate desire for real-time social content. Twitter's early success (which, interestingly, was also catalyzed by an intensely successful showing at SXSW – theirs taking place in 2007) was based on written content, but it wasn't long before it was able to facilitate photo and video posts as well.
In January of last year, Twitter made its first major foray into live video by purchasing the live-streaming app Periscope (months before the product was even launched publicly). Functionally, the partnership has been fairly smooth, allowing users to include their live streams directly into their tweets while they are being recorded.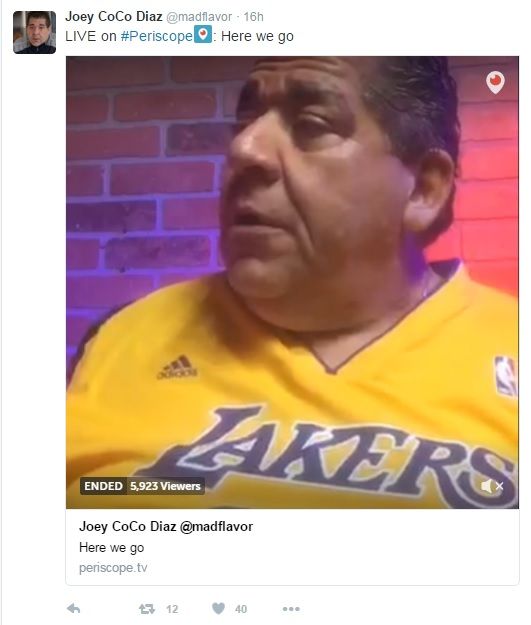 For most experts, the Periscope acquisition represented a much needed, ahead-of-the-curve move for Twitter. The decision to pull the trigger so early gave it a head start on Facebook, who was (seemingly) still just looking on from afar.
Since that time, though, not much has happened with Periscope in terms of new features or developments. It still functions much in the same way it did at its inception. While it seems like a petty criticism for a product that's still extremely new, Facebook's rapid rollout of a multitude of new features appears to have removed (or seriously lessened) the advantage that Twitter enjoyed.
For a parent company that has experienced more than its share of executive turmoil and stalled user growth, it was a missed opportunity to forge an exciting new path.
But It's Not All Doom and Gloom for Twitter on the Live Video Front.
It was announced this month that Twitter acquired the exclusive rights to stream 10 of the 16 Thursday Night Football games during the upcoming NFL season on its platform. The deal was for a reported $10 million, which is far lower than what those in the industry were expecting.
The deal makes sense, as pro sports are another major industry that expects to be transformed by live video. As it stands now, games and events are still predominantly viewed on television. The live aspect of watching sports is probably even more intrinsic than it is with movies and television. Sure, no one wants to be late to the party on last week's episode of Game of Thrones, but if you already know the outcome of a sporting event, there's really no point in tuning in.
But because of how entrenched and lucrative television rights agreements have been for the four major leagues (NFL, NBA, MLB, NHL), live viewership has remained monopolized by the TV networks.
Consider this from Deadspin:
Ratings for live sports have remained largely immune to this trend [of ratings declining due to the internet], staying flat or even rising in some cases. It has often been said that live sports are the last bits of appointment TV around, and television networks are paying megabucks for it.
But being appointment TV doesn't preempt live sporting events from transferring to the world of social media. When football season comes around, rabid NFL fans will spend Thursday nights making that same appointment to watch their favorite teams as they always have – except now it will be facilitated by their phone, tablet, or smart TV.
So while the initial polish of Periscope has been somewhat overshadowed by Facebook's new rollout, it's still far from dead. In fact, it was even named Apple's "App of the Year" for 2015. Plus, with the new NFL rights deal, Twitter is showing it still has other avenues for live video success.
Ultimately, it makes sense that Twitter would be building its live video platforms through partnerships while Facebook does so from within. After all, Twitter's most important challenge moving forward is its need to entice new users to join. By making deals with Periscope and the NFL, it gives itself a chance to bring in new users from those existing audiences.