As a marketer, I'm always looking for new ways and ideas to enhance my marketing efforts. For quite some time, I've been a proponent of integrated marketing, and then I heard a new term – synchronized marketing.
Although my initial interest was the first word in the term – synchronized (as I was a synchronized swimmer for most of my life) – I recognized that this concept is deeper than that one familiar word.
Something clicked and I was enchanted by this concept. It was like nailing that one synchro position you've been struggling with for days: the fervent feeling that accompanies accomplishment.
But before we dive into synchronized marketing, let's get acquainted with integrated marketing communications.
Integrated Marketing Communications (IMC) has been a fundamental strategy used for delivering cross-channel messages to consumers. As defined by the American Marketing Association, integrated marketing communications is "a planning process designed to assure that all brand contacts received by a customer or prospect for a product, service, or organization are relevant to that person and consistent over time."
Traditionally, IMC is the integration of traditional (offline) and digital marketing initiatives. However, is it successful in amplifying and strengthening a brand's message and voice?
Integrated marketing has always been centered on a single advertising or marketing campaign, but we need to think on a larger scale – a scale that incorporates more than one campaign, while ensuring that the brand voice and message is clear and consistent.
How do we do this?
Let's amplify and strengthen your brand's message and voice with synchronized marketing.
I know, I know; what is synchronized marketing?
According to DeSantis Breindel's white paper on synchronized marketing, "synchronization goes beyond integration, allowing the voice of the brand to speak to every target, through every relevant discipline at every touch point."
Synchronized marketing's core is based on the brand's voice and message. Integrating your marketing is great; however, synchronized marketing is more than one campaign. It's the overall marketing and branding strategy. It's taking all of your marketing platforms and having them working together simultaneously, with your consumer in mind.
It's no longer just about integrating your marketing efforts; it's about keeping them "in sync" with each other, and more importantly, "in sync" with your overall brand message.
Synchronized marketing takes the ideas of integrated marketing communications and expands upon them in a persona-focused approach.
Why Take the Synchronized Approach?
With the way the world is connected, we can't send out one single message across a vast array of marketing platforms and expect our audience to take it at face value. Through synchronized marketing, we must send out our messages (using those various platforms), while making sure each platform is working with the others, to strengthen our brand's message.
As the DeSantis Breindel white paper put it, "if you think of synchronized swimming in the Olympics, all the swimmers orchestrate their moves simultaneously to create a much larger and more important image than any individual stroke."
Synchronized marketing unifies your brand's message and voice. It transforms your message from something you put out there to a message you convey in various ways, while speaking directly to your audience(s). It's sending out the right message, at the right time, through the right channel.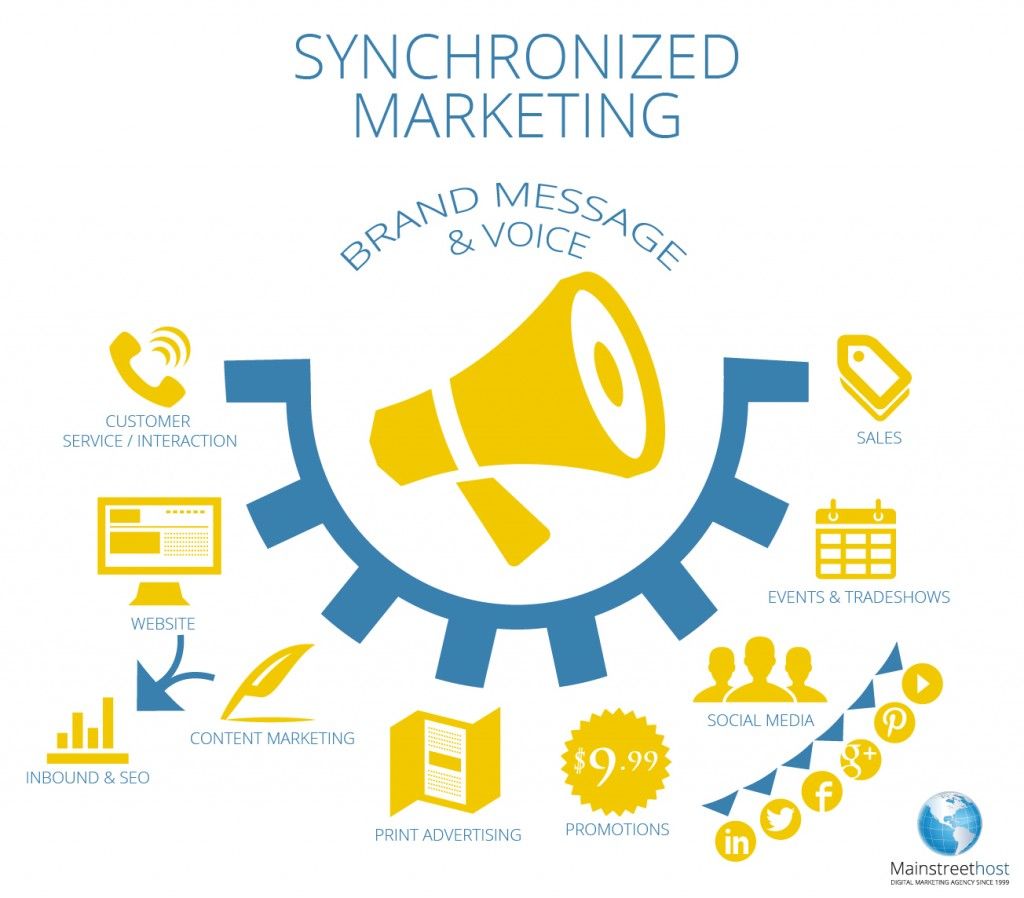 Consumers, both B2B and B2C, are more knowledgeable than ever. They have access to more information than ever before. And guess what folks, it's only going to increase. Consumers are highly perceptive, which means you, as a business, must be more transparent than you've ever been. Consumers aren't taking your word at face value anymore; they're researching and looking to other customers for advice and reviews, and they're taking to social media to voice their opinions – both good and bad.
Synchronize Your Marketing By…
Defining Your Brand's Focus and Reinforcing It Continuously
Synchronized marketing is centered on your brand's message and voice. To be successful in synchronized marketing, you must define what differentiates you from your competition. What's your unique selling point? What can you provide your audience that others can't? What's your value proposition and how do you convey it? All of these should be addressed when building and synchronizing your marketing strategy.
Let's use Nike as an example. An inspiring brand known internationally for their high quality sports clothing, accessories and sneakers; Nike has exceled in defining their brand message and sticking to it. Nike excels to a point where their logo and tag line "Just Do It" encourages, challenges and celebrates their consumers at every touch point.
Even as they add new products to their already extensive inventory, each one fits in with their brand's message. Nike products "push" you to the limits, challenging you to "find your greatness" and "make history." Even as they release new campaigns, each fits with the core values of Nike. After all, Nike's mission is "To bring inspiration and innovation to every athlete in the world." And by every athlete, they mean anyone with a body.
Just Do It.
Staying Consistent on Various Platforms
As with the integrated marketing approach, consistency is key. Stay consistent in voice, message, look and feel across ALL platforms – both traditional and digital.
Michael Kors definitely has a grasp on keeping his brand's message and voice consistent across all platforms, as well as from year to year. Let's take a look at his mission statement to better understand his vision:
"Michael Kors is the leading American fashion designer for luxury accessories and sportswear. The company's heritage is rooted in producing polished, sleek, sophisticated American sportswear with a jet-set attitude. Whether Aspen, Palm Beach or Capri, our mission is to bring our vision of a jet-set, luxury lifestyle to women and men around the globe. Our products, emblematic of the highest standard of quality, include apparel, accessories and beauty. Our lifestyle-driven company embraces the highest standards of creativity, quality, technology and human resources."
Luxury: it's what Micheal Kors does, rivaling some of the most popular luxury brands out there. Whether you visit his website or blog, Facebook or Instagram page, watch one of his ads on TV or YouTube, or see a print ad in a magazine, timeless luxury seeps through the page, computer, and whatever medium you may be on.
Connecting Your Various Platforms
Going beyond integrating your marketing efforts, synchronized marketing connects your various platforms. While this is done easily on digital platforms, there are still opportunities to connect your traditional and digital efforts. Put your Twitter handle or a promoted hashtag on your print ads, or have a QR code that people can scan to access your website or social network.
By connecting your platforms, you're expanding your reach and making it convenient for your consumers to find you where they're most comfortable, increasing the likelihood of them using your products or services.
Starbucks is one example of a brand that successfully connects their various platforms, as well as connecting with their consumers on various platforms.
Not only is Starbucks present on various traditional and digital mediums, they've taken coffee consumption to a new level with their Tweet-a-coffee on Twitter. This gets visitors to the website, their Twitter page, and into their stores, while strengthening their brand's message of offering and delivering quality coffee to the world.
More recently, Starbucks created an App that allows Starbucks goers to pay with their phone and receive rewards. Another great example of how to connect your platforms and consumers, the Starbucks mobile application also allows its users to locate stores, get directions and find store hours.
Mobile applications are just one more way to connect with your customers where they're most comfortable. Starbucks could build a microsite to coincide with the app, giving users the ability to access the application on a desktop, or receive additional resources and information.
Participating in and Encouraging Dialogue with Your Customers
You can't just release your message to the masses; you have to make it personal. Open the lines of communication, encourage and engage in dialogue with your customers, and provide them with the information they crave. They expect to be heard, understood, and responded to. If you're not going to provide your audience with the information or service they want, they're going to go somewhere else.
Social media has provided brands, both B2B and B2C brands, the opportunity to participate in and encourage dialogue with their customers. A conversation that begins on Facebook or Twitter can quickly make its way to other social networks, blogs and even the media. This conversational nature of social media can be a brand's greatest asset if managed properly. It's no longer enough to be present on social media; you must be active and participate in conversations – both positive and negative ones.
Dialogue humanizes your brand; it builds trust, and it turns customers into fans and brand advocates.
Whole Foods does this considerably well on their Facebook page. Posting frequently, Whole Foods provides their fans and followers with food ideas and resources for cooking, and poses questions to engage their audience. What impresses me most is their timeliness and effectiveness in responding to complaints and comments.
Here's one example of how Whole Foods responded to a woman who would love to see a Whole Foods store in her area: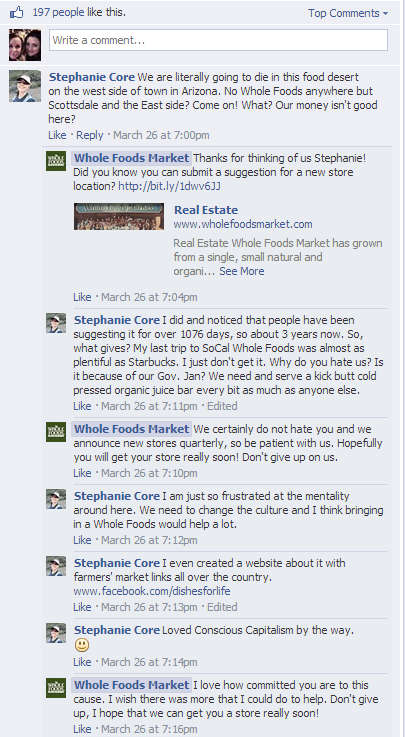 In addition to their well-kept Facebook page, Whole Foods is also active on Twitter, Instagram, Pinterest and YouTube. Take a page from their book and get on social media! Just remember to be active and engaging.
Using Your Content
If you haven't already heard, content is KING. Albeit cliché, it's true. Content drives results. Without content, what are you going to share on social media? How are you going to engage your brand's consumers? People are increasingly looking to brands they use for answers, and even inspiration.
When you develop content, from ebooks to white papers, videos, blog posts and even promotional or tradeshow content, take each piece and repurpose it for multiple channels. Use what you have to your advantage.
Promote It, Share It, and Use It.
While there are many brands that use their content effectively, Red Bull takes content marketing to a whole other level. In-your-face, can't-look-away campaigns are Red Bull's thing and they execute them so perfectly. They're not just an energy drink company; they're responsible for some of the craziest and catchiest marketing campaigns, all of which promote their brand's message – "Gives You Wings".
Just watch this incredible freefall jump from the stratosphere:
There's no mistaking another brand for Red Bull. They've made sure of that with their use of content and their consistent brand message and voice.
So there you have it; synchronized marketing simplified:
Define your brand's focus and reinforce it continuously
Stay consistent on various platforms
Connect your various platforms
Participate in and encourage dialogue with your customers
Take full advantage of your content
Are you experiencing the same "ah ha" moment I had just a few short weeks ago?
Put simply, synchronized marketing takes your marketing efforts to the next level while keeping the focus on your audience. The brands above carry their core brand message and voice through each marketing initiative and customer touch point, and it shows in each one's success.
Although this is not a concept to implement overnight, if you adopt this methodology, you'll be able to offer your customers a seamless brand experience, every time they're met with your marketing.
The Synchronized Marketing Challenge
I challenge you skeptics and integrated marketing obsessed marketers to open your mind to the synchronized process. A process, or should I say, a strategy, that takes integrated marketing communications and amplifies and enhances it for a personalized brand experience at every touch point.