Hollywood movies are expensive to make. You would expect filming, production and dissemination of these movies to need a large amount of capital in order to be successful. But marketing is another major source of expense for movie makers. The cost of marketing films to audiences has risen in recent years with industry standards landing around $100 million in North America per movie. Globally, marketing costs have risen from $175 million in 2012 to $200 million in 2014. And with box office attendance down in recent years, it can be difficult for films to make a profit.
These issues, while on a much larger scale with the film industry, can be applied to any industry or business. But digital marketing presents an interesting alternative to traditional and costly marketing methods. Just like in most industries, Hollywood can't completely do away with traditional marketing on platforms like television. Yet. But with the increasing reach of digital methods like social media, these expenditures may be obsolete in the future.
In a 2014 article, The Hollywood Reporter talked about how social media sites like Twitter are playing a significant role in influencing people's choices at the cinema. This is based on a recent study by Twitter and Nielsen that claims Twitter users are more likely to go see a movie than average Americans, and this is because of influential tweets. Marketers like Sue Kroll at Warner Bros. have started to acknowledge the need for a fresh and creative approach to movie marketing, especially in light of recent mishaps in the industry that look rather lazy.
The recent Terminator: Genisys movie was right around the average $100 million in marketing spend. Unfortunately, a few marketing mistakes in the promotion of the movie have been used as examples of a common trend in the industry. We've all seen those terrible Photoshop jobs where someone is missing an arm or has "lost" 50 lbs. Many people were disappointed with these poorly Photoshopped images from an EW shoot, but what really baffled fans was the fact that the main trailer for the film gave away the key plot twist of the movie –one that the director had intended to be a surprise for audiences. But Terminator: Genisys isn't the only example of movie marketing gone wrong. Another amusing example comes from X-Men: Days of Future Past with a movie poster that left Sir Patrick Stewart suspended above "a wheelchair of flaming flatulence."
Enter: digital marketing. Things couldn't be more different on the digital side of movie marketing. Lazy is the last thing that comes to mind when looking for a word to describe what we've seen with some recent films. These digital teams have gotten extremely creative and have successfully drawn people in. Their strategies use social platforms like Twitter, Snapchat, Instagram, Facebook, YouTube and others that they know fans are already using. And that's where they've really shined. In general, organizations are more willing to take risks via social sites like Twitter than they normally would be in their marketing efforts. This is definitely true of recent movie marketing around the release of Fifty Shades of Grey in February, 2015.
Fifty Shades was released amidst a heated controversy over the content and message of the film. The accusations and criticism made Fifty Shades a hot-button issue before and after its release. But that didn't stop The SpongeBob Movie: Sponge out of Water from jumping in with a risky, but hilarious, contribution. This tweet could either be supporting or poking fun at Fifty Shades, but it definitely attracted more attention for both films.
50 Shades of Yellow. #SpongebobMovie #SuperBowl pic.twitter.com/EUICdRnHx1

— SpongeBob Movie (@SpongeBobMovie) February 2, 2015

We also can't leave out the Audi commercial featuring Saturday Night Live's Vanessa Bayer. Fifty Shades of Grey's digital team wasn't responsible for these parodies, but there's no question they helped keep the movie fresh in everyone's mind. These are great examples of brands that used the attention around another to slingshot into the limelight. Others have succeeded in creating their own attention.

One movie franchise that stands out as an example of truly excellent and innovative digital marketing is The Hunger Games. Over the past few years, the franchise has attracted attention for its creative and successful digital tactics. Part of the film's strategy involves their Twitter account (@TheHungerGames) which has over 1.3 million followers. The feed is full of movie posters, tweets from actors, fun facts and retweeted fan art submitted by followers. Following their other accounts on Instagram, Facebook and even Snapchat and YouTube yields different and specialized content across each platform. The most notable example of this is on YouTube.
In recent years a few movies, The Hunger Games included, have started to "world-build" and take us that extra step into the film's universe. By facilitating an online experience that overlaps across several platforms, these films have created the ultimate user experience. As part of the promotion for the third movie in the franchise, The Hunger Games: Mockingjay – Part 1, CapitolTV was created. We, the fans, are living either in the districts or in the capitol of Panem itself and are subject to the conflict that takes place in the movies. On their channel, CapitolTV released a series of videos titled "District Voices" created by the capitol as propaganda for the districts.

In case that wasn't immersive enough, fans can also visit the capitol's official government website containing hours of explorable content. This includes even more videos produced by the capitol. The videos are endlessly clever and include delightfully oppressive capitol propaganda. Some have secret transmissions from our favorite rebels over at District 13. And watch the homepage of the capitol website for a few seconds. The rebels manage to hack in enough to push the Mockingjay's image (dressed in evocative red) as well as a link to their second website within The Hunger Games world. Click "Join Us" and you'll find yourself on District 13's official site.



Lionsgate reportedly did all of the film cast photographs in-house and also collaborated with Google and several YouTube stars to create the CapitolTV videos. And the result of their tactics? Mockingjay – Part 1 spent $50 million in marketing across North America. That's half the industry standard. With $50 million less spent than movies like Terminator: Genisys, you might expect the quality of their marketing efforts to have suffered, but that clearly hasn't happened.
Some of the specifics mentioned, such as the photograph of Katniss dressed in a red battle suit on the capitol website, are efforts from the upcoming Mockingjay: Part 2, which comes out in November of 2015, and weren't around for promotion of Part 1. But this further shows how they let their tactics intertwine, collide, and add to each other to create one amazing fan experience.
Fan-immersion websites were also notably used to market Monsters University and Jurassic World. On one site you can take a look at the different colleges within MU, including the School of Scaring and the School of Liberal Arts & Monstrosities. The other helps you plan your next family vacation to Jurassic World on Isla Nublar, complete with hotel booking, dining reservations, and park attractions.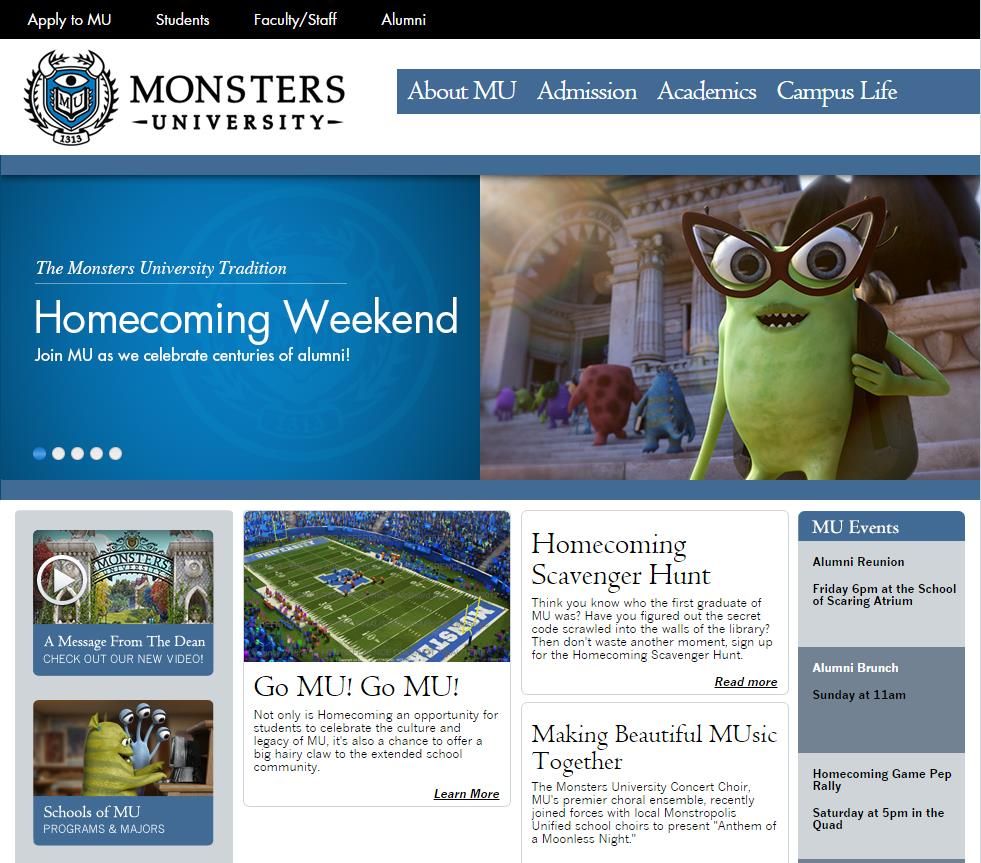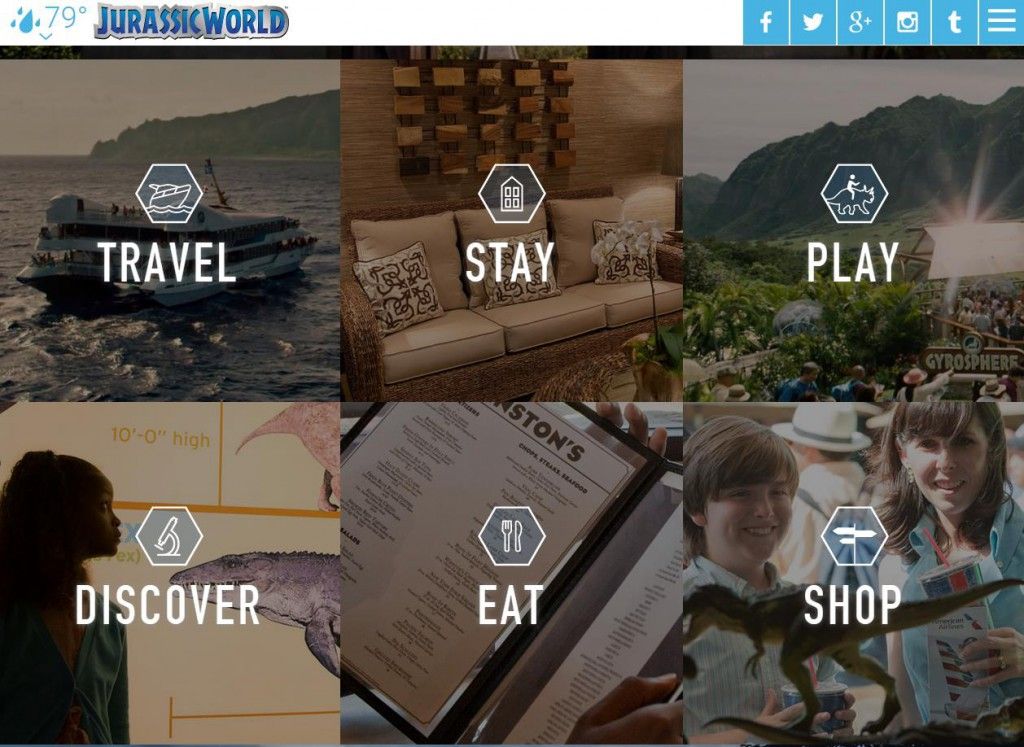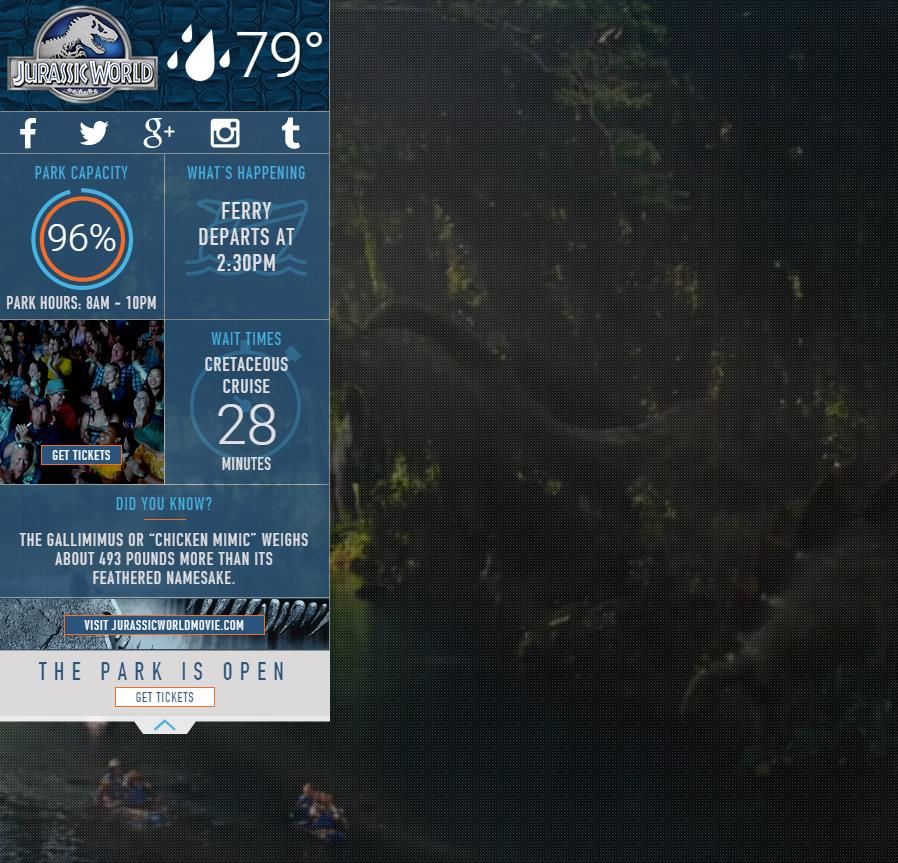 So what are our takeaways from all of this? Relying heavily on digital tactics for promotion is a legitimate strategy for future movie makers. The results of a fully-fledged traditional strategy might seem worth it, but with increasing costs and errors like those mentioned in this post it may be time to think twice.
You've been told a million times how social is revolutionizing business and that you should make it work for you. These examples show how one of the toughest and most expensive industries out there is making digital marketing work for them. The ones who get it right see significant savings in their marketing costs. Not to mention the fact that franchises like the Hunger Games are changing what it means to experience a movie. Just like video games, books, and theme parks offer ways to stay immersed in a movie outside of the 120 minute run-time, now social media and websites can give the same level of interaction.
Digital also seems to stimulate an amazing level of creativity. The possibilities are endless when you think outside of the box with website creation and social campaigns. These strategies show that silly, just-for-fun tactics have value, so keep this in mind when planning your next traditional campaign.