Decisions, decisions. Choosing the right ecommerce platform for your business can be an exceedingly difficult one. But today I want to focus on one of the most well-touted and widely used ecommerce systems in the world: Magento. There's a lot to know about Magento and its capabilities, but the best way to get the big picture in a nutshell is by delving into its biggest advantages. Here are ten of them: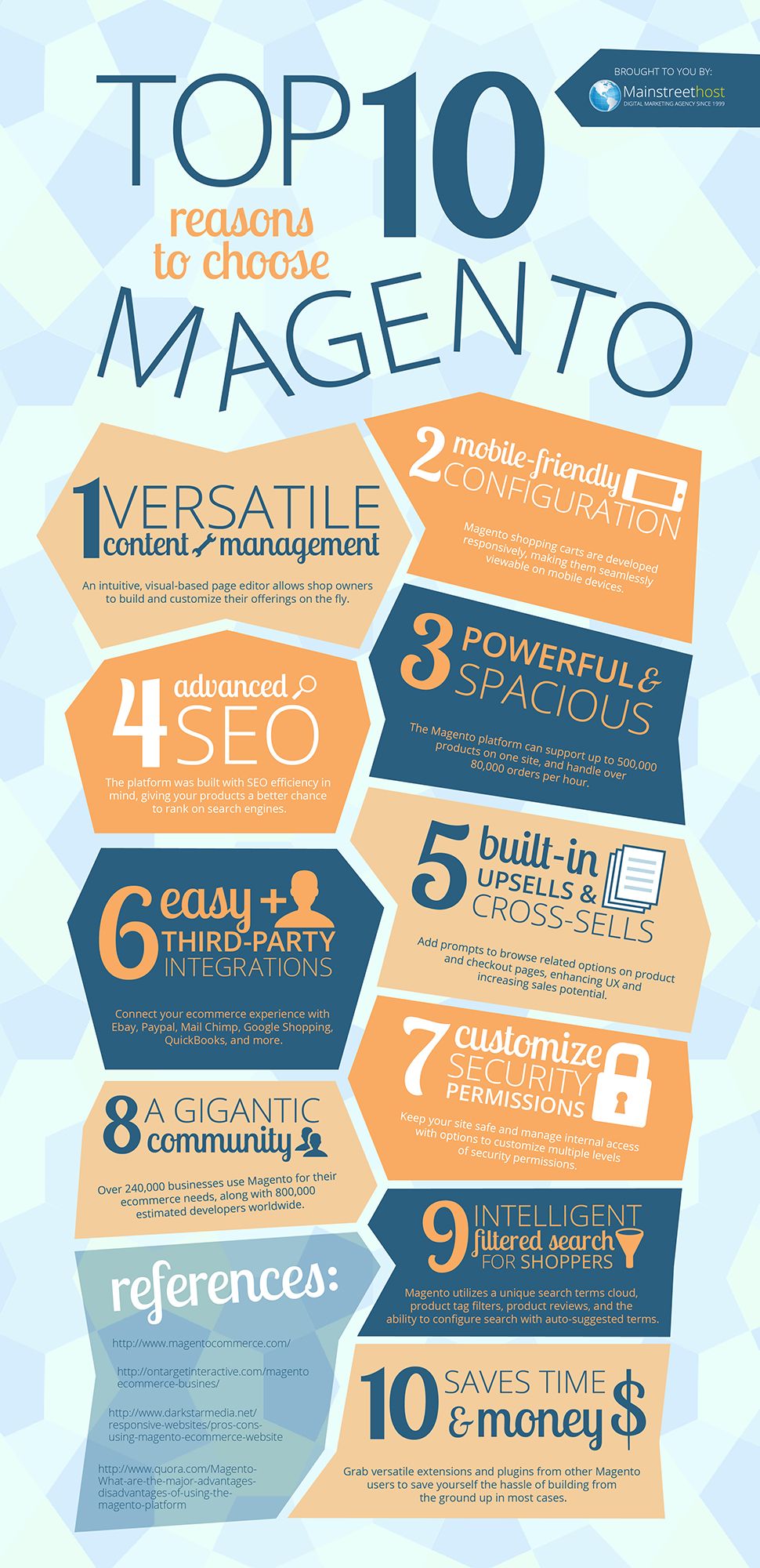 This super-cool infographic brought to you by Kathryn Wheeler, our in-house design wiz
1) Versatile Content Management
An intuitive, visual-based page editor allows shop owners to build and customize their offerings on the fly. The option to toggle a user-friendly WYSIWYG (what you see is what you get) content management interface is nice for those code-deficient among us who want to manipulate basic functioning within the shopping cart.
2) Mobile-Friendly Configuration
Magento shopping carts are developed responsively, making them seamlessly viewable on smartphones, tablets, and other mobile devices. This accommodates a consumer shopping trend that continues to move toward mobile usage (and that we'll likely see more of in years to come).
3) Advanced Search Engine Optimization
Magento does an excellent job of opening the flow for improved organic traffic. The platform was built with SEO efficiency in mind, giving your products a better chance to appear on Google, Bing, and beyond. There's also plenty of room for custom SEO implementations for those who have the knowledge and skills to do so.
4) Powerful and Spacious
The Magento platform can support up to 500,000 products on one site, and handle more than 80,000 orders per hour. That means lots of space for future growth between one or more different shopping carts on the same site. Due to its size and complexity, note that Magento has special hosting needs for optimum performance and load speeds. Ensure that you're prepared for the extra hosting expenses well beforehand.
5) Built-in Upsells and Cross-sells
With Magento, you can easily add prompts to browse related options on product and checkout pages, enhancing user experience and increasing sales potential. Present relevant accessories, similar product cross-sells and more in the margins.
6) Easy Third-party Integrations
Connect your ecommerce experience with Ebay, Paypal, Mail Chimp, Google Shopping, QuickBooks, and more. The platform also allows shop owners to add Google Analytics and other such third party integrations to their site to aid in data analysis.
7) Customize Security Permissions
Keep your site safe and manage internal access with options to customize multiple levels of security permissions. PCI Data Security comes standard, login screens are CAPTCHA-equipped, and a secondary password prompt includes extra defense against unwanted breaches.
8) Intelligent Filtered Search For Shoppers
Improve user experience with dynamic search features that filter products according to a multitude of parameters. Magento utilizes a unique search terms cloud, product tag filters, product reviews, recently compared and viewed products, and the ability to configure search with auto-suggested terms.
9) A Gigantic Community
Over 240,000 businesses use Magento for their ecommerce needs. In 2012, there were several hundred Magento developers with official certifications from 35 different countries around the world, and over 800,000 estimated developers in total. That number has since grown, giving newcomers a solid backbone of support and big opportunities for business connections.
10) Saves time and money
Magento is open-source, yielding an expansive library of custom extensions developed by that aforementioned worldwide community. This means you'll be able to use and share tools with other Magento users to save yourself the hassle of building from the ground up in most cases. You can also create and manage multiple ecommerce stores using one instance of Magento (in multiple languages, and with multiple currencies). That's a significant plus for big businesses servicing a global market.