There are (roughly) 1.6 billion monthly active users on Facebook. Without a little bit of help from Facebook Ads, your business' message might get lost in the noise.
In this post, we'll answer 7 of the biggest questions about Facebook advertising so you can get started on some killer ads!
1.  Where Should I Create a Facebook Ad?
In an effort to expand ad options, Facebook has made navigating its business features a little more complicated. You may have found yourself on the Facebook for Business, Ads Manager, or Power Editor platforms and wondered, "Where the heck am I?" Facebook for Business is a phrase Facebook uses to encompass all of its marketing features, including both Ads Manager and Power Editor. Ads Manager lets you create ads using their updated interface and workflow (choose a campaign goal, link to an account, create an ad set, and then make the actual ad itself).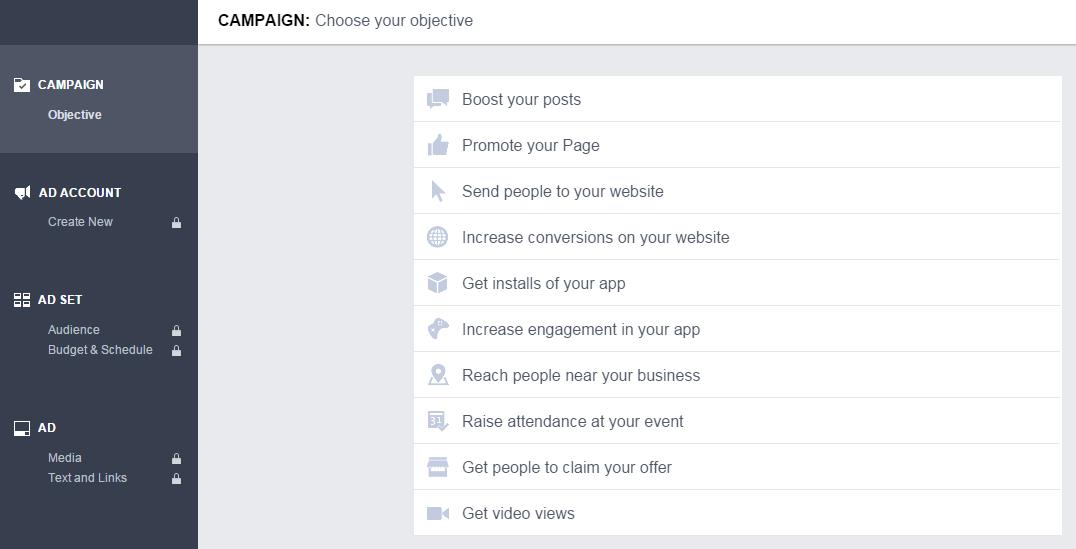 You can also create ads within Power Editor using a similar workflow structure and options.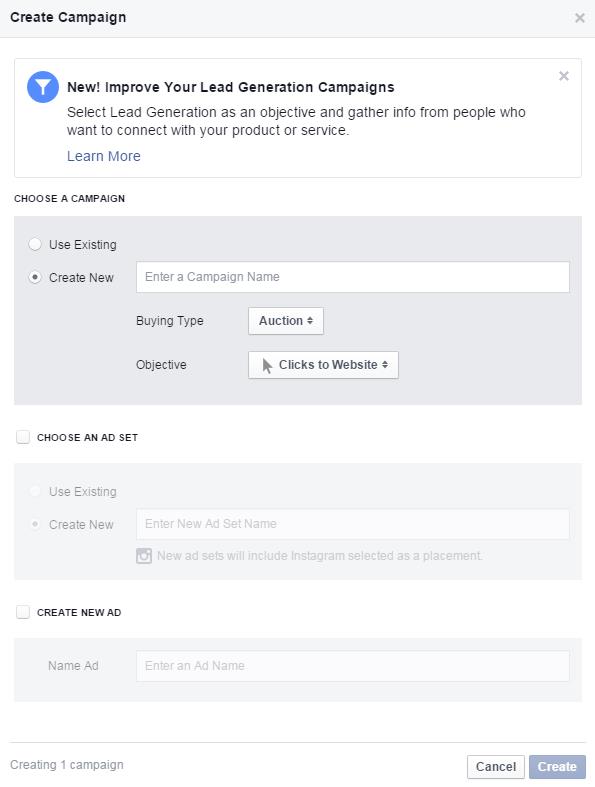 There are some essential differences that make Power Editor the preferred tool for really in-depth digital marketers, but for run-of-the-mill campaigns, Ads Manager is more than sufficient. If you're not sure which tool is right for your ad, click here to see a comparison of Ads Manager and Power Editor.
2.  Ads in the Right-hand Column, Ads in News Feeds: What Gives?
At the bottom of the Ads Manager workflow is the section in which you add images and text to your ad. From this section you can also add and remove locations where the ad will appear. Your choices include: Desktop News Feed, Mobile News Feed, Desktop Right Column, Audience Network, and Instagram. All you have to do is set an audience, budget, and some other parameters in order to see your ad on multiple platforms. If you would prefer to customize a different ad for each platform, simply create different ads within the same ad set. However, there is something to be said for continuity in imagery across platforms. You want your brand to be recognizable, so don't go creating a million different ads with different images for each optional platform.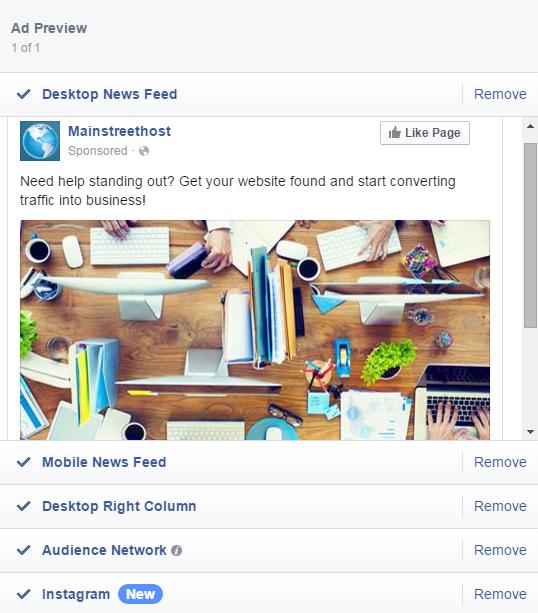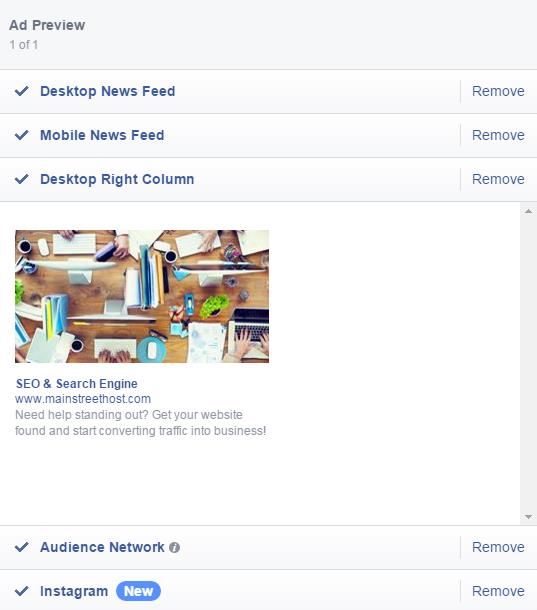 With that said, it can be tough to decide where your ad will perform best. Choosing to spread your ad across multiple locations will, of course, spread your budget power amongst those locations as well. Sponsor ads in a few different locations and look at the metrics to see which locations are best for you!
3.  What Kinds of Ads Can You Create for a Page?
When you create an ad on Ads Manager or Power Editor, you have several different choices for your campaign objective. The objective is the action you want users to take and the goal you want to achieve from spending money on Facebook marketing. Your future choices in the ad sets and ad creation sections will be changed based on what you select.
The choices within Ads Manager are:
Boost your posts – Boost individual posts for increased engagement.
Promote your Page – Promote your Facebook Page as a whole to gain followers.
Send people to your website – Get more people over to your website, where they have the chance to engage with your products or services.
Get installs of your app – Encourage the installation of your app.
Increase engagement in your app – Encourage engagement with your app.
Reach people near your business – Target people in your geographic area.
Raise attendance at your event – Increase attendance for Facebook events.
Get people to claim your offer – Promote offers you've created on Facebook.
Get video views – Encourage views of your video posts.
The choices within Power Editor are:
Clicks to website – Bring people to your website.
Desktop app engagement – Get more activity on your desktop app.
Desktop app installs – Encourage installs of your desktop app.
Event responses – Increase attendance for Facebook events.
Lead generation – Find leads with ads that help people fill out forms on mobile.
Local awareness – Reach out to people and businesses in your area.
Mobile app engagement – Increase engagement on your mobile app.
Mobile app installs – Increase installs of your mobile app.
Offer claims – Promote offers you've created on Facebook.
Page likes – Build up your follower base with Page likes.
Page post engagement – Bring more engagement to posts on your Facebook Page.
Product catalog sales – These ads will show products from your catalog based on your audience.
Video views – Encourage views of your video posts.
Website conversions – These ads will encourage conversions on your website, but you'll need pixels to track the results.
Depending on which conversion you want to support, you can link your ad to your website homepage, Facebook Page, a product page, or any other location you might want to send users to. Choosing your landing page is very important – the one you pick has to be a natural extension of the text in your ad and the action you're asking users to take.
For example, if you want to encourage people to buy a specific product, the landing page should be the product page for that item. If your business is trying to encourage local awareness, try linking to some locally-themed content on your site or blog.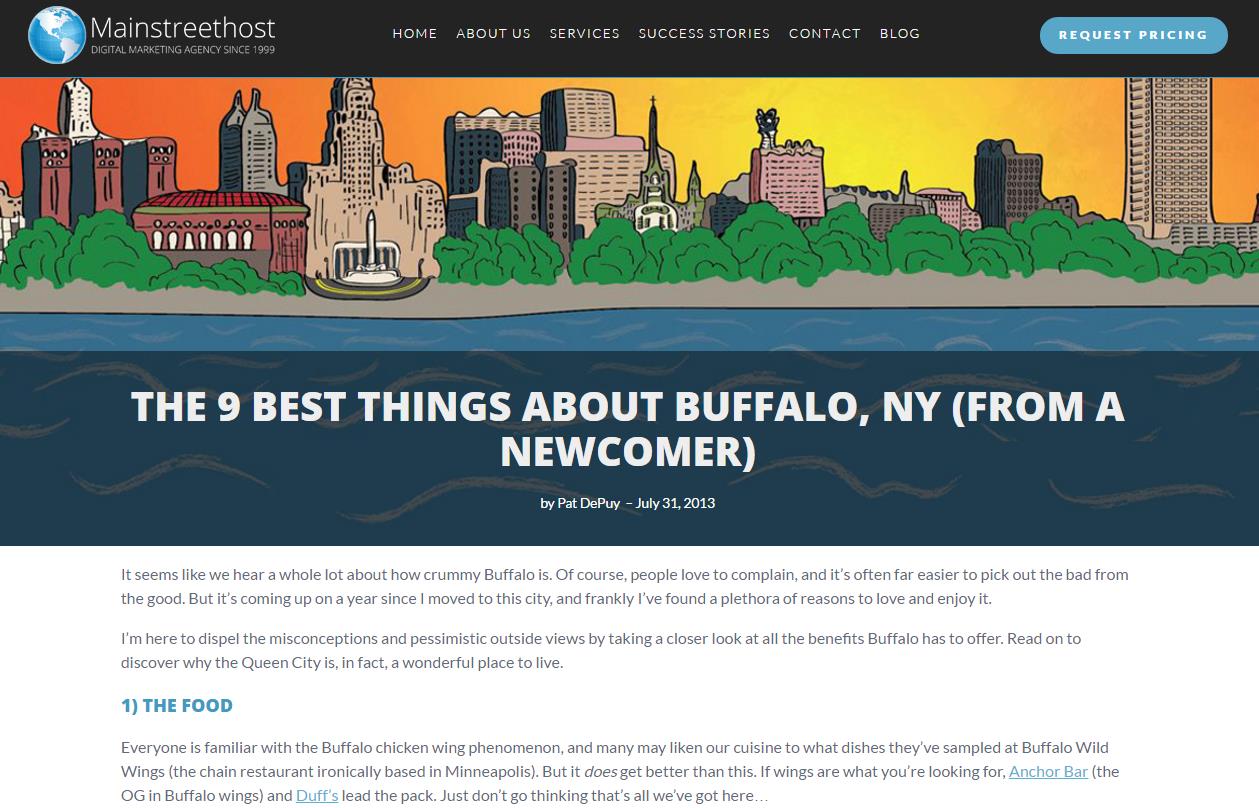 In this case, you could also send those users to a testimonial page full of reviews or case studies from other local clients.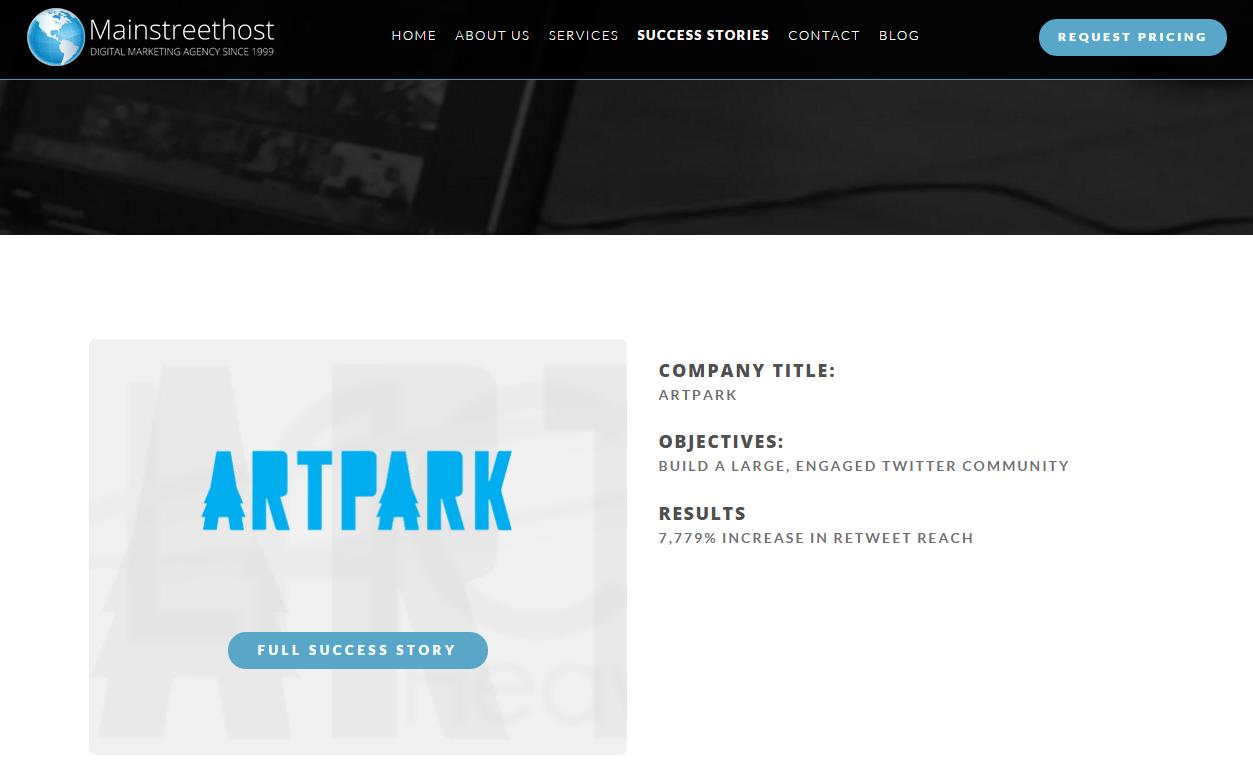 4.  Who Can I Target with Ads and How?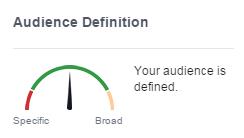 Audience is arguably the most underrated aspect of campaigns on social media (and elsewhere, too). Like the other customizable aspects of Ads Manager and Power Editor, the available audience parameters vary depending on your campaign objective. But you can generally specify the following aspects:
Location: It might seem tempting to keep your geographical reach broad to touch more people, but this is not the most effective use of your advertising dollars. Narrow down your location to target people who are more likely to visit your location or identify with your business because you're from the same city.
Age/Gender/Languages: In general, you shouldn't be too overly exclusive in your marketing efforts. But with Facebook Ads, it pays to be more specific. So if your ad features something only women would be interested in, narrow it down!
Interests/Behaviors: Take advantage of this section by targeting people with interests that align with your business. Remember the last time you saw an ad somewhere that had absolutely nothing to do with you? You probably forgot about it almost immediately. Avoid this by focusing on people who actually want to see your content!
Connections: This is an interesting addition to the audience section because it lets you retarget people who have already completed an action concerning your website, Facebook Page, etc. For example, you can serve up an ad with a special offer available only for fans who like your Page.
You can also click the "More Demographics" dropdown menu to select more parameters for your audience.
When it comes to targeting by interests and behaviors, Facebook pulls everything – from info people have added to their timelines to pages they like; apps they use; and listed interests, activities, education and job titles. Again, you'll notice that the estimated audience number Facebook shows gets significantly smaller as you move away from broad categories. You may think, "I don't want that! I want to get my ad in front of as many people as possible!" But what you really want is to get your ad in front of as many relevant, interested people as possible.
The targeting process is a critical part of Facebook ads: you can target a broad category and reach a lot of people, sure, but those people may not fall in your target audience or be interested in your website, product, and/or service. If you reach smaller groups of people whose needs, wants, and interests are in line with what you offer, your ad becomes more relevant, meaningful, and appealing.
5.  How Do I Pay for Facebook Ads?
First, you'll have to decide how much you want to spend. Facebook gives you the option to designate a daily or lifetime budget. The daily budget sets a specific amount that will be spent each day that the ad runs. The lifetime budget is less specific. You can set the same monetary value as you would with the daily budget, but there's no set amount that must or cannot be spent on any given day.
You can also choose to run the ad continuously from the time that it's published or set a start and end date. I would recommend setting a specific campaign runtime, if only to keep track of how much you're spending, when, and on what. Plus, with a concentrated campaign length there will be more power behind the ad.
Another very important feature is the ability to optimize ads for specific actions. When and what you're charged depends on your objectives:
Optimize for clicks to your website. This option is recommended by Facebook and will increase conversions on your website.
Optimizing for impressions will charge you based on the amount of impressions you get.
Daily unique reach will optimize to only deliver your ad to the same person once per day.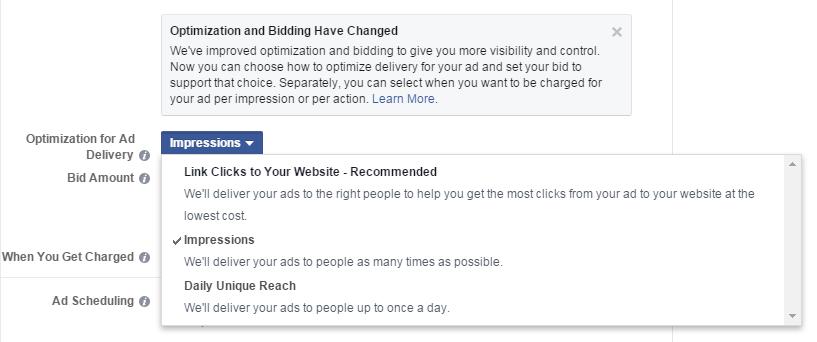 You can choose whether to let Facebook set the best price for optimization, or you can enter an amount manually. You'll also have to decide when you want to be charged: Per link click (CPC) or per impression.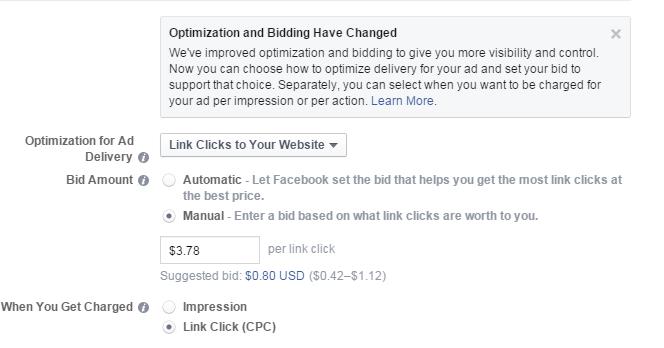 To start out, stick with Facebook's recommended settings: Optimize for link clicks to your website, set your bid amount to automatic, and charge per impression. Again, these options will change based on the objective of your campaign! A campaign geared towards gaining Page likes will charge per like instead of the CPC shown above.
6.  What about Promoted Posts in News Feeds?
While you can now boost posts within Ads Manager as well as on your Facebook Page, this is different from creating the types of ads we've mentioned already. There are some similarities – both are forms of paid advertising, and both push your messages out to a broader audience. However, boosted posts and ads should be thought of as separate entities.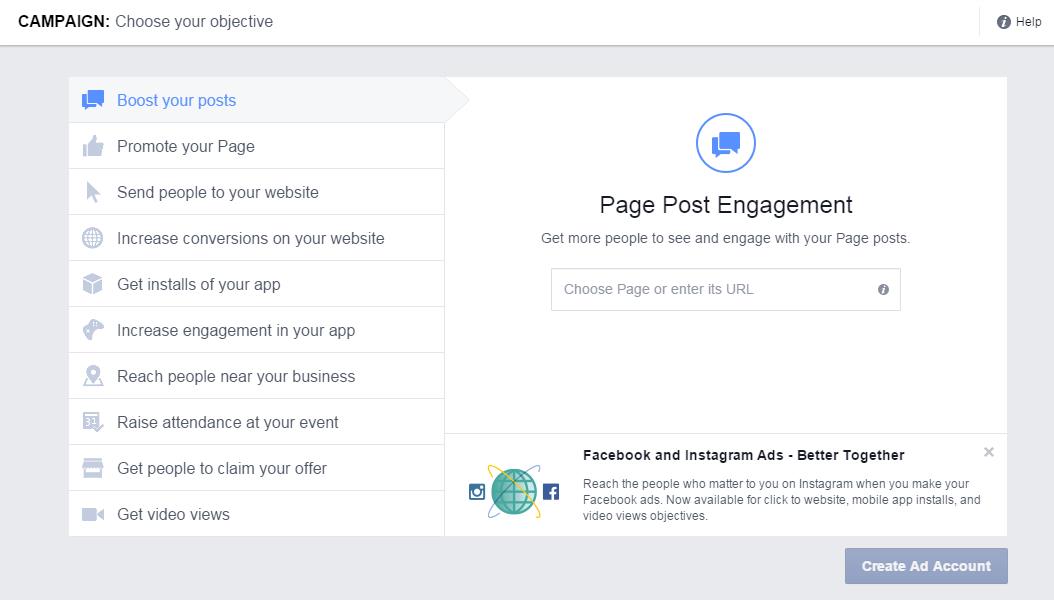 The easiest way to boost a post is by going to your Facebook Page and clicking the "Boost Post" icon beneath the post image. Unfortunately, only 6 out of 100 people who like your Page actually see the things you post. Boosting helps combat this by pushing your posts out to people who don't follow your Facebook Page. It gets your posts a lot more exposure than they normally would receive.
In addition to boosting from your Page, you can also use the Ads Manager workflow shown above. Boosting your post on Ads Manager will get you more customizable options than the traditional method. For example, in the past, boosted posts only showed up on Facebook's news feed. However, Ads Manager lets you put your post in the right column as well.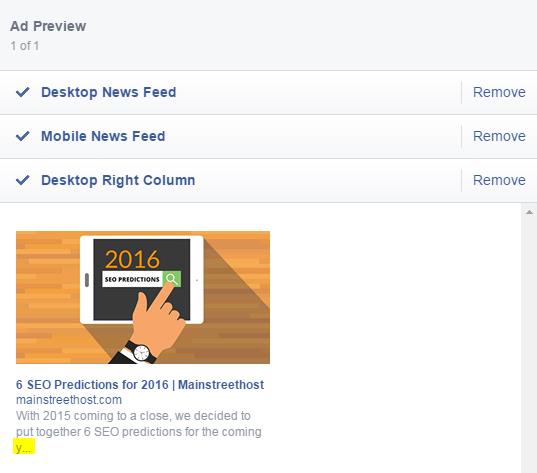 Despite the ability to put boosted posts in the right column of the desktop page, this may not be the best way to display post content. Create ads for the right column that are specifically designed for that area (less text, eye-popping imagery, etc.). As you can see in the example above, this post's text is cut off in the column format.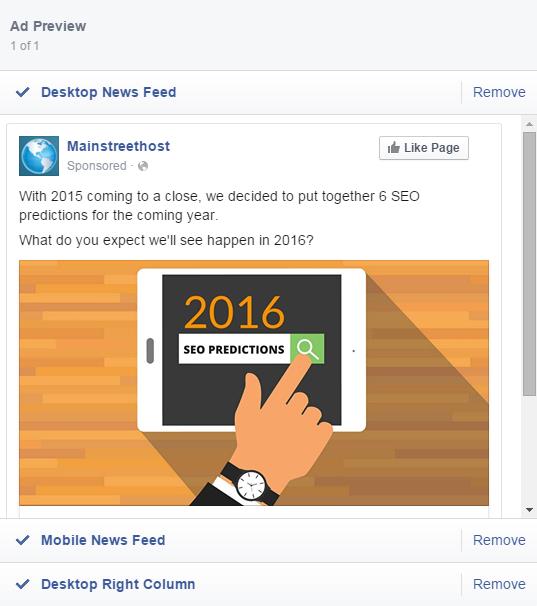 7.  How Do I Track Ad Performance?
Tracking ad and boosted post performance is one of the seemingly complicated aspects of Facebook for Business. There are many different ways you can see how content is performing.
When looking at the general performance of your Page and boosted posts, visit the Insights tab. This will give you metrics on overall Page likes, post engagement, and post reach. For a complete run-through of Insights and everything it has to offer, check out this resource.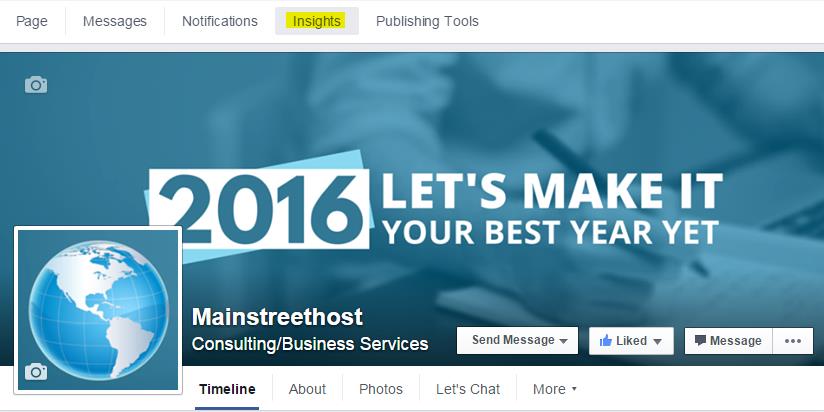 To track ad performance, use Power Editor. Within this tool, you can click on specific campaigns, ad sets, and ads to view analytics on them.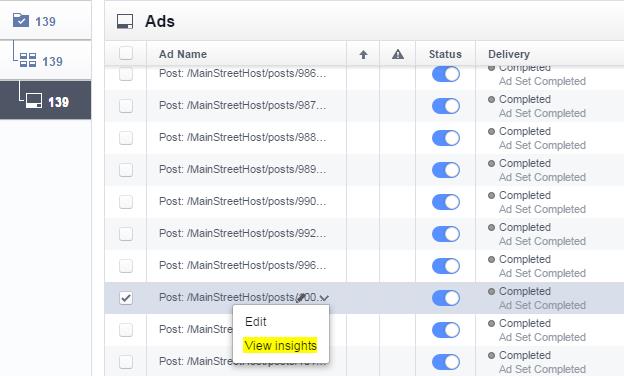 You can also add pixels to your ads that will track the conversions that happen on your website as a result of the ad. To learn more about pixels and how to install them, click here.

Well, that's 7 questions answered, albeit somewhat briefly! Facebook for Business has a labyrinth of features, tools and platforms for you to explore. And they're updating these things constantly. In fact, while writing this post, both Ads Manager and Power Editor underwent at least two sets of minor changes. Oh, wait, there goes another one!
The good news for both you and me is that Facebook has a great help center that includes tutorials on its most complex procedures. Visit the Advertiser Help Center if you get lost. And keep experimenting with the different tools – you'll be an expert in no time!
This post was originally published in August, 2013 and has been updated for freshness and accuracy!