For some time now, brands have been integrating their television marketing with their new media outlets, such as social channels. This is an important trend because it helps create a link between the old and new schools of advertising thought. Integration between channels helps you cover the age gap between your different audiences. If your promotional campaign incentivizes engagement with both a TV spot and a Twitter campaign, you've made it considerably easier for audience members of all ages to participate with that campaign and, hopefully, become customers.
Kia, for instance, was one of the first carmakers to fully adopt cross-channel integration in their marketing strategies, and has seen their brand become stronger and more recognizable as a result. Kia's Social and Digital Media Manager, George Haynes, describes the importance of integration as such: "Television is like rain and we catch the rain in buckets and re-deploy into the social channels to make our sales and brand grow." This metaphor, while a bit clunky, is an accurate depiction of the digital marketing landscape as we approach 2016. The benefits of one platform don't serve as evidence of the other's obsolescence – but that they need to be used in concert with one another.
For companies like Kia, cross-channel integration is all about blending the actual structure of a campaign: how many commercials, social platforms, etc. But there's an interesting offshoot of this approach that also sheds light on how brands are reaching the wide age range of their audience. That offshoot is the topical content of traditional efforts like television and print ads.
We've seen an increasing amount of brands discussing, highlighting, and promoting their social channels – or just the social platforms in general – during their commercials. It's an interesting representation of the marketing moment we're in. 'New school' strategies like social promotion are gaining steam, but it's not as though the prices or importance of old school strategies like television have begun to decrease – quite the opposite, in fact. When brands incorporate new-school tools like Facebook and Twitter into the topics of their traditional ads, they create an immersive, interactive branding experience – something that should be a goal for every company.
Here are two examples of how this strategy can lend conventional marketing methods a new vitality.
Kia Partners With LeBron For a Branded Clapback
At this point, LeBron's comedy chops are pretty much unassailable. His turn as Bill Hader's best friend in Trainwreck was the low-key highlight of the film. His behind-the-scenes advertising work for the McDonald's Snapchat feed felt natural and perfect for the medium. So it's no surprise that his television work for Kia has been such a success. Responses to the commercial were largely positive, but one recurring thread was notably (although playfully) negative: people simply didn't buy it. The Wall Street Journal reported this month that since Kia signed James to his deal last year, there have been roughly 9,000 tweets expressing disbelief that James would actually drive a Kia. That's about 30% of all tweets about the campaign, so it's a significant number.
As a brand, how do you respond to that kind of incredulity? I think the first step is to understand where it's coming from. People don't doubt the real-world veracity of the situations in commercials out of any outrage or real sense of duty, because they understand how endorsements work. They do it because it's their way of generating their own humorous content. They might technically be tweeting "at" the brand and the athlete, but really they are tweeting for their friends and followers. They're making a joke out of the idea that James might drive a car that isn't the most luxurious on the market.
For Kia, understanding that fact led to the perfect response: fight humor with humor. The commercial showcases a perfect blend of playful antagonism and serious pride in a great product. In it, LeBron takes one tweet in particular, from a user vowing to wager $10 million that he would never actually drive a Kia, a little bit too seriously. Once he confirms with his legal team that a tweet from an anonymous user is a legally binding agreement, he sets out with a team of armed security men to go find the Twitter user and recoup his winnings (in a Kia, of course).  The production values are high-end and LeBron plays his faux-intimidation role perfectly.
As for the tweet-within-a-commercial strategy, it's deployed perfectly here because it directly engages perceived criticism and neutralizes it with a comedic standpoint. Since the original disbelief came from a place of "Kia's not cool enough for LeBron," what better type of commercial to make than an undeniably cool one? LeBron is up to the challenge of pulling it off, as is the idea behind the commercial itself.
McDonald's Goes New Media Meta in All-Day Breakfast Spot
The way young people converse with one another on digital platforms is a topic of much discussion. For some, it's a laughable vernacular – full of unnecessary abbreviations and absurd coded language. For others, it's a commendable exercise in efficiency. Regardless of where you fall along that spectrum, it's easy to see why the topic is so frequently used for comedy. McDonald's did exactly that with their recent ad campaign announcing their new all-day breakfast menu (which didn't, it turns out, include the McGriddle, so temper your excitement).
In the spot shown above, real tweets from fast-food breakfast enthusiasts are read in deadpan by actors. The series takes a somewhat ironic stance on the meme-able excitement created by McDonald's big news. The spot works well because it uses social engagement as a built-in framing device. Everyone who sees the television commercial will not only know about the announcement itself, but that the majority of the country is discussing it on Twitter. It creates buzz around the platform itself while simultaneously poking fun at the language used on it.
This dissonance works for the ad's comedy and its actual message. McDonald's wants people discussing their big news in more ways than one, so why not highlight the people who are already doing it?
Young Dogs Learning Old Tricks: Twitter's New TV Ad Campaigns
Twitter is also embracing that blend of old and new with its own marketing efforts. During this year's World Series, a commercial aired promoting the debut of Twitter Moments – the new product that they hope will attract new users by delivering real-time coverage of major events:
Traditional marketing efforts have been used by social media companies to some extent in the past – Google Hangouts comes to mind – but the big dogs like Facebook and Twitter have stayed out of that medium until this year. While most viewers were fairly critical of the execution, the idea is interesting. It raises questions about how Twitter sees itself as a profitable enterprise moving forward. For example, as it stands now, their primary source of income is selling advertising space in the form of Promoted Tweets. But if you work in ad sales for Twitter, isn't your pitch to brands compromised by the fact that your own company chose to spend such a huge chunk of your marketing budget on a traditional ol' TV spot?
On the whole, the ad has been viewed as a major failure, with even regular Twitter users bemoaning its lack of a clear message: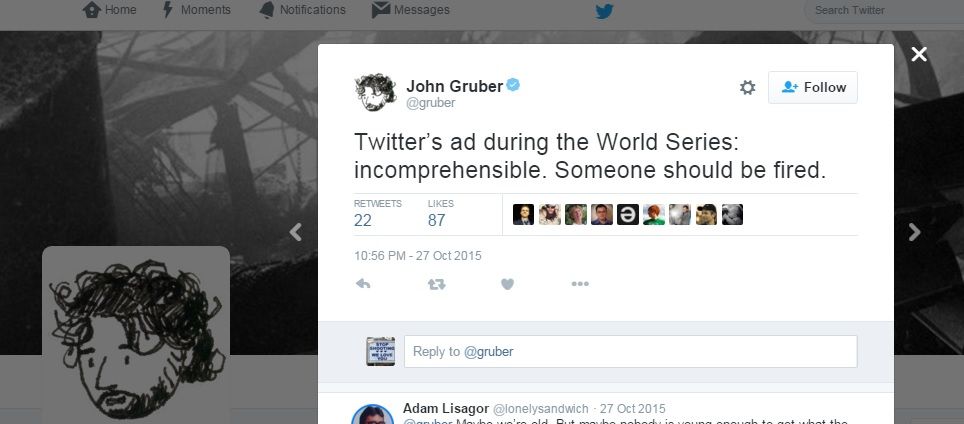 In November, the company followed that effort up with another TV spot, this one featured during (and about) the return of NBA basketball. This ad – heralding the start of the NBA season – is perhaps a bit more focused, but still appears to fall short in terms of drawing in new users. As someone who's used the platform extensively, I can see the appeal of being part of a Twitter-based community within a given topic. Basketball, for instance, happens to be an interest of mine, so I can see why sharing opinions, GIFs, and highlights on Twitter enhances the viewing experience. But for a non-user, the people Twitter vitally needs to attract in order to stay relevant and profitable, there is just not enough persuasiveness.
Finally, Twitter made a similarly unfocused montage-style commercial about the Pope's recent visit to the U.S. Stripped of the obligation to feature feats of athletic prowess, this effort better represents what Moments can be. Pope Francis' visit featured many meme-friendly moments, so it was easy to create an engaging mix. Also, it just makes sense. While professional sports has become one of the biggest industries in the country, there's no reason for Twitter to pigeon-hole itself, especially since its audience within the world of sports is already quite large.
Aside from the early missteps in execution, the idea of Twitter using old-school ad tactics makes sense. The world is changing rapidly and social media is certainly one of the major catalysts, but that doesn't mean you can't use tried-and-true marketing tactics – like television advertising – to help nudge your audience along into the new millennium. Strategically mixing old and new will help accomplish that, and whichever brands do it best will benefit the most.