Already generating significant referral traffic to leading ecommerce platforms like Shopify, Pinterest plans to add a new feature to become even more involved in ecommerce – and we couldn't be more excited. Not only can users find, collect, and share products they want, but they will also have the option to purchase them directly from their pins!
On June 2, Pinterest confirmed that "Buyable Pins" are partnered with a few major brands and two ecommerce platforms, Shopify and Demandware. And on July 28th, Demandware sent out an update stating that their Buy It buttons are live with a small number of retailers, and "will be more broadly available later this year."
Simplifying the path from pinning to purchasing for consumers and creating more opportunities for businesses to market and sell their products, it seems like a win-win situation for everyone involved (except perhaps my wallet). According to the Demandware Shopping Index, in Q1 2015, the explosive growth of phone traffic is "a clear indication that Buyable Pins present an enormous opportunity for retailers to drive conversion."
So, What Will a Buyable Pin Entail?
Alongside the red "Pin It" button, a new blue "Buy It" button will be featured on all participating pins.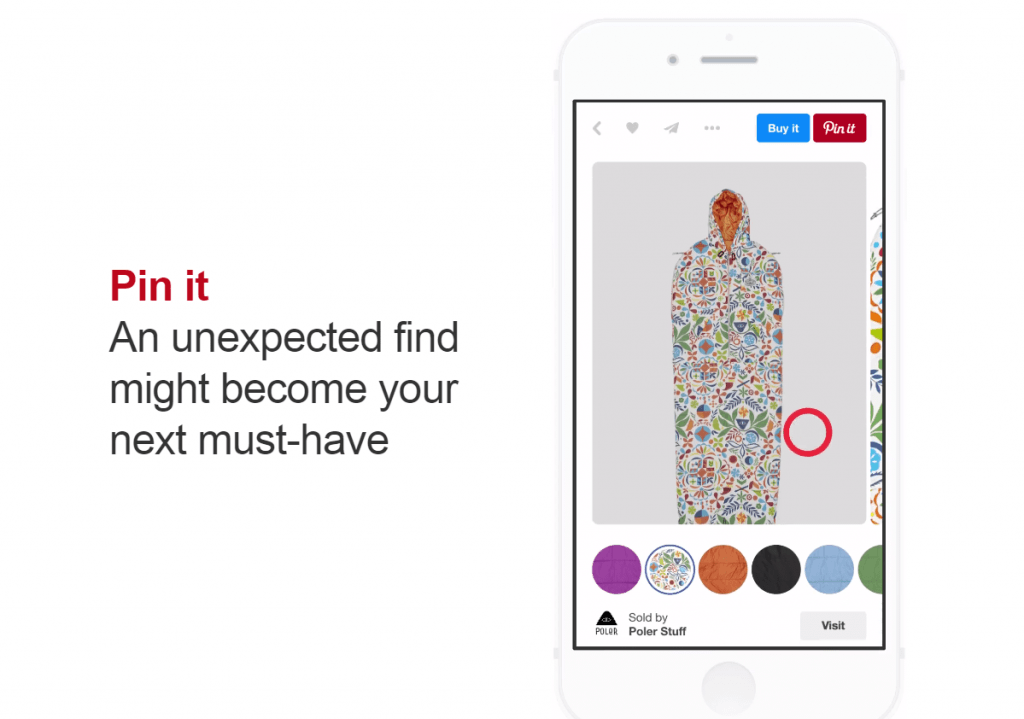 (Image via Pinterest)
Consumers will have the ability to search for specific items and use the blue price filter to find exactly what they're looking for and at the right price. And they're currently working with Apply Pay platforms to create an easy, secure checkout process. Can you think of a better online shopping experience? (We can't, either.)
What This Means for Consumers:
Buyable Pins will transform virtual collections of ideas and wishes to attainable shopping lists. By eliminating the hassle of searching the web for pinned items, users can now seamlessly go from pinning to purchasing in seconds.
No one likes typing 10+ lines of information more than once on a computer, let alone on a phone. With the ability to store a user's information after being typed in once, the new "Buy It" option is ideal for the mobile shopper.
Similar to other app releases, Pinterest plans to roll out Buyable Pins on iOS devices first – but that doesn't mean all other users are being excluded! Pinterest will expand the new feature to Android and desktop users in future releases.
What Buyable Pins Mean for (Ecommerce) Businesses:
Pinterest has partnered with well-known brands such as Macy's, Nordstrom, and Michaels, to be able to offer more than 2 million Buyable Pins for the launch. If your business already utilizes ecommerce, warming up to Pinterest might not be such a bad idea.
If your business is currently on Shopify you can add the Pinterest channel, or if you utilize Demandware you can talk to your customer success manager for the details. And if you're not a user on either – don't fret! Pinterest has graciously created a waitlist for any business that wishes to receive notifications for when future integration opportunities arise.
Unlike many other ecommerce platforms like Etsy and Shopify, Pinterest doesn't plan on taking any percent of the transactions that happen via Buyable Pins. However, as more and more businesses take advantage of this, the placement of promoted pins will become extremely more pertinent – which is likely where Pinterest plans to generate their revenue.
With Buyable Pins, businesses will handle the shopping and customer service themselves, leaving Pinterest as the humble middleman. This new feature will offer businesses the chance to capture a larger audience of consumers by allowing them to make purchases in a quicker, more convenient manner.
Recap
Pinterest already drives more revenue through pins to ecommerce stores than any other social share, so we're not surprised that Pinterest has decided to dip into the world of ecommerce. In fact, Pinterest stated that "Buyable Pins have been one of the most requested features since the company's inception."
Facebook and Twitter attempt to mingle with ecommerce; however, their users are more focused on browsing news articles and posting statuses rather than shopping. Pinterest, on the other hand, already has users searching and pinning billions of products with shopping in mind.
Rather than pinning their favorite items on Pinterest and having to search for them on 5 or more websites to purchase them, Pinterest is streamlining the process of going from pin to purchase.
Although Pinterest offers Pin It buttons, Rich Pins, and Promoted Pins that already have a positive effect on ecommerce businesses, the new Buyable Pins seem like a huge step forward into the world of ecommerce.