There's no questioning that Snapchat is the medium of millennials and Generation Z, with nearly half of the app's users under the age of 25. With over 200 million active users (100 million active daily) and over 400 million "Snaps" sent every day, Snapchat not only has a fast growing audience, but an engaged one.
Download Our Free Worksheet Here to Figure out Who Your Audience Is Before Diving into Snapchat.
Even if your company doesn't specifically target teens and twentysomethings, there's a good chance Snapchat could still be a good fit for you. Utilizing the platform positions your company as current, relatable, and on top of the latest technologies. We live in a digital world where traditional marketing mediums are still alive, but becoming less and less relevant, so it's important to keep up!
Snapchat's Rapid Rise to Success
In 2014, Snapchat was the fastest growing social app, experiencing 57% growth over the course of the year. While Facebook Messenger, Pinterest, and Instagram all grew at astonishing rates, none could keep up with Snapchat's downloads. It's one of the most popular social networks today – and for a good reason. Most platforms lend themselves to sharing images and videos with your friends or followers, but Snapchat has found its place in the industry by putting a twist on this more traditional means of social sharing.
The app allows users to send pictures or videos to their friends that are visible for 1-10 seconds once opened. In addition to taking a photo or video, you can type one line of text (unless you copy and paste from the Notes app), include emojis, and use a drawing tool for additional illustration and personalization.
Then you select who you want to send the Snap to from your list of friends (you can find them through your phone's contact list, by username, or location) or publish directly to your "Story." This feature publishes your Snap in the feed of everyone who follows you rather than you manually selecting who you want to send it to. Anything published to your Story can be viewed for one day, so it allows for greater visibility and a little more permanence.
Marketing on Snapchat
Even with the ability to screenshot or replay Snaps (you can pay 99 cents to replay a Snap three times), many business owners and marketers are skeptical about how valuable this means of communication really is. But the temporary nature of Snapchat is what draws many users to it. You don't have to put as much thought into what you're sending because it's only out there for your friends to see for a maximum of 24 hours. It encourages spontaneity and thrives on the fast-paced, fleeting nature of its prime user base.
Snapchat has a lot to offer the marketing world as well, and companies are flocking to the network to take advantage. If you have a following on Facebook, Twitter, or Instagram, use these platforms to encourage people to follow you on Snapchat. An easy way to do so is by changing your account's profile picture to your Snapcode, which allows people to screenshot the image and automatically add you to their Snapchat friends list.
Being able to connect with your loyal followers on several platforms certainly has its benefits; they're likely to remember you and trust you over other brands. And users aren't going to waste time following accounts or viewing Snaps that aren't of interest to them, so you can be confident that you're reaching a qualified audience that wants to learn more about you.
Snapchat is a common ground for real-time images and video, and has also become an integral part of participating in live events. While other livestreaming tools have gained traction, Periscope in particular, Snapchat has taken more of a community-based approach to stand out.
Having users submit photos or videos from their point of view at an event adds unique perspectives, whereas a Periscope stream consists of just one vantage point. You can also utilize the text, filters, and drawing tools to add a little something extra to your Snap or Story.
How Can a Business Utilize Snapchat?
Now that we've spent a little time learning about what Snapchat has to offer, let's dig into the most popular features and strategies to see how your business can make it work.
Keep up With the Latest News and Trends
A feature that has expanded rapidly in the last year is "Discover," where publications and news outlets provide a synopsis of trending stories through a series of articles and videos. This brings news to an audience that may not be tuning in to the news on TV or online to find out what's going on in the world. Teens and young adults rely on social media as their main source of breaking news, and Snapchat is perfectly catering to this tendency.
Discover has expanded to 20 news and media outlets, including CNN, People Magazine, Cosmopolitan, BuzzFeed, and ESPN. Videos can be as long as 15 minutes and articles are about the length of a typical blog post. Discover channels are updated every 24 hours to ensure they are providing the latest and most important news to users, while also keeping with Snapchat's real-time nature.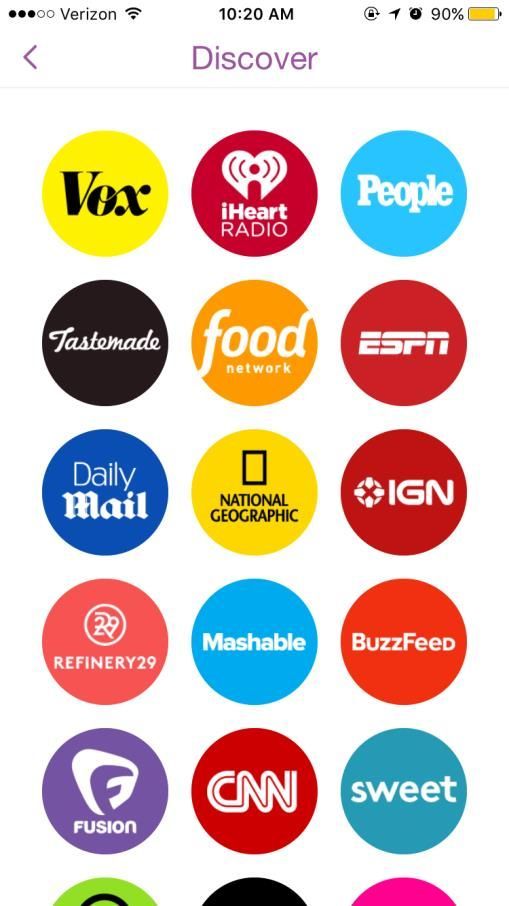 Share a Story
The easiest way to engage on Snapchat is through the Stories feed, where you can piece together a series of images and videos to share with your followers. The limited lifespan of Snaps offers a great way to deliver a call-to-action that creates a sense of urgency and buzz. Whether you're promoting a new product, special sale, or commenting on a trending topic, your Story is where you let your Snapchat (and brand) personality shine!
For example, Chipotle (username: chipotlesnaps) grabbed their followers' attention by sharing that the band Walk the Moon was going to be taking over their Snapchat account for a day.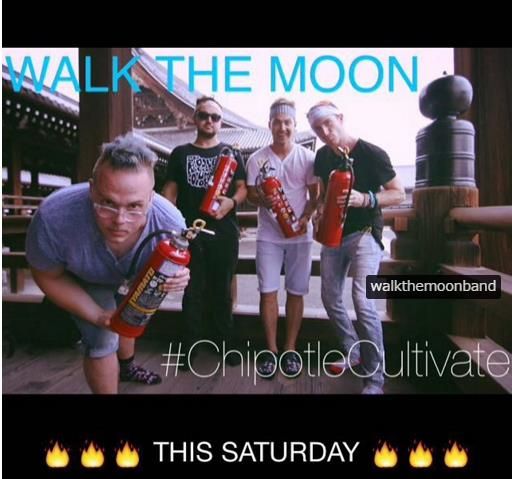 Many brands team up with celebrities or popular figures and let them be "in charge" of their account, sharing exclusive insights to get people talking.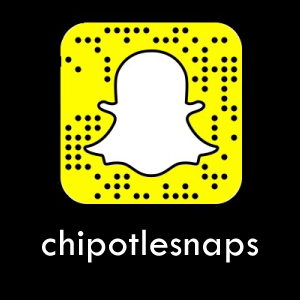 Tip: Take a picture of this Snapcode. Then go to your "Add Friends" feature, click "Add by Snapcode," and then select the image. Now you'll be able to see all of Chipotle's snaps!
While a lot of businesses probably can't have a band, athlete, or celebrity grace their Story, there are so many other (free) ways to make your company stand out. From product launches to employee activities and office life, the rest of this post will give you some easy content ideas for your Snapchat.
Use Filters and Geofilters
Snapchat's free filters are another means of personalizing a Snap or Story, allowing users to incorporate humorous and creative elements into each image and video they share. All you have to do is press and hold on whoever's face is in the camera's view so that Snapchat can line the filter up properly. From distorting your face shape to spitting fire, users can't get enough of these filters, and there are always new ones being introduced.
If you have the location services turned on for Snapchat, you can also take advantage of custom Geofilters wherever you are. Once you take a Snap, swipe left on the screen before sharing to see the variety of filters available to enhance the image. If your business has multiple locations, you can shed light on these different cities or add local appeal if you're a hometown hero.
Below is a very appropriate Geofilter for those of us in Buffalo, New York: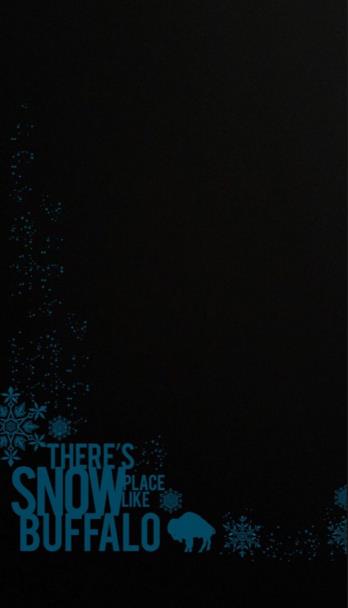 Snapchat also recently announced the addition of On-Demand Geofilters, which allows users to design a custom image in Adobe Photoshop or Illustrator and use it as a filter. All you have to do is submit the Geofilter to Snapchat with the region you want it to appear for and the time period it should be available – up to 30 days. While this is a paid feature, pricing starts as low as $5, so any business can get involved in this unique branding opportunity!
Launch New Products
Much like a release party, Snapchat is a proven effective place to launch new products or services. You can encourage users to follow you by hinting at a sneak peek or major announcement on other social outlets, and make it clear that Snapchat will be the first place you can find out about this breaking news. Creating a sense of exclusivity and urgency will not only help you build up a following, but it will make the message seem that much more exciting.
Taco Bell (username: tacobell) was an early adopter of this strategy back in 2013, using Snapchat as a platform for a "secret announcement," the reintroduction of the Beefy Crunch Burrito.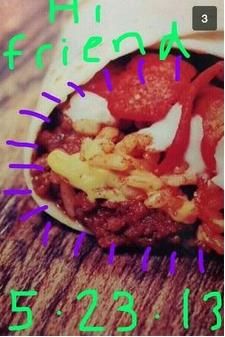 Not only was Taco Bell the first major company to start using Snapchat, they also broke the mold and used it as a marketing platform.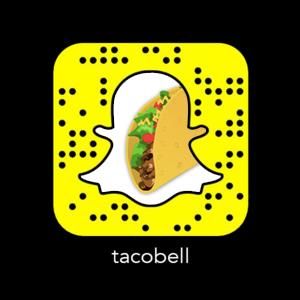 How do we know it was effective? Look at how many companies are following suit!
Showcase Your Team
Aside from marketing the products or services you sell, Snapchat can be a useful tool to show off your awesome team and office space. With so many companies competing for sales, those that take a more personalized approach are likely to earn the trust and business of their followers over those that stick to a formal corporate strategy.
People love to see behind the scenes of where the magic happens at their favorite companies. Showing who is behind the products you make and the services you provide makes you relatable and human, and that goes a long way when it comes to brand preferences and making a purchase decision.
A great example of this is Mashable, an online news platform that caters to the "connected generation." If you check out their Snapchat (username: mashable), they often feature videos of their office and employees discussing a trending topic or trying out a new product.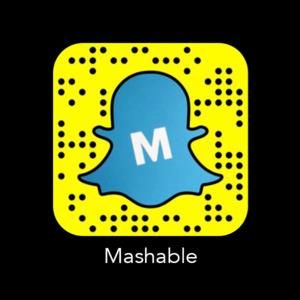 You can't help but feel like you know these people personally because you get a peek into their corporate culture. It's a company with personality, and it certainly encourages me to use them as a news resource.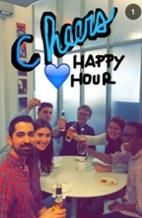 Participate In Popular Live Events
Through the "Live Stories" feature, events have become a staple for Snapchat users. Those attending participating events can submit their own pictures and videos to the designated Story, and a team at Snapchat will go through the submissions and string together a video sequence. User-generated content allows engagement between those who are at the event and those who aren't, but are still interested in following what is going on.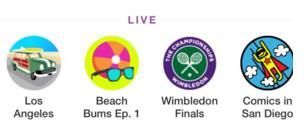 All different types of events are taking part, including music festivals like Lollapalooza, sporting events like College Gameday and the FIFA World Cup, and others like New York Fashion Week. It's another way that companies can interact with followers, while adding an extra element of engagement through the contributions of attendees.
So there you have it. These are some legitimately valuable ways to incorporate Snapchat into your marketing strategy, and none of them require a major time or financial investment. From showing off what makes your company unique to adding creative flair and participating in popular industry events, there are probably a lot more options available than you originally thought!
Snapchat is entertaining, interactive, and separates those aimlessly following your company from those who are really interested in what you have to say. And isn't reaching the right audience one of the most basic fundamentals of marketing? If your company is looking to take your social media approach up a notch, give Snapchat a try. You might be surprised how much it adds to your digital strategy.
Oh yeah, we're on Snapchat too! Follow us by username (Mainstreethost) or taking a picture of our Snapcode!