If your company utilizes social media to recruit employees (and if you don't, you absolutely should), your go-to network is probably LinkedIn. It's an essential network for your business to not only be present on, but to source eligible candidates for your organization. LinkedIn is basically viewed as "the Facebook for professionals," with millions of potential job seekers creating valuable business connections, sharing expertise, and staying plugged in to what their industry is talking about.
I'm personally a huge advocate of LinkedIn and use it daily; however, companies can and should do more than rely on LinkedIn alone for social recruiting. That's where Snapchat can step in.
Snapchat has been used for a lot of things, but hiring employees?
And yet, this seems to be a new trend on the selfie-obsessed network popular among millennials. At first glance, it might seem like a waste of time to recruiters. Snapchat isn't exactly a platform you would think of when it comes to getting serious about a career. Isn't that what LinkedIn is for?
But when you look at the market of users on Snapchat, which consists of those critical high school, college, and young adult categories, you'd be hard-pressed to find a better network to get their attention. While your approach needs to be interactive and entertaining, you can still focus on the task at hand and get your company top-of-mind when it comes time to the job search.
Snapchat Stories
A Snapchat Story is a series of images and short videos that is visible to your followers for 24 hours, providing a more lasting, permanent feel to the short-lived Snaps you likely send to your friends and family. This is a free and effective way for companies on Snapchat to promote their open positions. Sharing a URL to your careers page allows interested candidates to screenshot the image and use as a reference for internet browsing later.
You can also utilize your Story to showcase what makes your company unique and a great place to work through images and videos of your office space, employee activities, and more. For example, our Snapchat account (username: Mainstreethost) often features images of break time activities or local food trucks that stop by for lunch. Over the summer, we held an Olympics competition that consisted of events such as ladder golf, Scrabble, darts, and trivia, so we showed footage of each event on our Snapchat Story. While it doesn't directly pertain to what our company does, it shows off why we love where we work (and why you might too).
Advertising
To enhance your company's presence on Snapchat, you might want to consider paid advertising across specific Stories or Discover publishers. However, it's important to note that their current model is still quite pricey. Even with their "Two Pennies" product, the cost of a Snapchat ad could be in the tens or even hundreds of thousands of dollars. Understandably, that's outside the realm of possibility for most small business owners. But this doesn't mean that every small business or marketer should dismiss this as a viable marketing opportunity in the future. Snapchat is continuously working on new ways to make their advertising accessible to companies of all sizes, so it's important for you to be aware of how the process works.
You can create still image or video advertisements and publish them on Stories that are most relevant to your business. For example, the Cosmopolitan Discover Story is a great place for fashion and beauty brands to market their company because their target audience is likely reading that Story. These avenues also provide 24-hour promotion to keep your brand top-of-mind and maximize your visibility on the network.
Snapchat is made for mobile, so your advertisements will be too. Ads are displayed vertically, so users aren't required to turn their phone sideways to decipher what they're looking at on the screen. This compatibility impacts the percentage of users who watch the ad in full, with up to a nine times higher completion rate compared to horizontal mobile videos. The ads are also shown full-screen like every Snap or Story you read, so users aren't required to read additional content or scroll to see your ad.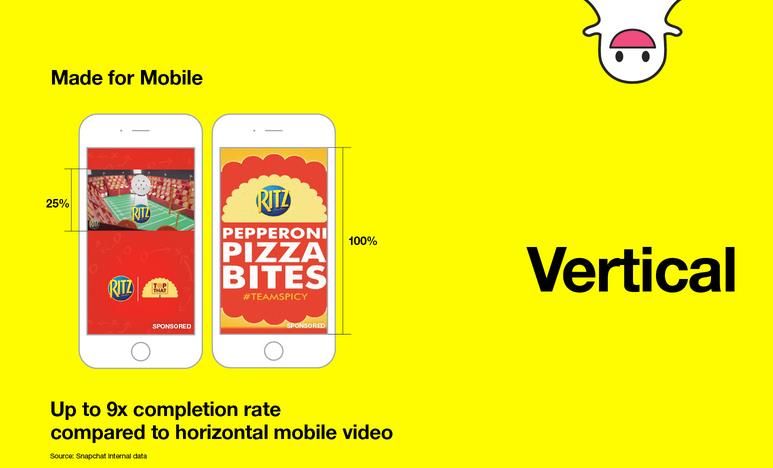 Not convinced yet? Here are two great examples of companies that made Snapchat work for them as an effective recruitment tool:
Taco Bell
Taco Bell is just one of those brands that has social media down pat. They know the best way to announce new products, engage with customers, and add a humorous feel to their marketing so they're remembered over the competition. Their Snapchat account (username: tacobell) is no different. While they typically use the platform to promote new products and get creative with illustrations and emojis, they also used it this past summer to advertise for two internships at their corporate headquarters in Irvine, California.
The internships were for their social media department, so what better place to look for eligible college students than on Snapchat? Senior Media Specialist Jozlynn Rush said, "We love Snapchat here at Taco Bell. It's probably one of our most engaging and successful platforms." With over 250,000 followers, there was a pretty good chance they would be able to find some qualified candidates.
Taco Bell wanted interns that were already "obsessed" with the brand, meaning they probably follow them on every social network possible. After posting to their Story about the internships, they received over 200 applications within just a few days. Needless to say, they had plenty of candidates to choose from for these two coveted spots.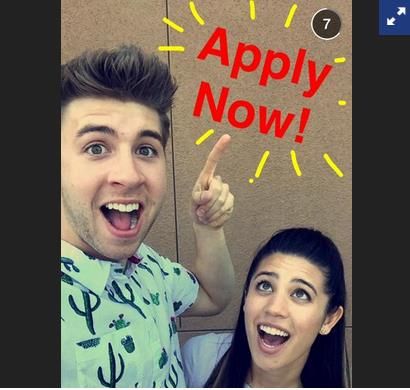 Goldman Sachs
On the completely other end of the spectrum, you have a company like Goldman Sachs who effectively utilized Snapchat to recruit college seniors for full-time positions. You would never expect a company with such a prestigious and corporate reputation to use a platform like Snapchat for hiring, but this just goes to show that almost any business can get involved.
There's definitely a stigma attached to corporate giants like Goldman Sachs and other Fortune 500 companies, especially when it comes to workplace culture. They're often viewed as an all-work, no-play environment, which tends to be a deterrent for millennial job seekers. Recent college graduates and young adults place a strong emphasis on work-life balance and modern amenities like flex scheduling, casual dress code, and open-office layouts.
So Goldman Sachs took to the "Campus Story" featured during the back-to-school rush to advertise to college seniors who were likely beginning the job search process. In between user-submitted Snaps, their ad would appear with a link to a Careers page designated for students and young adults, specifically promoting positions like "Campus Environmental Leader" or "Crowd Funding Champion." In addition to their millennial-focused strategy, their job titles were catered to things that would likely catch the eye of twenty-somethings. Needless to say, this was a great way to combat stereotypes surrounding Goldman Sachs and appeal to the 21st century needs of future employees.
Who Should Recruit on Snapchat?
Now that you've heard some real success stories of recruiting on Snapchat, it's important to think specifically about what types of positions and industries are a great fit for the network. Internships, as well as entry-level and part-time positions, are exactly what millennial Snapchat users are looking for. But don't dismiss full-time positions for those recent grads.
In Terms of Industries, These Are Some of the Best for Recruiting Purposes:
Marketing/Advertising
Education
Sports
Entertainment
Food/Beverage
Fashion
Technology
However as indicated above, this is not an exhaustive list. If your company is looking for fresh, young talent, then you can likely make Snapchat work for you. Taking advantage of the laidback atmosphere of Snapchat to promote the traditionally "formal" process of applying for a job is a great way to show off your company personality while attracting high-quality employees to your business. If you haven't thought about this route for recruiting, it's time to check it out!