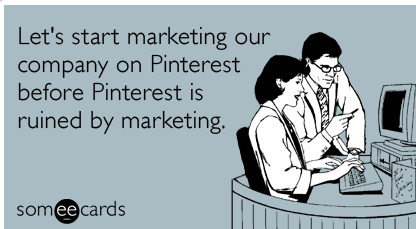 The undeniable popularity of Pinterest makes it a great marketing opportunity for businesses, brands, and websites that fit with the visual nature of the digital corkboard-style site. Pinterest has endeared itself in the eyes of women everywhere with its beautiful, aesthetically pleasing, and eye-catching images. Repinning images of things like food, fashion, furniture, and fitness workouts, users curate content on boards that have a certain charming idealism and fantasy element about them: recipes we'd like to cook, homes we'd like to have, clothes we wish we resided in our closets (not to mention all of us single gals who have Pinterest boards devoted to weddings).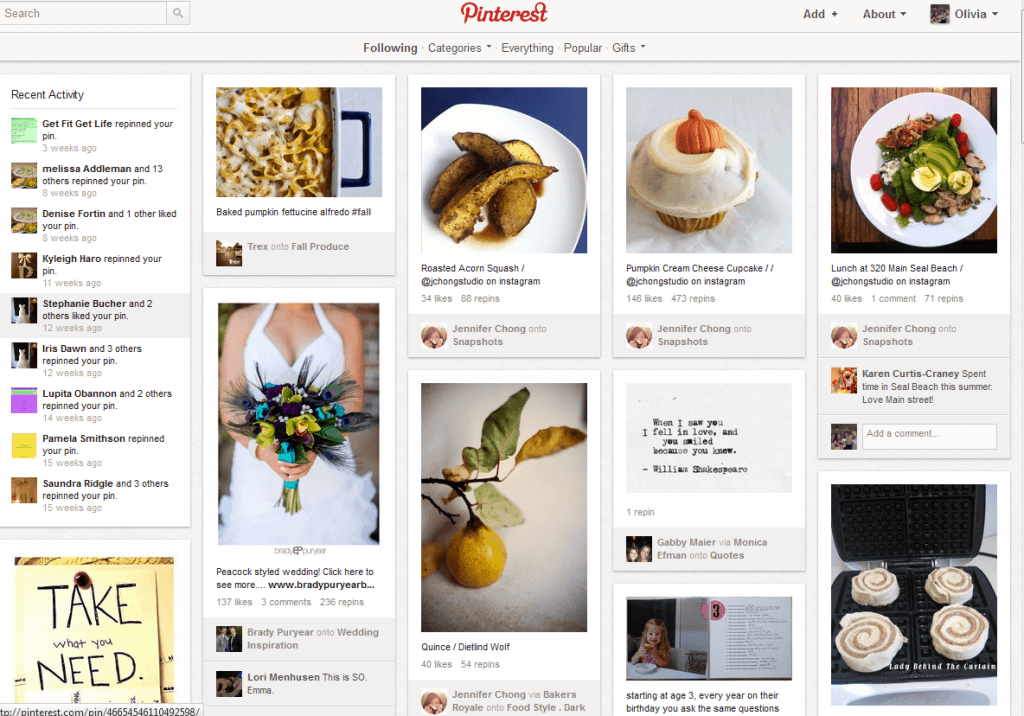 When it comes to Pinterest marketing, the key is to reach users through their eyes: appeal to the universal human tendency to be drawn to stunning visual content.
Certain images will always do well on Pinterest, simply because they're so compelling: delectable dishes, women dressed in gorgeous garments, and cute, uncomplicated crafts have immense potential to become popular. They're pinteresting: they gel with the nature and vibe of the site. Couple this with the fact that the site is overwhelmingly female (77.1% of users are women), and you get the Pinterest stereotype: the notion that the incredibly girly and saccharinely sentimental site is a place where women congregate to peruse pictures of things like vintage Vera Wang wedding gowns and frosted Funfetti cupcakes. The Pinterest stereotype is to a large extent accurate, and because of this, many companies can market extremely effectively on Pinterest. Bakeries, clothing stores, photographers, artists, florists, any individual with an Etsy shop (Etsy is the most pinned brand on Pinterest) are perfect matches for Pinterest. After all, the top categories on Pinterest are home, arts and crafts, style/fashion, and food.
However, the Pinterest stereotype is also untrue in some regards, and here's why: marketing on Pinterest is different than marketing on any other social media site, and even different from traditional marketing methods. Pinterest marketing is akin to a soft sell; it's not characterized by an overt attempt to push products, and blatant self-promotion is actually against Pinterest etiquette. Businesses generate brand awareness not by promoting products but by promoting a lifestyle and furthering their vision. Thus, even if a business or website is a natural fit for Pinterest, posting pictures of its products won't cut it. And thus, conversely, a business doesn't have to be limited by its products; it can still market on Pinterest and generate awareness by pinning pictures that capture its mission statement, visually articulate its business philosophy, or convey the feelings/vibe it wants customers to associate with its products and/or services.
Also, because Pinterest is all about images, any image that sparks curiosity or captures people's interest can do well: this can include something like a cool tech gadget or an infographic.
So, even if a company isn't in the business of Pinterest cliches like monogrammed accessories and multi-tiered wedding cakes, it shouldn't necessarily rule out Pinterest. Here are four Pinterest accounts that defy the Pinterest stereotype: what they do that works and what takeaways they offer other businesses regarding Pinterest marketing.
Number One: Mashable
Mashable, an independent website that reports on social media, news, and resources for the "connected generation," has over 1.3 million followers on Pinterest. They have 37 different boards filled with close to 1,500 pins. The most captivating thing about Mashable's Pinterest account is that it's dedicated to a wide variety of topics, and consequently there's something for everyone: the latest technology, cool kitchen gadgets, infographics (all the rage right now), Google doodles, remarkable iPhone cases, "nerdy" weddings and desserts, and gorgeous Instagram photos, to name a few. Mashable even finds a way to seamlessly incorporate Pinterest users' obsession with recipes into its account in a way that gels with the website's audience: it features a board entitled "Nerds Like Food, Too!" Mashable pins from its own website, which is key for driving traffic to the site, but it also curates content by repinning from other accounts.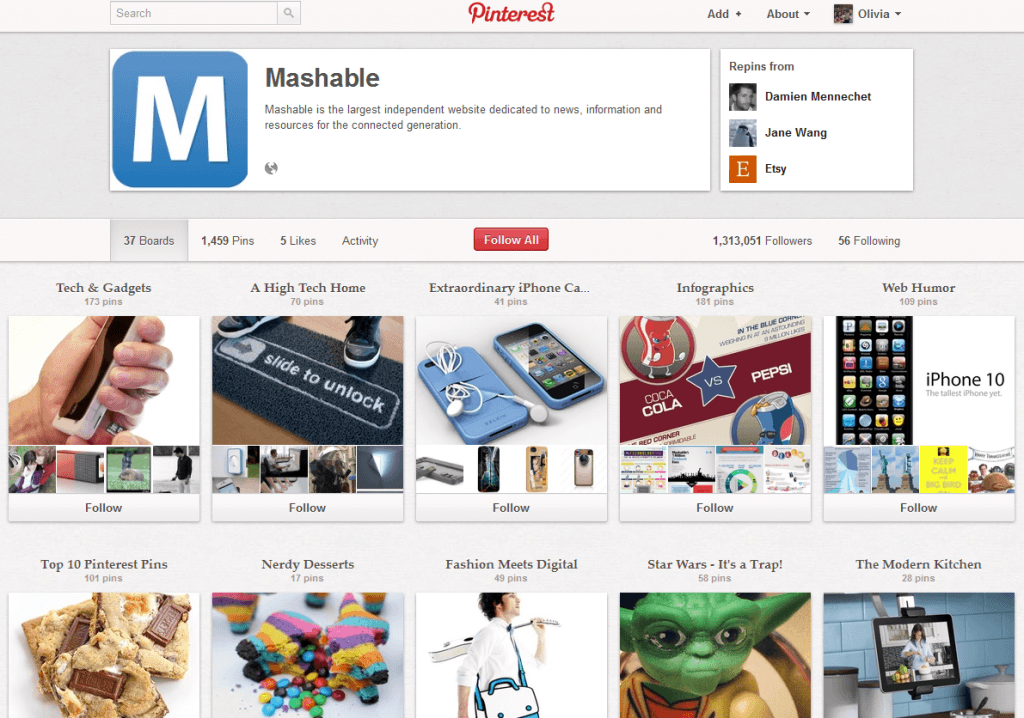 The "Tech & Gadgets" board is Mashable's most popular board, with about 1.2 million followers. The pins are pictures of the latest and greatest, most innovative technological gadgets followed by a brief description of said gadgets.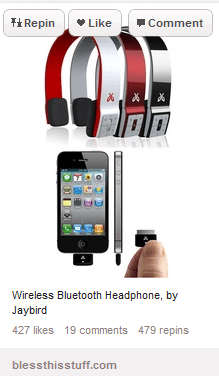 These pins, which meld compelling visual content with bite-sized bits of information, are Pinterest gold.
Takeaway: Tech gadgets and infographics defy Pinterest stereotypes but can still become incredibly popular when they're pinned in a simple, visually appealing, and informative way. Kudos to Mashable for garnering 1.2 million followers through appealing to the inner geek within all of us pinners.
Number Two: General Electric
At first blush, General Electric and Pinterest seem like an odd and possibly even discordant combination, but General Electric conducts a fantastic Pinterest marketing campaign. General Electric is one brand that truly uses Pinterest to further its brand philosophy and mission. Its description reads: "#pinning things that inspire us to build, power, move, and cure the world." Even if GE's products aren't necessarily photogenic, the brand can capture its purpose in photographic form, and therefore, it can market effectively on the site.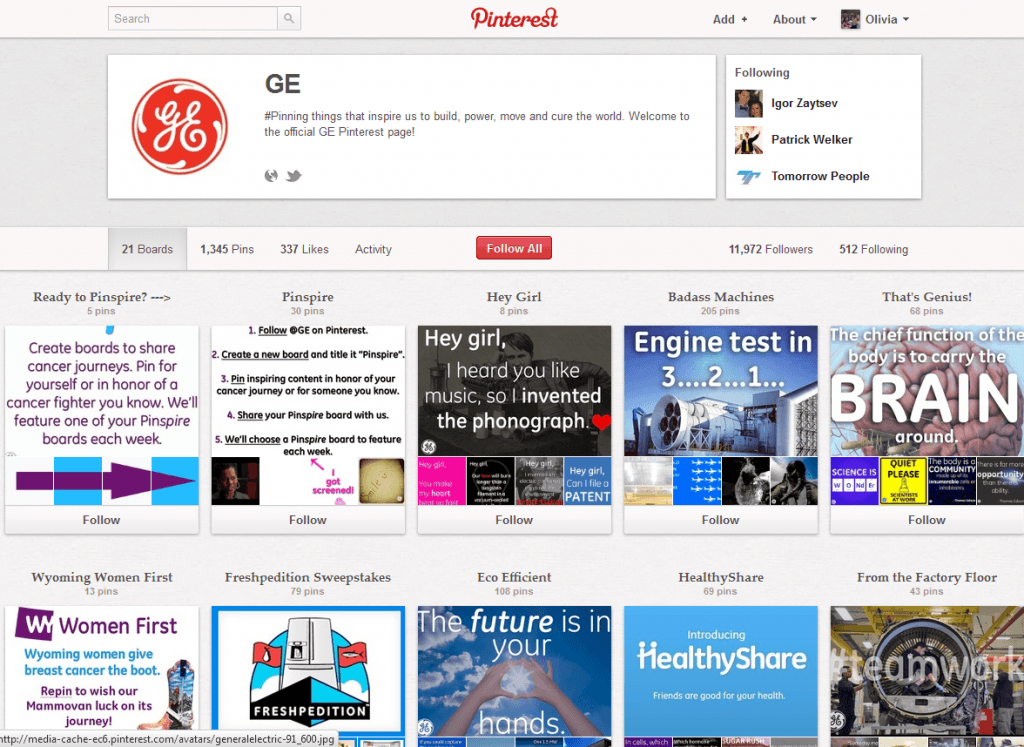 GE's boards include one entitled "Lighting the World" (featuring GE lighting illuminating cities and famous monuments throughout the world) and another called "The Archives" (pictures of GE products from the past). GE also engages users by using Pinterest to showcase and raise awareness for different campaigns, which it conducts across multiple social media channels. The campaign #GEInspiredMe melds Instagram and Pinterest: people submit inspirational photos through Instagram and GE pins these photos to a Pinterest board. GE also created the #WhatWorks project (notice its frequent use of hashtags), in which people use Instagram to submit photos of individuals, places, and things that help get America back to work. When people "like" photos on Instagram, GE makes a donation to job creation non-profits. GE pins submitted photos to one of its Pinterest boards.
GE's Pinterest account reveals the company's humanitarian and social good aspirations, but it's also very humorous in some regards. One of the cleverest GE boards is the "Hey Girl" board, which mocks that ubiquitous Hey Girl Ryan Gosling meme by replacing Ryan Gosling with Thomas Edison.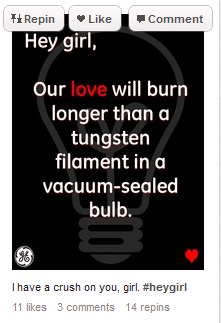 Incredibly cheesy and slightly ridiculous, yes, but the way GE hilariously parodies a cultural trend and relates it to the GE brand is pretty bright (pun intended).
Takeaway: Pinterest doesn't have to be about solely visual fluff and frivolity; the site can be used to showcase sources of inspiration and social good campaigns a la General Electric.
Number Three: CNET
CNET is a website that features product reviews of computers, TVs, cellphones, cameras, and more. Boasting close to 16,000 followers, its Pinterest account is very similar to Mashable in that it features an array of tech gadgets. One of the things CNET does that's exceptionally savvy on Pinterest is take traditional Pinterest topics and give them a technological spin to make them relevant to the CNET site.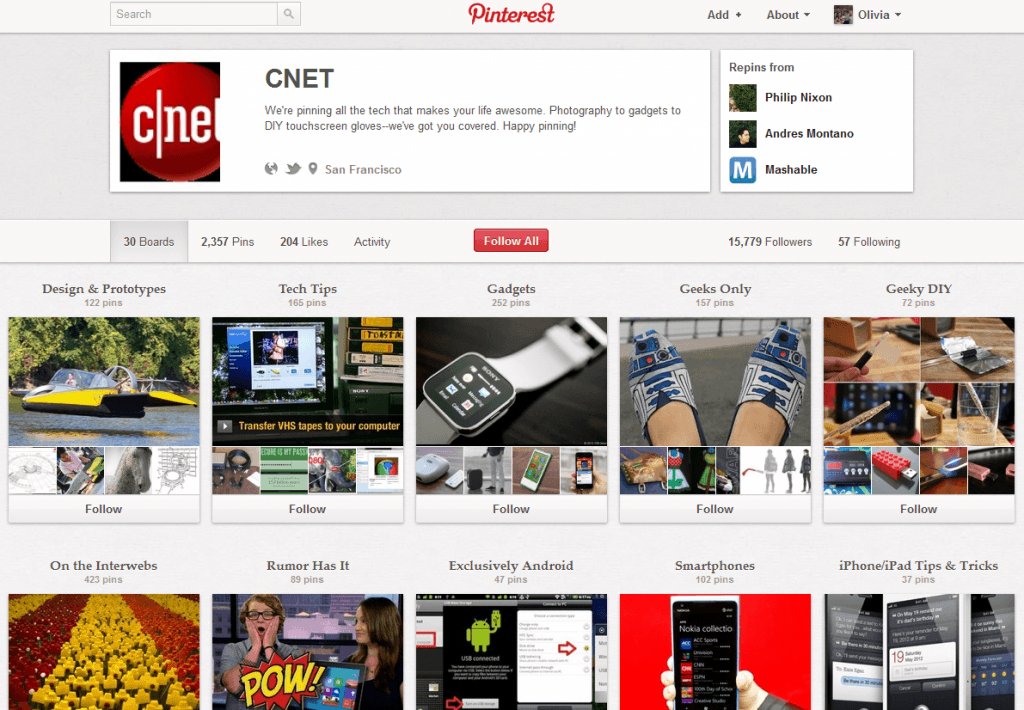 Pinterest users love tips, which usually offer to make people's lives easier in some way.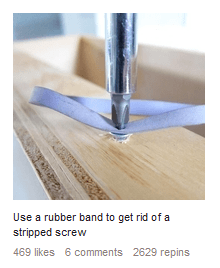 CNET offers tips of the technological variety: iPhone/iPad tips and tricks and tech tips. These boards are very Pinterest-esque but still unique and different from the norm. Pinterest users also love anything and everything DIY, and CNET has a board entitled "Geeky DIY," featuring things such as "how to install a USB wall socket" and "how to turn a book into an iPhone charging dock." CNET makes use of those typical, stereotypical Pinterest categories but still manages to offer users something distinctive and atypical.
Takeaway: Capitalizing on popular Pinterest categories and putting a unique spin on them gels with the vibe of Pinterest while simultaneously offering users something original.
Number Four: Carhoots.com
Carhoots.com is a site out of the UK that allows people in search of new or used cars to find reviews, opinions and content posted on various social networks such as Facebook, Twitter, and YouTube. The site's Pinterest account has about 1.5 million followers and close to 2,000 pins. The account is filled with various types of cars, which potentially could get boring, monotonous, and/or tedious, but Carhoots' Pinterest boards span a variety of categories and all the images are individual and captivating.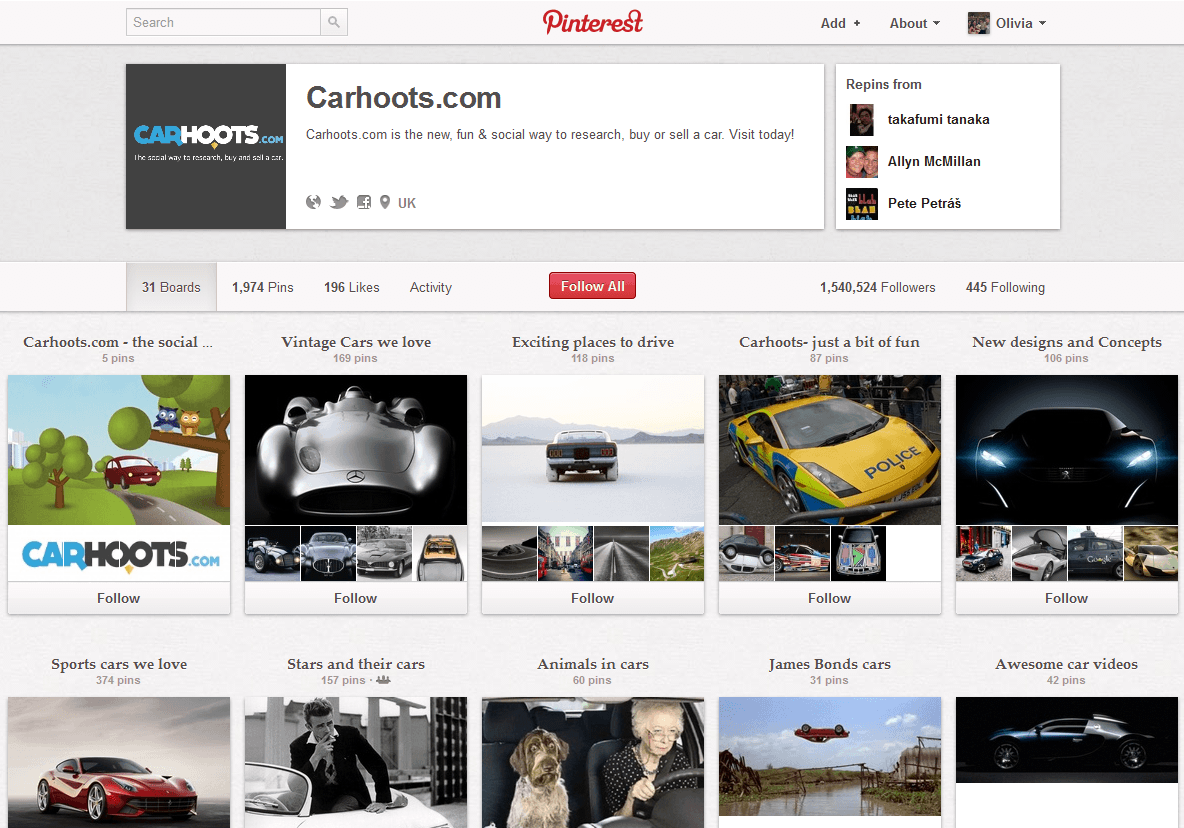 Pins include pictures of sport cars, luxury cars, wedding cars, iconic cars from TV and movies, and celebrities with their cars, to name a few. Carhoots capitalizes on Pinterest users' stereotypical love for adorable animals with its board "Animals in cars."
Takeaway: A business' Pinterest account can revolve around a single theme (cars in the case of Carhoots), as long as that business displays that theme in various, attention-grabbing, appealing ways.
No Cupcakes Necessary
I've been using Pinterest for over a year now, and to me, these four accounts that defy Pinterest stereotypes seem like a breath of fresh air. Oftentimes, Pinterest can be frustratingly unrealistic: can those pastel-colored cake pops really be recreated? Is that DIY monogrammed lampshade really as easy as it seems? Sometimes, as in the case of this Cookie Monster Cupcake Pinterest fail, the answer is a definitive no.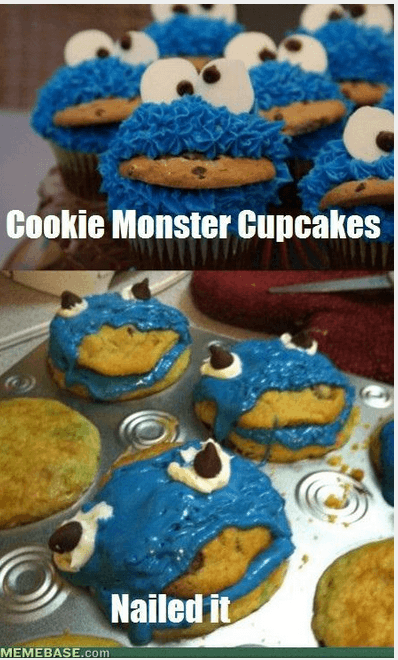 Perusing the pins from Mashable, General Electric, CNET, and Carhoots.com gave me a somewhat welcome break from pining for better culinary skills, a better wardrobe, and better crafting abilities. So, while on first blush these businesses and websites might clash with Pinterest, they actually fit quite perfectly. Here's to successfully defying the Pinterest stereotype and conducting a solid marketing campaign in the process.