Think back to the early 2000s in Buffalo and you'd be hard-pressed to come up with more than a couple of local breweries off the top of your head. But fast-forward to today and you'll find over a dozen throughout the region, serving up beers that appeal to casual drinkers and beer connoisseurs alike. With Buffalo-themed brews like Resurgence's Sponge Candy Stout and Ellicottville Brewing Company's Ski Bum, each brewery around town has cultivated a menu of unique staples.
It's no easy task keeping up with all of the new breweries opening up and hosting events around Western New York, but that's where social media can step in. Each of these Buffalo breweries has established itself across several networks to connect with both locals and tourists, keeping us in-the-know about upcoming events and what's on tap.
Here Are Our Picks for the Top 7 Buffalo Breweries on Social Media.
#1: Resurgence Brewing Company
Networks Present On: Facebook, Twitter, Instagram, LinkedIn, Snapchat (@resurgencebrew)
Number of Facebook Likes: 13,233
Number of Twitter Followers: 7,553
Number of Instagram Followers: 6,179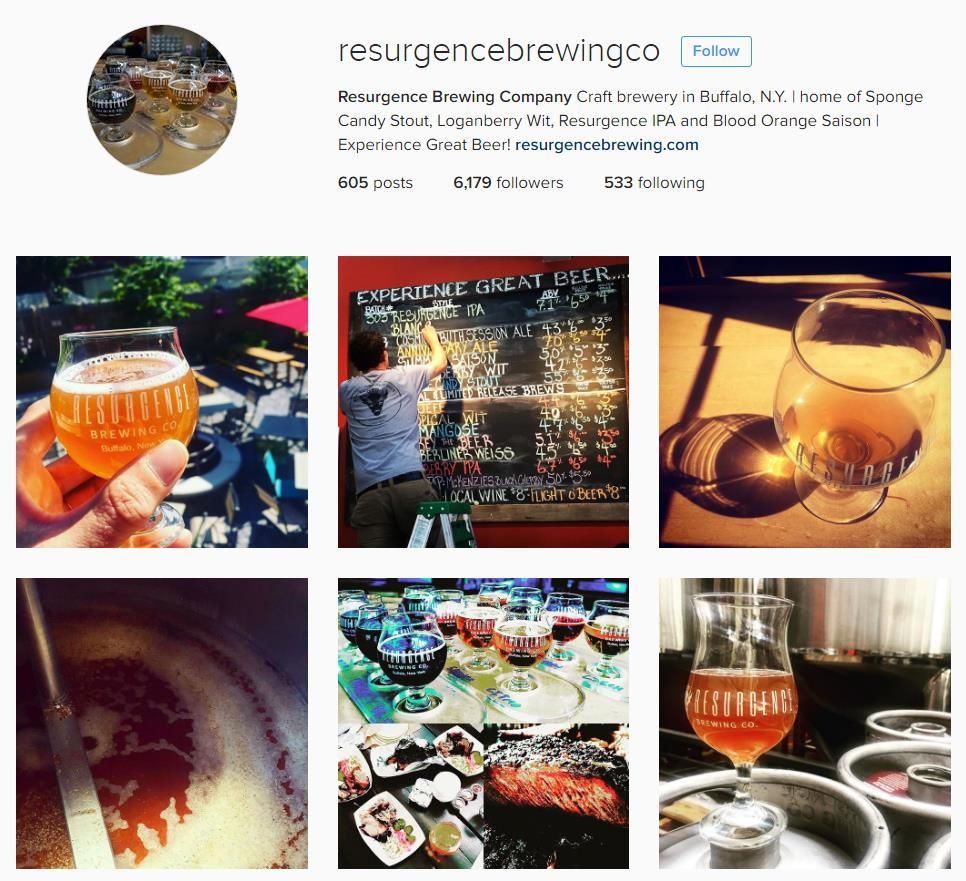 Resurgence Brewing Company is the embodiment of Buffalo's transformation, bringing a thriving business to an area of the city where there was previously little to attract visitors. When it comes to their social media presence, they've got all of the major networks covered. They most recently joined Snapchat, and use it to take customers behind the scenes of the brewing process and promote their outdoor beer garden during the warm weather months.
Their Facebook and Twitter accounts share a wider variety of content, from blog posts to special promotions and upcoming events. They especially love to shed light on other local businesses, spreading the word about new restaurants or hot spots in town. Their Instagram makes the brewing process highly visual with artistic shots of the production facility and quality ingredients used in their beers, in addition to perfectly poured drinks and meal pairings.
#2: Big Ditch Brewing Company
Networks Present On: Facebook, Twitter, Instagram, LinkedIn
Number of Facebook Likes: 13,294
Number of Twitter Followers: 7,724
Number of Instagram Followers: 4,537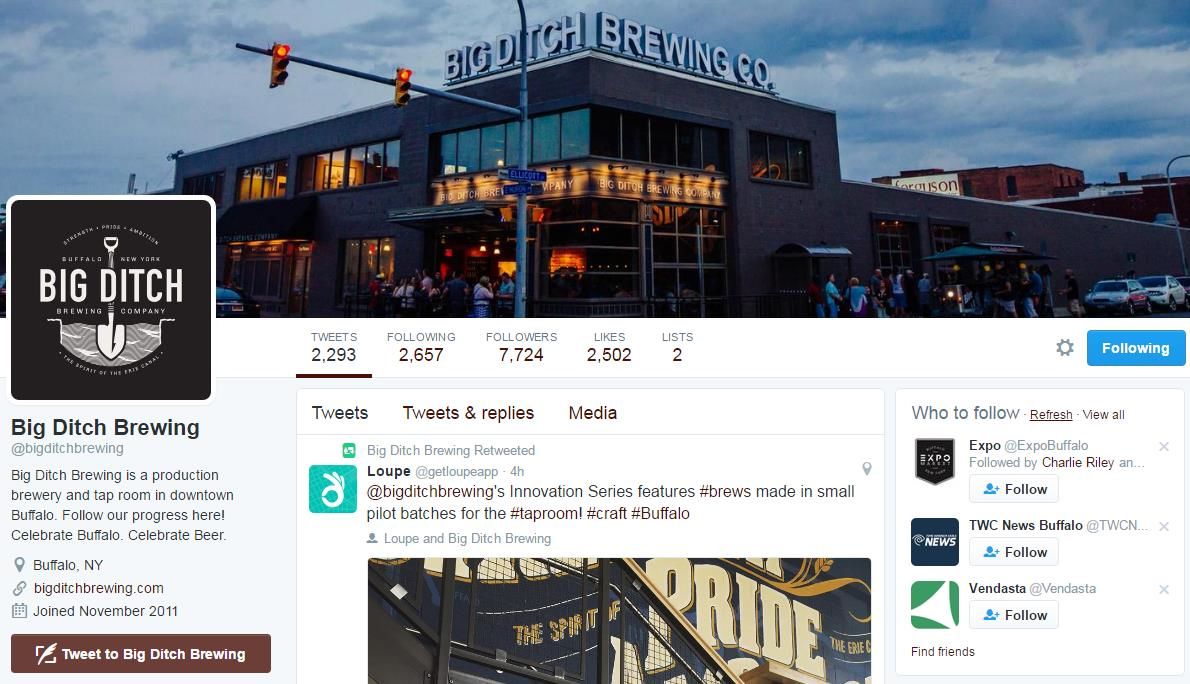 Big Ditch pays homage to what originally put Buffalo on the map – the Erie Canal. Tying together the prosperity of the 19th and 20th centuries to today's revival of the city, the brewery celebrates how far we've come and where we're heading.
Their social media accounts feature a mix of announcements, food and drink specials, job openings, and sports. They recently tweeted that they will be expanding their tap room to accommodate more customers, offered a special discount on growlers for the 4th of July, and positioned themselves as the best place for a drink when the NHL Draft was in town.
Big Ditch's Instagram account emphasizes continued efforts to update and improve the brewery. From expanding the dining space to installing a new silo that can hold up to 60,000 pounds of malt, Big Ditch uses Instagram as a way to keep patrons informed and build hype around all of these changes.
#3: New York Beer Project (NYBP)
Networks Present On: Facebook, Twitter, Instagram
Number of Facebook Likes: 9,127
Number of Twitter Followers: 989
Number of Instagram Followers: 2,336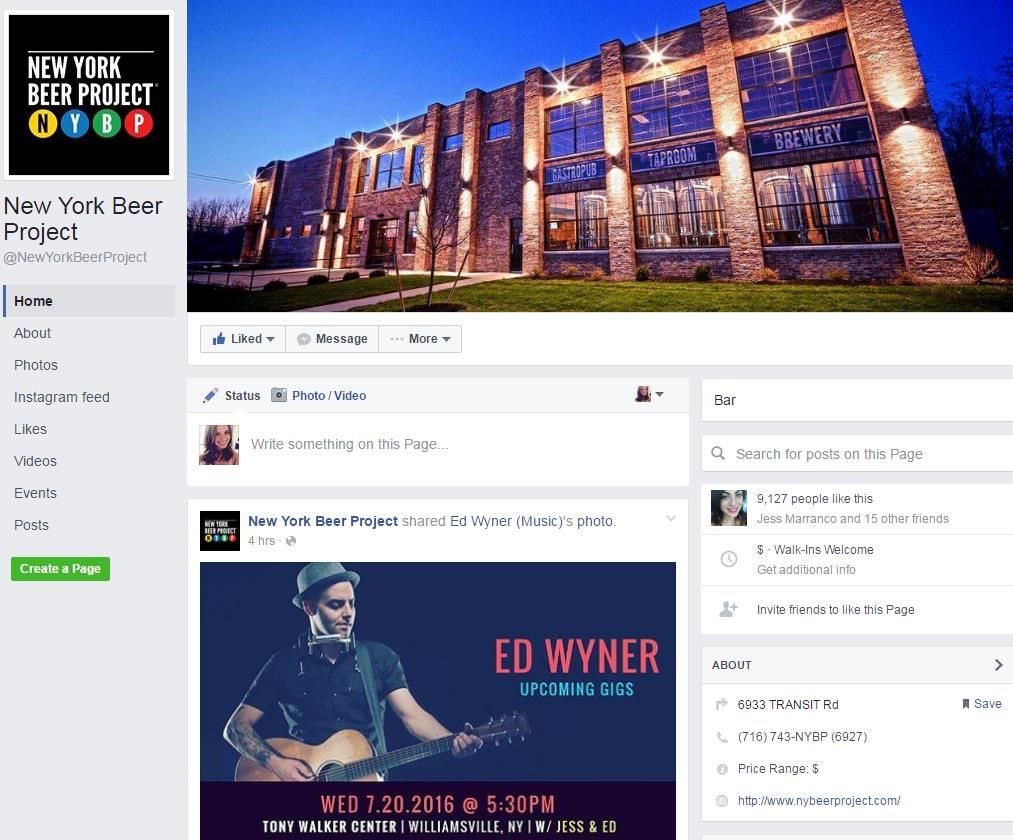 For those of us in the Northtowns, the New York Beer Project was a welcome addition as one of the only breweries north of the city. Their Facebook page is primarily used to spread the word about upcoming events, like cruise nights and live music. The focus is less on their craft beers and local wines, and more on the overall experience of visiting NYBP.
If you're looking for more about the beers on tap, they've got you covered on their Instagram. Posting photos of new batches of beer, letting followers know when a seasonal offering has been released, and taking you into the production facility to see where the magic happens, NYBP knows that its followers want to see the products front and center on this platform. Their social media presence is the perfect combination of product and event promotion, so you get much more out of their accounts than simply knowing what they have on tap.
#4: Ellicottville Brewing Company (EBC)
Networks Present On: Facebook, Twitter, Instagram
Number of Facebook Likes: 11,368
Number of Twitter Followers: 3,303
Number of Instagram Followers: 1,864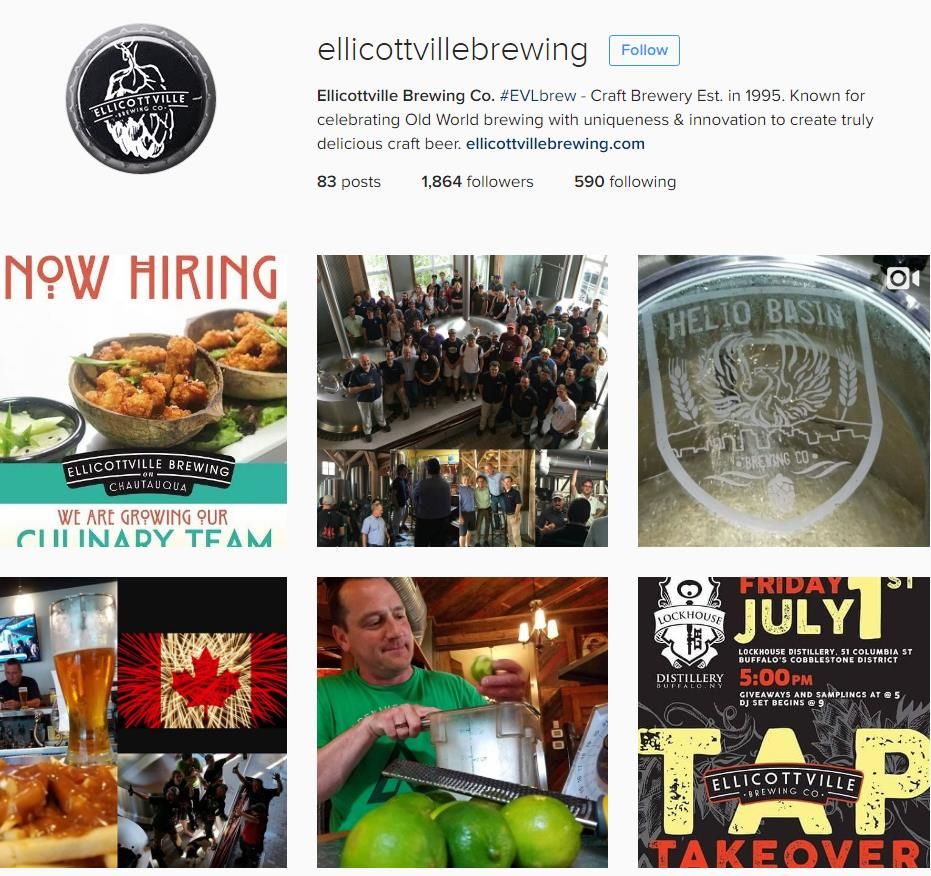 Ellicottville Brewing Company is one of the older and more established breweries in Western New York, making craft beer in the heart of ski country for over 20 years. They also recently opened up Ellicottville Brewing on Chautauqua in Bemus Point, so their social media accounts have been busy promoting this new location.
Something unique to EBC's social media presence is the prominence of their employees in their posts. They often share images and short videos of the brewing team hard at work, but joking around and having a good time, too. EBC also partners up with local businesses for events throughout Western New York, hosting tap takeovers at area restaurants and bars. Social media is essential to their business to spread the word and keep customers informed about when they'll be participating in an event nearby.
#5: Thin Man Brewery
Networks Present On: Facebook, Twitter, Instagram
Number of Facebook Likes: 3,358
Number of Twitter Followers: 1,030
Number of Instagram Followers: 844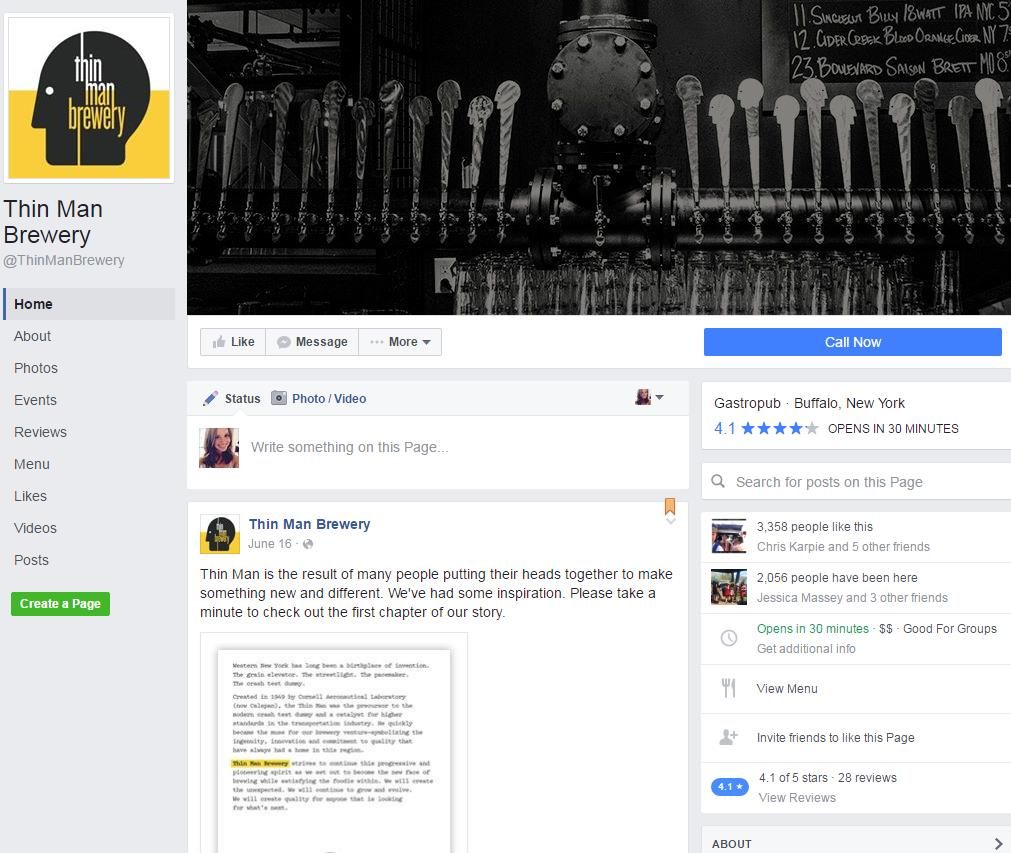 The newest of the Buffalo breweries, Thin Man Brewery has wasted no time developing a social media presence that will bring the masses to Elmwood Avenue. Like Big Ditch, they modeled their brand after the city's history of innovation – in this case, the locally-developed Thin Man test dummy that paved the way to today's automotive crash test dummies.
Their social media profiles highlight the vast assortment of beers they have available, including a large selection of hard-to-find domestic and international brews. They also utilize their Twitter and Instagram accounts to promote their outdoor patio, sharing images of the space and upcoming weather forecasts. With so many patios and outdoor spots in the Elmwood Village, Thin Man is making a conscious effort to stand out from the pack.
#6: 42 North Brewing Company
Networks Present On: Facebook, Twitter, Instagram, Snapchat (@unparalleled42N)
Number of Facebook Likes: 4,494
Number of Twitter Followers: 822
Number of Instagram Followers: 1,889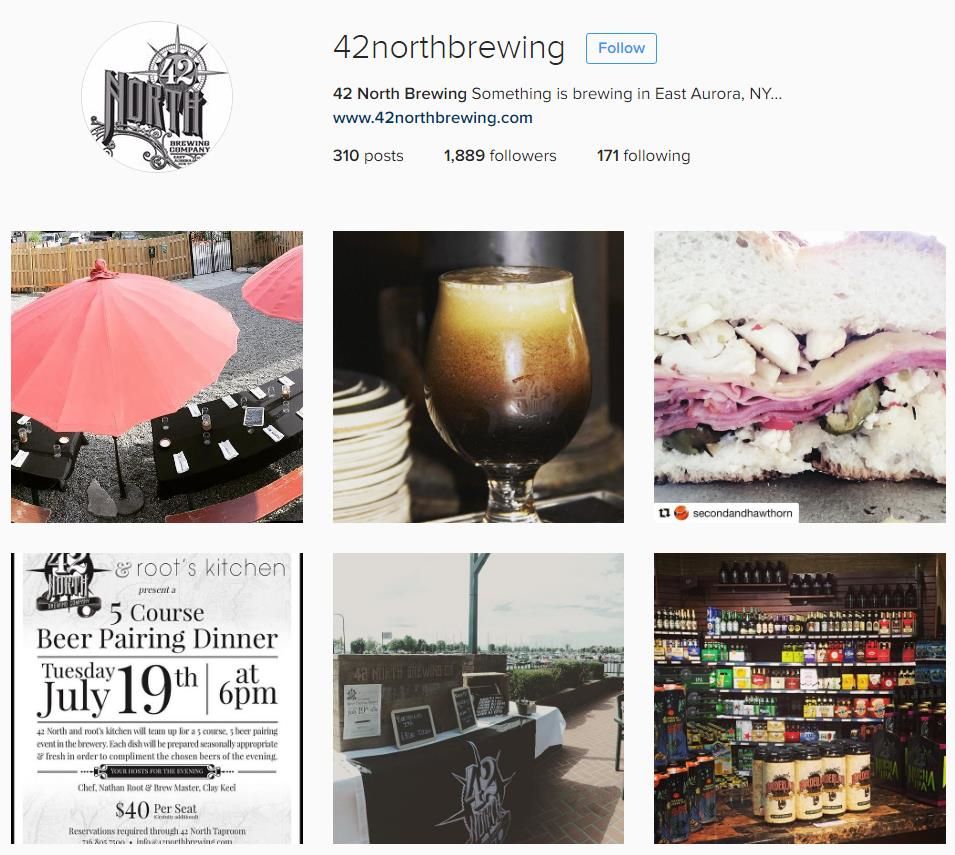 Another new brewery to the local beer scene is 42 North, a name that pays homage to the latitudinal coordinate of Western New York. As one of the Buffalo breweries that has taken the plunge on Snapchat, they promote their account across all of their social media platforms. Sharing an image of their Snapcode on Facebook and Instagram and making it their profile picture on Twitter allows them to reach their target audience and encourage them to connect.
They also emphasize upcoming events at the brewery, such as beer pairing dinners, live music, and tastings. On Twitter, they're incredibly responsive to any tweets they're mentioned in, replying or retweeting content from individual users and business accounts alike. Finally, they understand the importance of high-quality visuals, especially on Instagram. Their creative approach to photographing their glassware, production facility, and live music acts proves that they're a company that just "gets it" on social media.
#7: Community Beer Works
Networks Present On: Facebook, Twitter, Instagram, LinkedIn, Snapchat (@communitybeer)
Number of Facebook Likes: 11,023
Number of Twitter Followers: 7,774
Number of Instagram Followers: 3,140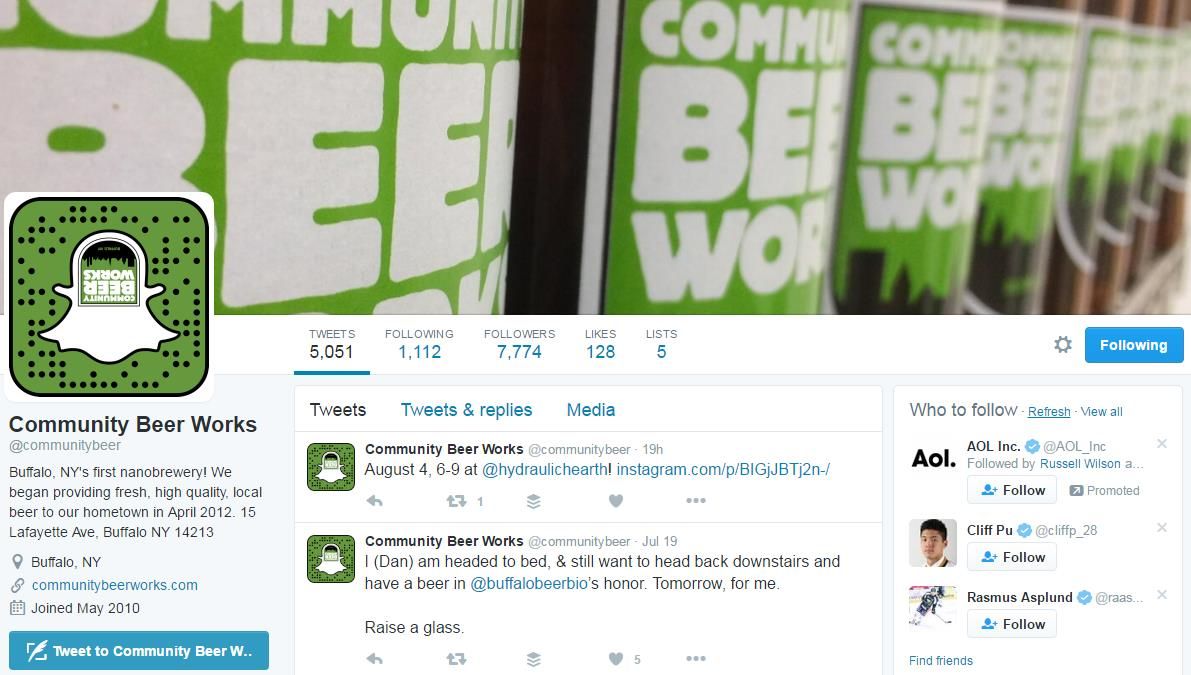 Like 42 North, Community Beer Works has been heavily promoting their Snapchat account across social media, using their Snapcode as their profile picture on both Facebook and Twitter. But what they do best is evoke their laid-back, witty brand personality. Businesses all-too-often use "corporate speak" on social media, which is generally a turnoff to their followers. Brands need to be relatable and approachable, and they've got it down pat.
Their tweets are short and sweet, using catchy text to promote new offerings and beer cocktail recipes you can make at home. On Instagram, the focus is on their employees working behind the bar and packing up kegs and cases of beer for distribution. Overall, they have a personable vibe across their social networks and it lends perfectly to the industry they're a part of.
Sit down and Grab a Pint
Buffalo's brewery scene has skyrocketed in recent years – and there are no signs of slowing down. It's even attracted national attention from publications like Travel + Leisure Magazine and the Chicago Tribune, using terms like "comeback" and "rebirth" to describe the economic progress the city has made. It's a clear indicator of continued growth and entrepreneurship in the region, and with the success these breweries have seen thus far, we can probably expect several more to crop up over the next few years.
If you haven't yet followed all of these breweries on social media, what are you waiting for? Cheers!