As the second-largest city in New York State, Buffalo has certainly faced its share of tough economic times, from the demise of the Erie Canal in the early 1900s to the closing of several manufacturing facilities over the last few decades. Due, in part, to the area's bleak reputation when it comes to weather and professional sports, outsiders sometimes wonder why residents choose to stick around.
But for those of us who grew up watching Buffalo Bills football, learned how to play hockey in our backyards, and refuse to call our namesake food anything other than just "wings" (you'll never meet a Buffalonian that calls them "Buffalo wings"), there's so much more to the region than meets the eye. We're a population of hardworking blue and white-collar citizens that knows how much potential our city has – it's just taken some time to get there.
Today, Buffalo is a far cry from the city locals knew years ago. The region has undergone a major transformation thanks to the revitalization of the waterfront, tide of new businesses, and influx of millennials bringing their hard-earned college degrees to the workforce.
Click Here to Learn How to Get Your Buffalo Business Noticed in Local Search Results.
The medical and technology industries are booming with the development of the Buffalo Niagara Medical Campus, START-UP NY initiative, and 43North competition.
And most importantly, there are people from all over the country and the world choosing to come to Buffalo.
"15 Miles on the Erie Canal"
If you grew up in Western New York, you probably sang this song in elementary school. The Erie Canal put the city of Buffalo on the map as a trade and shipping epicenter. Originally built in 1825, the Erie Canal was referred to as the "Gateway to the West" because it connected New York City to the Great Lakes. People were flocking to Buffalo for manufacturing and trade jobs, which ultimately led to more homes, businesses, and attractions, especially along the waterfront.
Then came the city's decline after railroad transportation made the Erie Canal obsolete and some of the nation's largest manufacturing facilities in that area closed their doors. The 1970s and 1980s were especially hard, with the loss of over 7,000 jobs at the Bethlehem Steel plant in Lackawanna alone. Many families had no choice but to move to larger metropolitan areas to find work.
But the story doesn't end there. In the late 1990s, both politicians and locals alike decided that it was time to revitalize Buffalo's iconic waterfront. The Erie Canal Harbor Development Corporation was established by New York State to oversee the project, and renovations officially began in 1999.
In 2003, the Veteran's Waterfront Park was developed, featuring an authentic World War II naval ship and other artifacts. Then in 2008, the area now known as Canalside started taking shape. This area was previously home to the famed Memorial Auditorium, but was otherwise abandoned. Now it's one of the city's most popular attractions. The multi-purpose space hosts concerts, festivals, waterfront dining, fitness classes, ice skating, kayak tours, boat docks, and much more. For years, many suburban residents wouldn't go anywhere near downtown Buffalo unless it was to attend a sporting event or go to work – but now it's a premiere destination for both locals and tourists.

Source: Canalside Buffalo
The "Big Comeback"
This past winter, Katie Couric launched a short video series on Yahoo! called "Rebuilding America," which documented the revival of formerly struggling cities across the country. Her first stop was Buffalo, where she was able to experience our rich cultural diversity, entrepreneurial spirit, and, of course, chilly winter temperatures. This series helped get Buffalo on the map as a city that's trending upwards, and it's also led to a plethora of articles documenting our storied history and resurgence.
In the last few years, over $5.5 billion has been invested in the region, so it's clear that people believe in Buffalo's future. New York State pledged $1 billion to the area through their Buffalo Billion initiative, which developed an organization called 43North that awards funds to entrepreneurs through an annual competition. The stipulation is that all winners must come to Buffalo to headquarter their business, bringing new ideas and jobs to the area.
The private sector hasn't disappointed either when it comes to supporting Buffalo's rebuild. Located on the site of the old GLF Mills on the Buffalo River, Buffalo RiverWorks is another popular waterfront destination in an area that was previously a manufacturing ghost town. It was the first privately-funded waterfront project and now hosts a full-service restaurant, four bars, concert venue, banquet space, and hockey rinks. There are also plans to build a brewery on the premises, which would take advantage of the former grain silos located on the property. This is just one instance of how local Buffalonians are taking part in their city's rebirth, and we can be certain this is just the beginning.
Buffalo Means Business
In light of the billions of dollars being pumped into the region, there have been extensive business development projects taking shape. By far the most notable is the Buffalo Niagara Medical Campus (BNMC), a collaboration between several downtown institutions, including Kaleida Health, Roswell Park Cancer Institute, University at Buffalo, and Upstate New York Transplant Services (Unyts). The BNMC brings together Buffalo's world-renowned medical community of students, doctors, and researchers, and they expect to have 17,000 people working on the medical campus by 2017.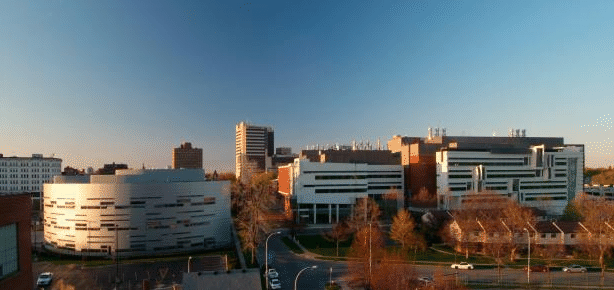 Source: Buffalo Billion
Also bringing growth to the region is the state's START-UP NY initiative, which was launched in 2013 as an incentive for entrepreneurs and small business owners to bring their business to New York State and operate tax-free for 10 years. There are locations across the state strategically placed near college campuses for businesses to establish their headquarters, providing opportunities to recent grads looking for work. Since the program's beginning, over 70 companies have come to Western New York, bringing jobs and financial support to the city.
Local Millennials Are Here to Stay
Unlike the "brain drain" of the late 1990s and early 2000s, where college grads flocked from Buffalo to look for jobs elsewhere and the population of residents ages 20-34 dropped 28%, the number of millennials in the region today is on the rise. From 2006-2012, the millennial population increased by 10%, with more people choosing to stay in the area after graduation or coming back after initially moving away.
While moving to larger cities like New York or areas like Silicon Valley offers plenty of opportunities, these places usually have a significantly higher cost of living than Buffalo – a cost that often isn't fully compensated by higher wages. This is encouraging people to move to cities like Buffalo, where the cost of living is lower, owning a home is more feasible, and workday commutes aren't nearly as stressful or time-consuming. Since 2000, the number of college grads ages 25-34 living within a 3-mile radius of downtown Buffalo has risen 34%, one of the highest percentages among the country's largest metro areas. So not only is Western New York full of opportunities for the youngest members of the workforce, it's an affordable and desirable place to live, too.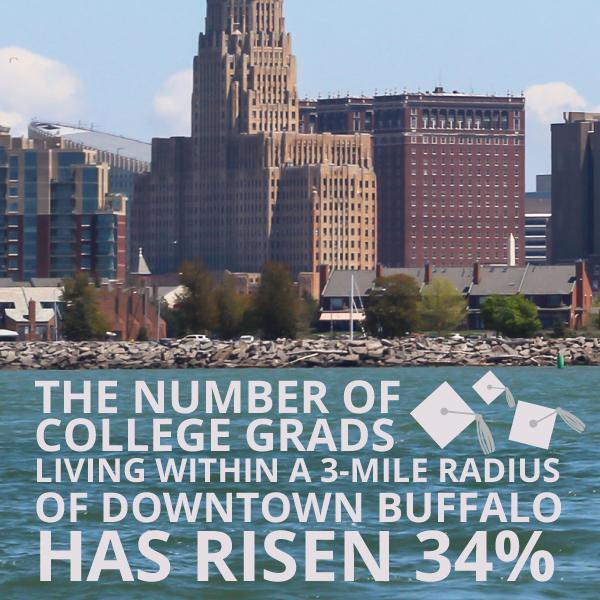 Feeling the "Buffalove"
Like many cities across the country, Buffalo has experienced significant economic ups and downs over the years. But after one of the worst economic downturns in history, the city is rising up again. From more employment opportunities to activities for residents of all ages, there is more to love about Buffalo than ever before.
So don't count us out just yet – this is just the beginning.