Search engine optimization can seem like a tricky subject to navigate for many businesses in the Western New York area. It's multi-faceted, ever-changing, and completely intangible. But in today's competitive landscape, no business can afford to ignore local SEO entirely. Especially in a place like Buffalo, NY – where local businesses are taking off and thriving once again.
It's even more crucial now that Google has updated its algorithms to favor local businesses when possible. Local SEO, which is the process of optimizing specifically for your geographic area, means that small businesses really have a fighting chance against bigger companies and chains in search engine results. In a revitalized region like Western New York – that's a big deal!
Download Our Free Local SEO Ebook.
And the good news is that there are some simple ways that you can start optimizing your own web pages to draw meaningful local traffic in!
Whether you're a brick-and-mortar store on Hertel, a big company with an office downtown, or a small services company in Orchard Park, there are Buffalonians out there right now actively searching for whatever it is that you provide. So help them out by following these six tips.
1. Optimize for Mobile
In the 2016 search game, a website that's specifically optimized for mobile is an absolute must. It's not enough to just design a site and hope that it's usable across tablets and mobile phones – because it probably isn't!
As a local Buffalo business, it's likely your goal is to entice local consumers to visit your store, call you, fill out some kind of form asking for information, etc. Well, more and more people are finding their way to business' websites via mobile search.
Last year, Google reported more searches on mobile devices than on desktop computers! And that number is only growing.
To understand the importance of this in the context of your business, imagine this:
Have you ever searched for something on your phone that you needed now – like an emergency plumber, for example – but been unable to find the right information because the plumber's site was so hard to navigate? Maybe you stuck it out and gave that plumber your business anyway. But the more likely scenario is that you simply moved on to the next plumber on the search engine results page.
You really don't want to be the business that people want to hire but can't contact because of a poor mobile experience.
It's also important to know that Google takes mobile-friendliness into account when ranking sites on their results pages. If there are two similar businesses, but one has their website optimized for mobile, that site is likely to be featured above the other.
In the examples below, notice how the important information is readily available. In the case of T-Mark Plumbing, their phone number is front and center since that's what people are typically looking for when they visit their mobile site.
And what do people want to see most when searching for "Lloyd" on mobile? The food truck's schedule, of course! Their mobile site gives people exactly what they're looking for and doesn't make users sift through pages to find what they need.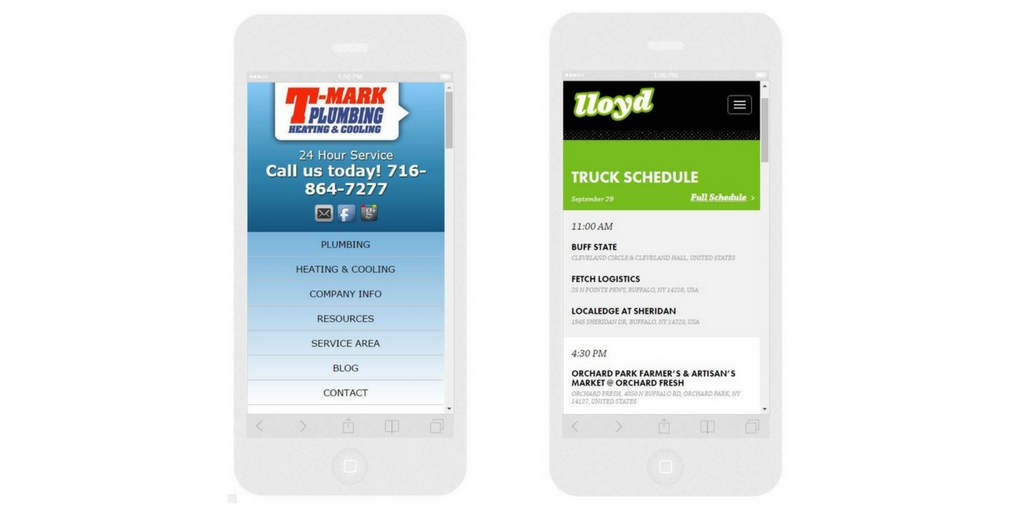 2. Create a Google My Business Account
Have you ever wondered how some businesses obtain those nice, cushy spots on Google's search results pages where it seems they've been "featured," in a sense? Your business can have that too.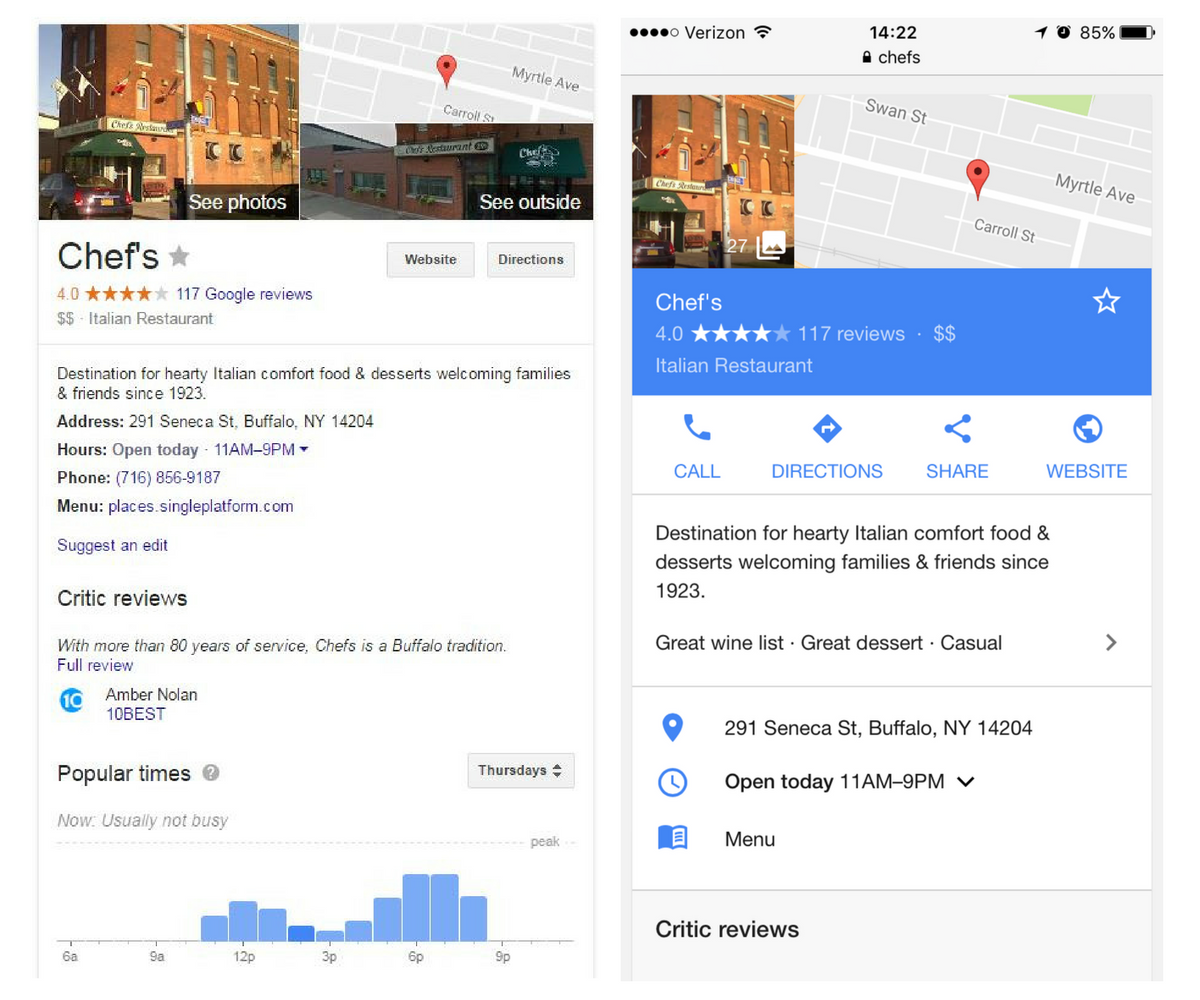 When potential customers are searching for your business, it really helps to have the most relevant information immediately displayed – like the Chef's example above. Think about what people are likely looking for when they search for you – this section should display it.
But before your information shows up in a display like this, you'll have to create a Google My Business account. Make sure you take the time to fill in the most accurate and up-to-date information that's consistent with information found across other online platforms (we'll get into this more later).
Compose a business description that is unique and enticing, include high-quality, engaging photographs of your business (even if you don't sell anything tangible), and don't forget to clearly mark your hours of operation.
That last part is an area many businesses skip – perhaps because they don't think it's important in their particular industry. But there will always be a time when a customer would like to call directly, and it's extremely important that your hours are displayed so they don't have to waste their time calling when you're not there.
3. NAP (Name, Address, Phone Number)
Despite the fact that "NAP" is a well-known acronym within the business world, the most important element of this phrase is often overlooked: consistency!
In today's digital world, your business very likely has its own Facebook page, Twitter profile, Instagram account, website, Yelp profile, and more. It's also very likely that you've displayed your NAP on all or most of these sites. What's more, there are probably quite a few review and listings websites displaying your information that you're not even aware of.
It's harder than you might think to keep all of your listing information accurate and consistent across the board – especially when dealing with profiles you didn't actually create yourself. But it's an important part of local search engine optimization.
Click Here for a Free Scan of Your Business Listings.
First, it's important for your users' experience. 73% of all mobile searches eventually result in a future action from the user – and 28% of those actions are in-store conversions! So you obviously want people to see accurate information if you want to make the most of that opportunity.
Second, there are Google algorithms in place designed to catch different kinds of issues in a business' listings. First, they target inconsistent listings across accounts. But they also go after businesses with more than one listing within a platform. Say, for example, you have two Yelp profiles – your customers and Google won't know which one is accurate.
4. Local Reviews
When you read about SEO, there's a lot of talk about content strategies. And reviews from customers should be a big part of that strategy – business reviews account for roughly 10% of the local search ranking algorithm!
Potential local customers will look at your reviews as one of the first indications of whether they want to purchase from you or not. But that doesn't mean that all of your reviews have to be positive! In fact, 68% of consumers say they are more trusting of businesses with both positive and negative reviews than businesses with purely positive ones.
Nobody's perfect, and your customers know that there are bound to be a few naysayers. BUT, you also have to make sure that there are some legitimate, quality reviews as well.
Moderation of your reviews plays a large role in your local SEO strategy, too. You can't go removing every critical post, but you should remove comments that include spammy links and comments between people that are being particularly nasty to one another.
Since many organizations pay no attention to their presence on various review platforms, this is a great way for any Buffalo business to get a leg up in the local SEO game.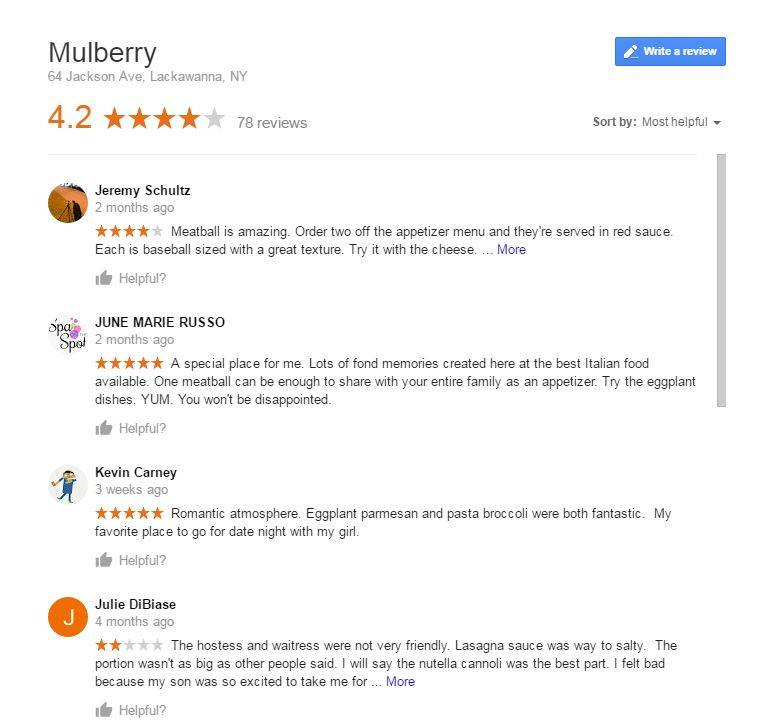 5. Keywords in Content
Optimizing for certain keywords is probably one of the most well-known (and possibly over-utilized) SEO strategies out there.
While it is important to keep your key phrases in mind, it's equally as important to not oversaturate your website with them. Google's Panda algorithm targets web pages with spammy keyword usage – in other words, don't use your keyword in every other sentence!
Use your keywords carefully, in a very natural and organic way. Google can absolutely tell when you've put that one phrase in just a few too many times, so don't try it…
You should also be strategic about using local keywords pertaining to your business. For example, if you're a Buffalo-based carpet cleaner, one of your keyword phrases should include the words "Buffalo," "carpet," and "cleaning."
Use Google's Keyword Planner tool to get started. It will help you come up with some very useful phrases for your business – even if they're not the ones you originally expected.
6. Keep Voice Search in Mind
Continuing with a different keyword tactic, I mentioned above that search engines are seeing more and more mobile traffic. Well, many of these mobile users are starting to search on their phones using their smartphone's listening capabilities. 20% of mobile search queries today are actually voice searches, and 40% of those voice searches are for local establishments.
Think about it: Two friends are driving in downtown Buffalo and really want sushi for lunch. The passenger pulls out their phone to perform a search. They don't feel like typing out the entire search, so instead they activate Siri (iPhone's voice companion) and ask, "Where can I find sushi for lunch around here?"
Their phone will do a quick search of local restaurants that serve sushi and spit back the closest ones to the person's location.
The only way Siri can find places with sushi is if restaurants in the area have optimized their site to show they serve that specific cuisine. If you serve sushi, but it's nowhere on your website, you lose out on a customer!
To make sure this doesn't happen, include keywords in your local SEO strategy that are written with voice search in mind. A typed out search will be worded differently than a spoken search, so that has to be taken into account. For example, you could optimize for "sushi in downtown Buffalo" versus "Buffalo sushi" since people will likely not phrase it the second way while speaking.
If you want to learn more about optimizing for voice search, check out this resource.
The recent resurgence in Buffalo is real. Safe public spaces are popping up all over the city, there's more activity downtown in places that were previously deserted, and local businesses are booming.
Now is the time to take advantage of the excitement and growth in Buffalo – make sure you're ready by working on your search engine optimization now and not later on down the line. And these six easy tips and strategies will give you a good head start!