Search has become increasingly focused on local SEO, especially with the reliance on mobile devices rising year-over-year. With this transition comes a new set of responsibilities for SEOs to stand out from the competition in search results. The most common misconception about local SEO is that you can apply the same strategy as you do to your general SEO game plan. While the principles remain the same, the "local" element presents its own challenges and best practices to help your business rank in geographically-focused searches.
With 4 out of 5 consumers searching for local businesses through search engines, this is a target audience that business owners can't afford to ignore. It's a market full of potential customers that could actually visit your storefront or office (if you have a brick and mortar location) and individuals that are more conscious of where their purchases are made. A culture of supporting local and small businesses has taken off, with the backing of National Small Business Week, Small Business Saturday, and "Think Local"-themed initiatives popping up in communities across the country.
To tap into this consumer base, there are several important tools and strategies to add to your digital marketing arsenal.
Check out our free eBook: Maximizing Local SEO
Google My Business
If you've ever completed a local search, you've probably come across results like this in the sidebar: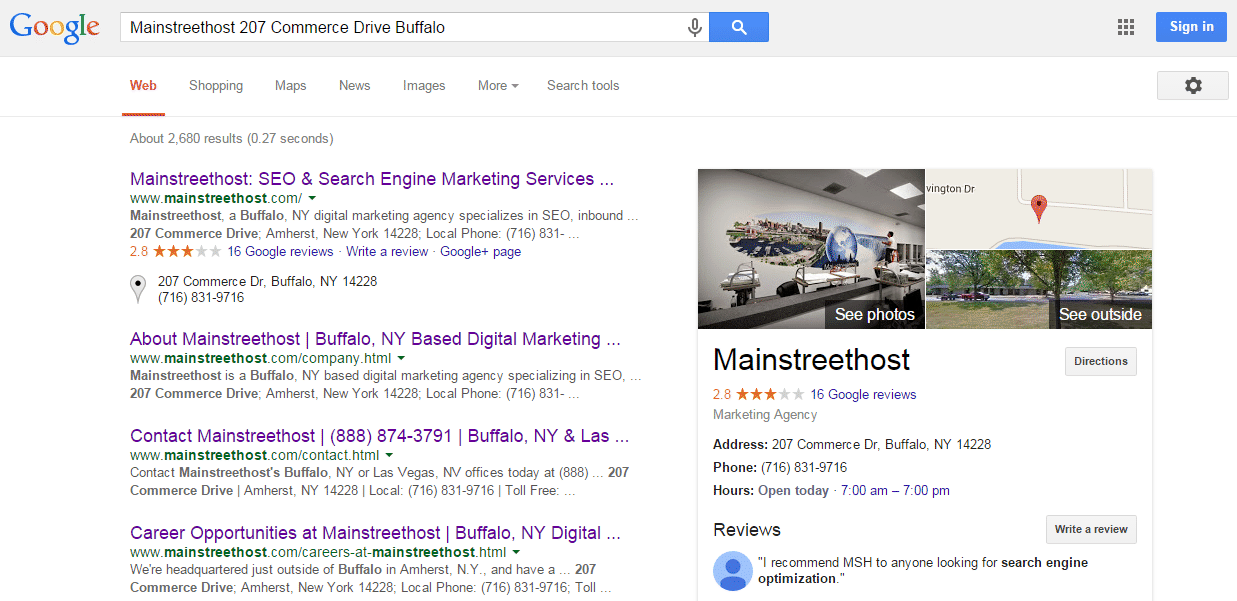 Google My Business provides this information to searchers, giving them quick access to Google Maps to locate the business, read or write reviews, and push to call (if you're on a mobile device).
If you don't have a Google My Business page set up, you are missing out on one of the easiest ways to improve your local search presence. This page feeds information to Google search results regarding your business' location, hours of operation (if pertinent), product or service offerings, and relevant photos. Once you create a Google+ account for your business, the setup process takes only a few minutes. The only stipulation to utilizing this tool is that you have to have a Google+ account – which is hugely beneficial for SEO anyway.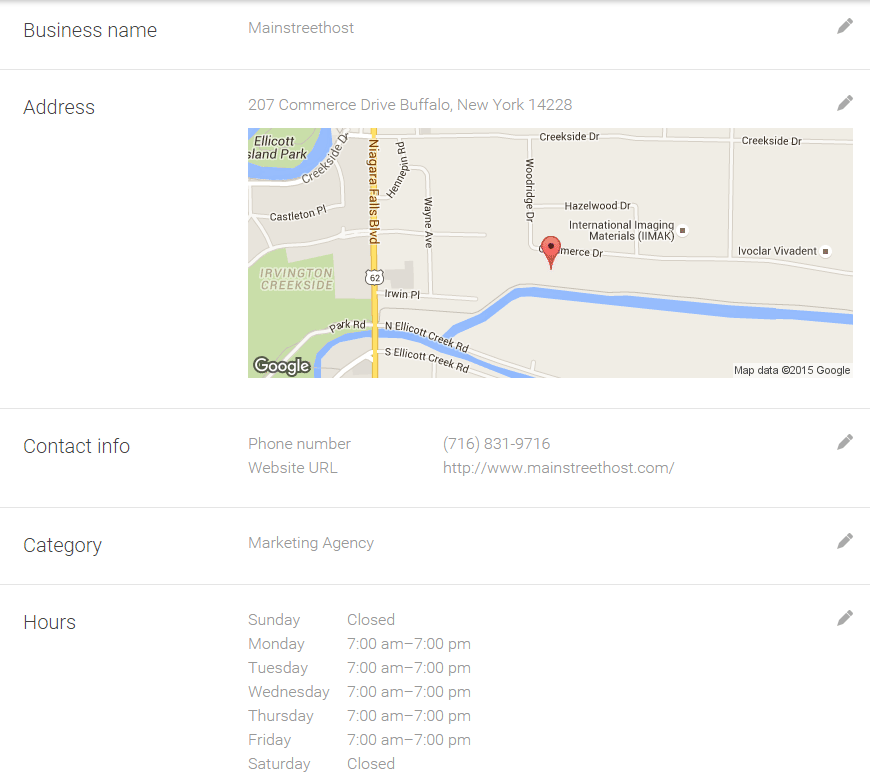 Once your account is set up, you can login and edit information at any time. It's important to keep all of your listings up-to-date since this information feeds directly into Google, and Google My Business makes it easy to do so. You can also add multiple businesses or locations to your account if you have more than one store or office.

Reviews and Local Listings
Beyond simply having a Google My Business page, it's important that your business is present on other popular local listing and review sites to maximize visibility. Resources like Yelp, TripAdvisor, Yellow Pages, the Better Business Bureau, and many more provide opportunities to feature your business at no cost to you. So why would only 37% of businesses claim a local business listing? Well, that's a great question; what I do know is that there are a lot of businesses missing out on a viable marketing opportunity.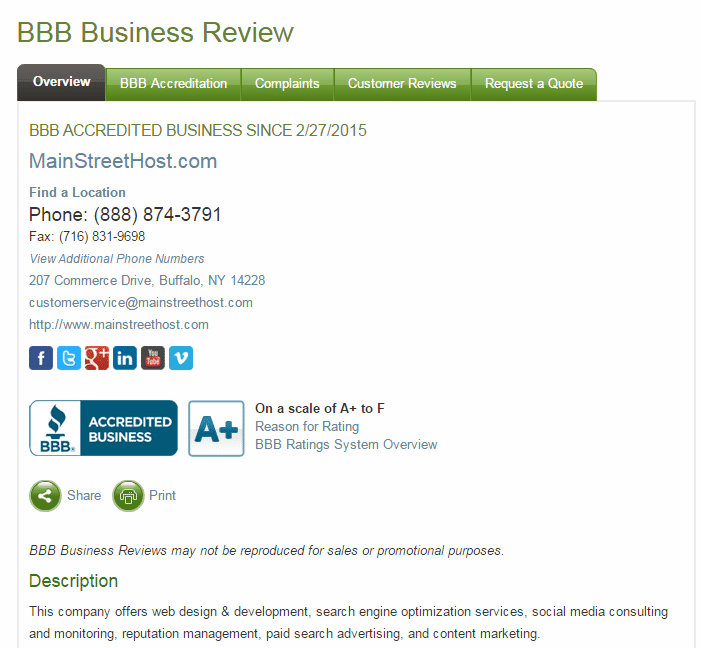 Depending on the products or services your business offers, you certainly don't need to be present on every local listing website out there. That would be basically impossible. Find those that are most relevant to your business and start building that local SEO footprint.
What's most important to remember here is that the work isn't complete once you've created a page or profile; you've got to maintain your presence. This means that any changes to your company's contact information, location, or hours of operation must be kept up-to-date on each and every site you're featured on. To build your local rankings, it's all about consistency. Make sure that your website's information matches that of your local listings to build search authority, and most importantly, not confuse customers.
Another great way to build local SEO is through reviews of your products or services. With 88% of consumers admitting that online reviews have influenced purchase decisions, there's no reason why you shouldn't find reviews important.
Having an active range of reviews can help your business in search, but it will also show your target audience that you're a reliable company whose products and services can be trusted, which ultimately makes your business stand out from your competitors.
Content
One less obvious, but effective, way to build local SEO rankings is through your website content itself. While you probably have a list of valuable keywords that you use throughout your site for search engine purposes, you can utilize locally-focused keywords through landing pages, images, title tags, and H1 tags to boost that local presence. Simply adding your location into your content or creating offers specifically for local customers can go a long way when it comes to local SEO.
Not only does location-based content help rankings, but it shows some love to the city that your business operates in. And both prospective and current customers are likely to appreciate it. We've seen this success firsthand through one of our most popular blog posts, which shares our favorite things about living and working in Buffalo, New York. Your business was established in a particular location(s) for a reason, so it's important to add a relatable, "human" element to your content and marketing strategies by showing this appreciation.
Local SEO
Local SEO is a newer and lesser-known aspect of digital marketing, but this certainly doesn't diminish its importance. Whether your business has one location or hundreds, there is still value in geographically targeting your audience. Consumers are increasingly searching for companies based on location, so if your business isn't present in local listings or sharing locally-focused content, you're probably not going to be found. Taking the time to focus on your local audience will build your presence both online and in your community, and with consumers taking more pride in where they're from than ever before, why wouldn't you take advantage of this opportunity?