Remember those horribly corny yet ubiquitous virtual gifts on Facebook circa 2007-2010? Admittedly, to my chagrin, I can recall sending and receiving several virtual smiley face balloons, birthday cakes, glasses of champagne, and roses. (Hey, at least I never once played Farmville.)
(The piñata was a personal fav, as were those two creepy bears locked in an embrace with an expression of terrible, intense, and unexplainable fear in their eyes.)
Facebook discontinued these gifts in 2010; however, last week, the social networking site announced the return of Facebook gifts, only this time, they're real, not virtual.
Soon Facebook users in the U.S. will be able to give presents to their Facebook friends in commemoration of a birthday, wedding, engagement, etc.: things like Gund teddy bears, Starbucks gift cards, and Magnolia Bakery cupcakes for all those women who will simply never get over their Sex and the City obsession (me included).
TechCrunch terms these gifts the a rebirth of the gift app Karma, which Facebook acquired in May. Here's how it works:
We'll be able to give our Facebook friends gifts directly from the birthday (or engagement or marriage) announcement on our news feeds.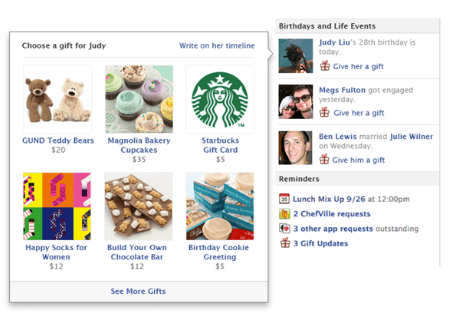 Or we can go to an individual friend's timeline and choose the "Gift" tab.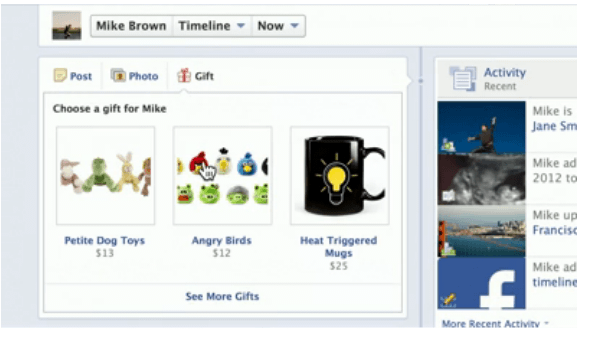 As of now, the gift categories include: food, apparel/accessories/beauty, home/design/digital subscriptions/gift certificates, baby/kids/pets and wine/beverages.
Our friend will then receive a notification; he or she can unwrap a preview of the gift, and the actual gift will arrive a few days later. We can pay for a gift immediately, or we can add payment details later. Our Facebook friend provides his/her address.
Facebook is even taking the onus off gift givers by simplifying the gift-giving process (while taking a percentage of the sales, of course): our Facebook friend can choose the color/size/flavor of the gift, or they can exchange it for something of equal value.
I think Facebook gifts sound like a smart idea: they're perfect for last-minute shoppers (those of us who forget it's someone's birthday until we see a Facebook reminder); the process seems virtually effortless; and we don't have to concern ourselves with details, because Facebook makes it possible for the gift recipient to personalize the present to his or her liking.
F-Commerce: The Pros and the Cons
This recent launch of personalized presents prompted me to wonder: Is this the sign of something to come? Will Facebook gifts herald in a new era of f-commerce and virtual Facebook storefronts?
I'm unsure of the answer to that question, but in reading about Facebook gifts, I found myself musing over the foibles and flaws of f-commerce. None of the brands I follow make it possible to shop for and buy products directly through Facebook, though even if they did, I'm unsure if I would make purchases via the social networking site. For one, I use Facebook primarily to stay in touch with friends; when I log onto the site, I'm very socially-minded, not materially-minded. Sure, I like many brands on Facebook, but I do this to learn about new products, special deals, and recent developments. F-commerce seems inherently flawed to me, because the site's raison d'etre is facilitating social connections, making it easy to stay in touch with family and friends. Storefronts just don't seem to align with the nature of the site; however, that's not to say that they can't work.
Another reason behind my tepid feelings toward f-commerce: my hesitation to putting my credit card information on Facebook, even if that fear is illogical and ungrounded. As well, sometimes I wonder about the point behind f-commerce. A brand wants to capture consumers' purchasing powers when their interest for said brand is peaked (that is, when they're on a brand's Facebook page) and make it easy for people to buy products. However, online shopping is already easy.
Last week, a post by one of the brands that I like on Facebook appeared in my news feed: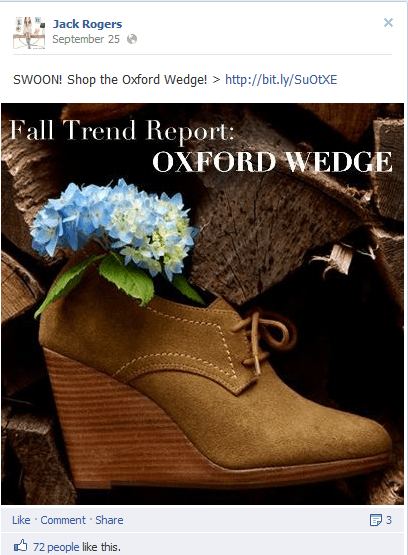 Jack Rogers posted a link that takes me directly to the product page for this shoe. They make it extremely easy to buy this merchandise, no f-commerce capabilities necessary.
However, this link did direct me to a page outside of Facebook (obviously), which might be a con. Usually, when I'm on Facebook, I'm on Facebook for a reason. I want to stay on the site, and I don't want to be directed elsewhere. Do other people feel the same way? If I could stay within Facebook and buy a product, would that make me more likely to buy the product? I'm unsure.
Investigating Storefronts, Sales, and Spending
I wanted to investigate f-commerce and see which brands have had success with it, and also which brands have not had success with it. I also wanted to see whether or not the triumphs and fails of Facebook storefronts can shed any light on the purchasing proclivities of Facebook users, and what these tendencies might mean for Facebook gifts.
I found many examples of f-commerce fails. Bloomberg published an article in February highlighting stores that tested out Facebook storefronts only to close them after a period of time. GameStop, Gap, J.C. Penney, and Nordstrom tried and failed at f-commerce. Bloomberg quotes an analyst at Forrester Research in Cambridge, Massachusetts, who said this:
"There was a lot of anticipation that Facebook would turn into a new destination, a store, a place where people would shop," Mulpuru said in a telephone interview. "But it was like trying to sell stuff to people while they're hanging out with their friends at the bar."
Coincidentally, Gilt Groupe's chairwoman Susan Lyne made a very similar analogy when discussing f-commerce in Business Insider. Gilt Group experimented with f-commerce last August but eventually terminated its Facebook store. Lyne told Business Insider: "One of my friends said that it was like trying to sell something at a bar." She also offered some context through a comment on the article: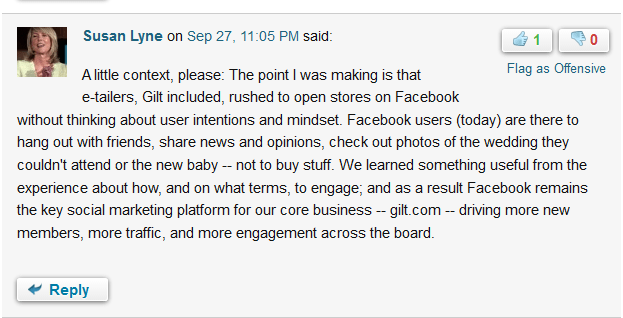 Her reference to Facebook users' "intentions and mindsets" captures my sentiments about the futility of Facebook stores and the way in which they contradict with the true nature of Facebook.
However, some brands currently use Facebook stores. Omaha Steaks launched their Facebook store using ShopIgniter in April; Adweek terms the store "e-commerce lite and Facebook-specific." I explored it briefly and found that Omaha offers different products on Facebook than they do on their ecommerce site; in fact, some products were available only on Facebook. According to Adweek, because Facebook users expect some sort of bonus for being a fan, Omaha aimed to acknowledge the unique fan-brand relationship through the store. Hence, the distinctive products and the ability of fans to earn points and badges when they spend money in the Facebook store.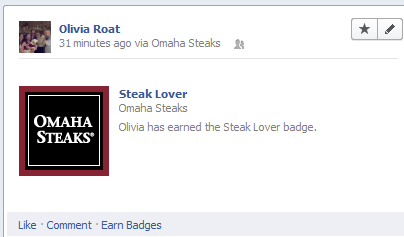 The similarities between my culinary preferences and the badge name: uncanny.
Senior Vice President of Omaha Todd Simon said that not having a Facebook store is akin to not having a brick-and-mortar retail store. I'm unsure whether I agree with this. Omaha's store seems like a solid effort, though the selection on Facebook seems somewhat limited compared to Omaha's ecommerce site. But then again, Facebook-unique products may provide people incentive to shop and draw them in with that vibe of exclusivity.
Other major brands have seemingly had success with f-commerce, as their Facebook stores have been open for over a year: Coca Cola, Lady Gaga, Delta Airlines are a few I found.
Peruse on Facebook, Buy Elsewhere
Now, while investigating f-commerce, I came across a few brands that allow Facebook fans to browse merchandise and press unique buttons broadcasting their love for a given product to all of their Facebook friends. American Apparel is one such brand: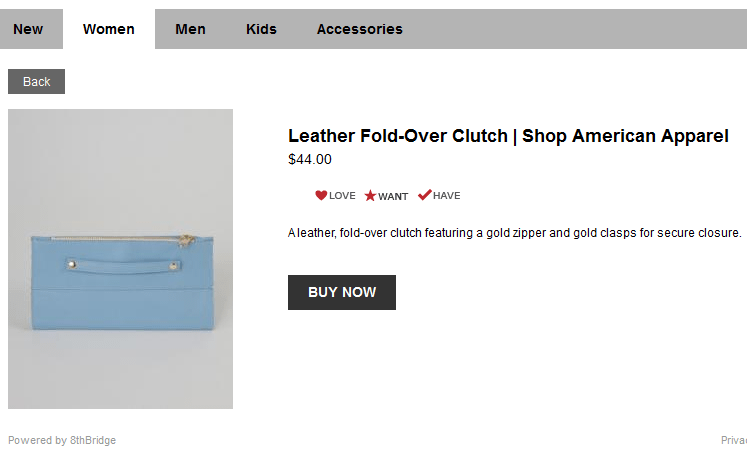 American Apparel works with social commerce platform 8thBridge Graphite, which rather than attempting to lure users into Facebook stores, allows users to peruse selections, showcase some product love, and then buy on a traditional ecommerce site. This approach allows users to do everything short of completing a transaction on Facebook alone. I can see people who want to share their favorite items with their friends or who want feedback on a purchase they're contemplating using these buttons, but if I have to buy something on an ecommerce site anyways, why wouldn't I just peruse products there?
Prophesying the Future of Facebook Gifts
F-commerce has an interesting, mixed history: it failed many brands, but other brands are currently using it. There are some things that suggest that people don't readily buy products via Facebook. Is this a death knell for Facebook gifts? Do the many closings of Facebook stores signify that people simply won't buy things on Facebook, including the new gifts?
I don't think so. In fact, I think Facebook gifts have the potential to succeed, primarily because gifts and stores are very different: they operate differently, and they have different dynamics. Head of Gifts Lee Linden told TechCrunch that gifts are a "natural extension of what people do on Facebook," i.e. congratulate each other, say happy birthday, etc. I think this comment is on point. Sure, there might be a difference between writing "happy birthday!" on someone's timeline and actually spending your own cash on a birthday gift for them, but why not send a $5 or $10 Starbucks card via Facebook to a friend a few states away in honor of their birthday? I think gifts fit very well with this tendency we have to publicly applaud and cheer each other's personal accomplishments through social media. Gifts seem to gel with the fundamental nature of Facebook, while I'm not convinced Facebook stores do. I think that through gifts, Facebook socializes our purchasing in a way that seems very natural, seamless, and harmonious given the way users behave and interact on the site.
And even though we have the option of making a gift private, does anyone think that in the age of social media sharing (and oversharing), a person will not want all of his or her friends to be acutely aware of the thoughtful, gift-giving gesture? I'm thinking no.
Facebook makes it possible to give gifts to yourself, so as soon as the gifts roll out, I'll be shamelessly purchasing a Build Your Own Chocolate Bar for none other than me and subsequently channeling my inner Liz Lemon:
However, this is one instance where gift giving should not be broadcasted on a timeline.